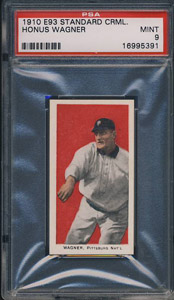 (TUSTIN, CA) Chances are you've read about the well-publicized recent sales of T206 Honus Wagner baseball cards. The image is familiar even to those otherwise unfamiliar with the hobby. It's considered the hobby's 'holy grail'. However, serious collectors of vintage baseball cards know that there was another Wagner issued about the same time, one with a story of its own. Now, a sports memorabilia auction company is prepared to bring to auction a card that is unmatched by any T206 Wagner card ever sold.
Southern California-based Memory Lane Inc. has opened bidding on a 1910 Standard Caramel E93 Honus Wagner card graded Mint 9 by Professional Sports Authenticator (PSA). It is the only E93 Wagner ever awarded the 'Mint' grade and one of a precious few cards from the era that survive in top quality condition. Bidding begins at $50,000.
The Wagner, along with the rest of the E93 set, was issued by the Standard Caramel Company of Lancaster, PA. Its distribution with candy meant that many of the cards wound up in the hands of children, leading to their unfortunate demise or, in the case of those lucky few that have survived the last century, a loss of quality.
The E93 Wagner card offered by Memory Lane shows no such wear. It is a virtually untouched card with snow-white borders, bright colors and best of all, sharp corners. Its survival is nothing short of astonishing and the card has already begun to generate a buzz in the sports collecting hobby as word of its existence and planned sale have slowly emerged.
Newly discovered, it merged from a recent find of Caramel cards that included other several other issues in similar grade that were graded recently at the National Sports Convention. Many have sold privately (the Ty Cobb graded near mint-mint and sold for well into six figures).
Simply put, it is one of the scarcest and desirable sports antiques in existence, worthy of awe and whatever praise and attention discriminating collectors will bestow upon it when bidding begins on-line at memorylaneinc.com on August 23.
The E93 Standard Caramel set is widely regarded as the most attractive and desirable "E" set or Early Candy set in the hobby. The 30-card set features eighteen Hall of Famers including Wagner. As in any dead ball era offering, the Wagner and Cobb cards are the keys to the set. Even for those not collecting the entire set, a Wagner or Cobb is always a great stand-alone addition to any collection. Hobby veterans consider excellent condition to be high-grade for a caramel card and near mint to be almost unheard of. A simple comparison of the number of high-grade T206s to any caramel issue will illustrate this well. Not only are the E cards much tougher in general, but in high grade, they are virtually impossible.
The Wagner card is one of the featured items in Memory Lane Inc.'s auction, one which also includes a wide variety of other high grade vintage baseball cards including several pre-War issues such as the 1887 Four Base Hits James Mutire (PSA 5), 1893 Just So Tobacco John O'Connor (PSA 5), 1911-14 Brunners Bread D304 Cy Young and a 1911 T3 Turkey Red Ty Cobb (PSA 5). Post-War offerings include a mint 1951 Bowman Mickey Mantle rookie card and 1952 Topps Pee Wee Reese (PSA 10).
The company's latest auction comes on the heels of its record-smashing $2.8 million Spring Rarities Auction which included the sale of a 1952 Topps Mickey Mantle (PSA 8) for $112,800 and a 1951 Bowman Willie Mays rookie (PSA 9) for $85,775.
Bidding concludes via telephone and internet on September 13.