Mickey's in it, but Jackie's not. The other Robinsons made the cut, but Roger didn't. Hank was flipped, while Gene was clipped. And the Dodgers and Giants made it their Big Apple curtain call, while the featured Braves players won it all in the fall. I'm talking about the 1957 Topps Baseball set, the first to settle on the now-standard card size of 2 ½" x 3 ½," and one of the classic sets of all time.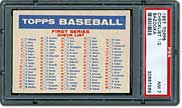 It broke new ground while also borrowing from the past, incorporating full-color action poses (first used in the 1953 Bowman color set) with a simple, two-line text design for the player's name and team. On the obverse, a red-and-blue color scheme against gray cardboard showcased each player's statistics and added a small cartoon featuring baseball trivia.
Like its older sibling, the legendary 1952 Topps set, the 1957 Topps collection numbered 407 cards. But it added eight unnumbered checklists, four contest cards, and a "lucky penny" insert – all in all, enough to keep a die-hard collector busy for years while trying to build a high-grade master set.
THE TIME
It was a watershed year. The Soviet Union started the space race by launching Sputnik, while nations around the globe cooperated in scientific research during the International Geophysical Year. Alec Guinness showed us how to keep a stiff upper lip in The Bridge On The River Kwai, while Henry Fonda showed how us to keep your cool in Twelve Angry Men.
West Side Story filled theater seats on Broadway, The Cat in the Hat filled shelves in bookstores, and National Guard troops filled the streets of Little Rock after President Eisenhower ordered the city's public schools desegregated. Young Bobby Fischer became a U.S. chess champion at the tender age of 13, while the upstart Milwaukee Braves won their first and only World Series by upsetting the favored New York Yankees, four games to three.
It was a bittersweet year for baseball fans in New York, as the Brooklyn Dodgers and New York Giants played out their last seasons in Ebbets Field and the Polo Grounds, respectively. The Dodgers, less Jackie Robinson (who retired rather than accept a trade to the Giants) finished in third place with a respectable 84-70 record, 11 games behind the Braves, while the Giants weren't as fortunate, stumbling into 6th place with a 69-85 record, 26 games off the pace.
Over in the American League, the Yankees cruised to a 98-56 record, eight games ahead of the second-place White Sox. Mickey Mantle won his 2nd Most Valuable Player award, batting .365 while hitting 34 home runs and scoring a league-leading 121 runs. However, the highest batting average went to the Splendid Splinter, Ted Williams, who came oh-so-close to .400, finishing at an amazing .388 at age 38!
THE SET
If you are into Hall of Famers, this set's chock-full of them. Besides The Mick, there's #1 Ted Williams (who else?), #2 Yogi Berra, #10 Willie Mays, #20 Hank Aaron (printed backwards, unless you thought he really was right-handed), #25 Whitey Ford, #30 Pee Wee Reese, #55 Ernie Banks, #76 Roberto Clemente, #90 Warren Spahn, #170 Duke Snider, #210 Roy Campanella, and #302 Sandy Koufax, among others.
Several notable rookies made their debut in the 1957 Topps set, some of whom went on to the Hall of Fame. Look for Don Drysdale (#18), Bill Mazerowski (#24), Frank Robinson (#35), Rocky Colavito (#212), Bobby Richardson (#286), Tony Kubek (#312), and the Human Vacuum Cleaner, third baseman Brooks Robinson (#328). Future Red Sox executive Heywood Sullivan made his first appearance on card #336, while Red Sox manager Terry Francona's father Tito took a bow on card #184.
One notable omission from the set was Roger Maris, who played in 116 games during the 1957 season while batting .235, racking up 84 hits, and smacking 14 home runs. Maris, who finally appeared in the 1958 Topps offering, made his first-ever home run a grand slam, leading the Cleveland Indians over the Detroit Tigers 8-3 on April 18. Williams showed he had plenty of punch by hitting three homers in a game twice during 1957, while ace lefty Spahn tossed his 41st shutout on September 3 at age 36. (He also won 21 games and completed 18 of them!)
In short, the 1957 Topps set is loaded with famous players. In addition to 16 team cards (distinguished by their faux wood picture frames), Topps introduced their first "combo" cards, featuring that legendary infield combo of league presidents Warren Giles and William Harridge on card #100, Carl Furillo, Roy Campanella, Duke Snider, and Gil Hodges as "Dodgers' Sluggers" on card #400, and Yogi Berra and Mickey Mantle as "Yankees' Power Hitters" on card #407.
There are some scarcities in the 1957 Topps, but the only real error card of significance belongs to Eugene Baker, an infielder for the Chicago Cubs who can be found on card #176. The error? A printing mistake that bled too much red into the player name on the obverse, resulting in some cards spelling "Eugene Bakep."
The real tough cards are the four unnumbered checklists, each of which exists in two versions – one with "Bazooka" on the back, and one with "Blony." After that, you can chase the four contest cards, each of which let entrants guess the final score of one NL and one AL game played on four different dates – May 4th, May 25th, June 22nd, and July 19th.
There was even a "Lucky Penny" promotion that was basically a redemption form for an embossed Lucky Penny holder with a shiny new 1957 penny inside. These redemption cards were also distributed on paper stock and are rarely found centered.
THE CHASE
How hard is it to find high-grade 1957 Topps cards? At first glance, not at all that hard, based on a quick scan through the latest PSA Population Report. As of mid-April 2008, PSA had graded 135,411 individual cards from the set, with 108 Gem Mint 10s, 3,304 Mint 9s, and 39,876 Near Mint-Mint 8s awarded.
Compare those numbers to 1958 Topps, which has 33,650 fewer cards graded and 41 PSA 10s, 1,988 PSA 9s, and 28,268 PSA 8s designated. Of the 407 cards in the 1957 set, the fewest grades for any individual card number 166. In contrast, there are numerous cards in 1958 Topps with fewer than 100 copies graded
Not surprisingly, the most frequently graded card is #95, Mickey Mantle, with 2,712 copies slabbed. 20 of those sit comfortably in PSA 9 holders, while 229 occupy PSA 8 lodgings. One 8.5 exists, along with one PSA 10.
The second most popular card? Roberto Clemente's #76, of which 2,257 have been scrutinized by PSA's grading staff. There are 35 PSA 9s out there and 328 PSA 8s, with a lone PSA 10 and one 8.5 in circulation.
The combo cards are popular too, with 1,399 copies of #400 and 1,823 copies of #407 now in PSA holders. The Berra/Mantle combo is a bit scarcer with 158 PSA 8s and 8 PSA 9s (no 10s yet) certified, while Furillo, Campy, Snider, and Hodges hit the "8-ball" 172 times and the "9-iron" 8 times (also no 10s).
How about scarcities? Start with card #43, Taylor Philips, of which 166 total copies have been graded and 49 PSA 8s and 1 PSA 9 awarded. Or Tito Francona (#184), with 167 total copies graded and 66 PSA 8s and 3 PSA 9s given out. Other scarce cards in high grade include #276 Jim Pyburn (51 PSA 8s and 2 PSA 9s), #303 Billy Goodman (45 PSA 8s and 1 PSA 9), and #349 Nelson King (68 PSA 8s and 1 PSA 9).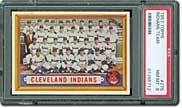 For real high-grade scarcity, check out card #s 139 Lou Kretlow, #178 Don Bessent, #290 Andy Carey, #130 Max Surkont, #331 Ray Katt, and #367 Ed Fitzgerald. PSA has yet to award a single Mint 9 for any of these cards, although one Gem Mint 10 copy of Bessent's card exists.
How about those checklists? If you are a true-blue 1957 Topps collector, here's where you'll embark on a quest that will rival Homer's Odyssey. PSA has graded a grand total of 591 copies of all eight checklist variations! That's only about 30 more cards than all of the PSA 6 grades assigned to Mickey Mantle's #95 issue.
Of those, the first series checklist is the easiest to find (relatively speaking) with 129 Big Blony and 111 Bazooka backs certified. Of those, 10 PSA 8s carry the Blony back and 9 PSA 8s sport the Bazooka back. The scarcest checklists are Checklist 4/5, Bazooka back (34 total copies graded with 2 PSA7s and 3 PSA 8Qs, nothing higher) and Checklist 3/4 with Bazooka back (52 total copies graded with 3 PSA 8s, 1 PSA 8Q, and 4 PSA 7s awarded to date.)
Still feeling ambitious? How about those contest cards, of which 521 have been graded. These are a bit easier to find, with Contest #3 the most common (161 total grades with 21 PSA 8s, 1 PSA 8.5 and nothing higher) and Contest #4 the scarcest (98 total grades with 9 PSA 8s and nothing higher).
Of course, no set would be complete without the Lucky Penny card, of which 68 copies have been graded and 7 PSA 8s awarded. As for the unfortunate Mr. Bakep – er, Baker, you can find his #176 card with the correct spelling residing in 223 PSA slabs (68 PSA 8s, 4 PSA 9s, and 1 PSA 10), while the incorrect spelling variation has been examined 62 times, with 3 PSA 8s and 8 PSA 7s awarded.
One notable card is that of Selva Lewis Burdette Junior, better known as Yankee killer Lew Burdette. His #208 card has his first name misspelled as "Lou," but what he's really known for is starting, pitching, and winning three complete games during the 1957 World Series, posting an eye-popping .067 ERA while doing it – sweet revenge for a former Yankee (he came up with them in 1950 for two games before being traded to the Boston Braves).
THE VALUES
Of all series in 1957 Topps, cards numbered from 265 through 352 are considered the hardest to find, and their SMR values reflect that scarcity with common players priced at $75 in PSA 8.
The highest value cards in this series include Bobby Richardson's rookie card ($315 in PSA 8), #300 Mike Garcia ($750 in PSA 8), #302 Sandy Koufax ($1100 in PSA 8), Tony Kubek's rookie card ($275), #342 Dodgers Team ($325), Brooks Robinson's rookie card ($715 in PSA 8), and #338, Jim Bunning's rookie card ($310).
Other high-value cards, with all SMR prices shown for PSA 8 copies, include Ted Williams ($1,450), Yogi Berra ($400), Willie Mays ($600), Don Drysdale's Rookie card ($825), Hank Aaron ($600), Whitey Ford ($475), Frank Robinson's rookie card ($775), and of course the key card, Mickey Mantle ($2,350).
A complete set in PSA 8 condition, including all four checklists but excluding the contest and penny cards, SMRs for $46,745. The lone Gem Mint 10 #95 Mantle sold for $36,225 in 2006, while a PSA 8 Checklist 3/4 sold for $4,249 in 2005. Two years ago, a PSA 9 #18 Don Drysdale rookie card sold for $10,594!
THE EXOTIC
If you follow auction results on a regular basis, you've no doubt noticed that lots of 1957 Topps uncut strips make their way to market on a regular basis. There's no known explanation for this, other than that quite a few sheets of 1st and 2nd-series cards must have walked out of the Brooklyn plant on their own! Uncut strips fetch decent prices in auctions and at dealer tables, depending on which players are featured.
I picked up a four-card sheet about a year ago that has team cards for the New York Yankees, Milwaukee Braves, and the Pittsburgh Pirates, plus a card of Stan Lopata, all for a winning bid of $45. In contrast, uncut sheets with Mickey Mantle fetch much higher prices, with a four-card strip in VG (ungraded) condition bringing $400 at gavel in the April 2008 Huggins and Scott auction.
As for unopened packs, they do pop up from time to time both in cellophane wrappers and in wax. SMR values for 1st, 3rd, 4th, and 5th series wax packs in PSA 8 holders average about $3,500, while 2nd series packs (with Mantle and Clemente) are pegged at $4,500. A cello pack graded EX-MT went for $1,012.85 in Goodwin's Masterpieces and Uncommon Commons XV auction earlier this year.
THE WRAP-UP
The 1957 Topps set is immensely popular by anyone's standards. It's a manageable size, is loaded with star players, and is the last set from the good old days of New York baseball before the Dodgers and Giants decamped for California. There aren't too many scarce cards in the set, but what a headache those checklists and contest cards are to find!
The photography, done over 50 years ago, is simply amazing on some cards and, in many cases, is crisper and cleaner than some of the photos found on later Topps issues of the 1960s. Although a high-grade set can set you back thousands of dollars, the good news is that 1957 Topps cards are affordably collectable in EX-MT6 and even NM7 grades with patience and persistence. Happy hunting!