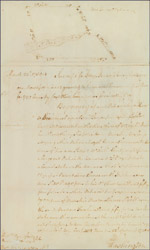 A rare relic from Washington's pre-political career,
this twice-signed land survey, dating from his
eighteenth year, achieved the auction's top
result at $33,563
AMHERST, N.H.—Stars, stripes, and signatures led the parade of treasures at R & R Auction Company's July sale, which concluded on July 16.
Though signed items from America's Founding Fathers always find an eager and appreciative audience of collectors, three truly exceptional examples demonstrated that price is no object when it comes to the very best in Americana.

Especially notable was one of the most remarkable Washington documents to reach the market in years. The document, a manuscript land survey by the eighteen-year-old Washington, represents one the earliest extant examples of the future president's handwriting. Endorsed a second time by Washington years later, and thus presenting two greatly differing variants of his signature on a single item, the survey reached $33,563, the auction's top result.
Though a watershed year in American history, 1776 also holds especial significance for collectors of the Signers of the Declaration of Independence. All Signer documents with the all-important 1776 association command a premium, and such was the case with a document signed by John Hancock months after he put his pen to the Declaration. The document, a handwritten pass for a fellow Continental Congressman dated September 16, 1776, reached $17,220. Another 1776 document from another Signer, an official appointment signed by brewer/patriot Samuel Adams, sold for $12,286.

Presidential items included a presidential paycheck endorsed by FDR, $7,627; a signed first edition of JFK's The Strategy of Peace, $6,933; a ship's papers signed by John Adams, $6,489; an intimate wartime letter from Dwight Eisenhower to wife Mamie, $5,729; and a military commission signed by Lincoln, $5,484.
Other historical standouts included a 1776 John Jay document ordering the capture of British vessels and cargoes, $7,919; a rare signature from Signer George Taylor, $7,627; a Martin Luther King letter declining a speaking engagement, $6,975; an 1810 invoice for supplies signed by explorer William Clark, $4,734; and a letter from Signer Francis Lightfoot Lee on preventing "the establishment of a precedent destructive of our Liberty," $4,734.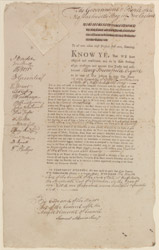 Another 1776 document from another
Signer of the Declaration of Independence,
Samuel Adams, reached $12,286
Art and literature highlights included an original Charles Schulz drawing featuring nine Peanuts characters, $6,933; a 1957 Disneyland "Gold Pass" signed by Walt Disney, $5,899; and a scarce CDV signed by Victor Hugo, $4,985.
The music and entertainment categories boasted such treasures as a superb set of Beatles signatures obtained on the set of Help!, $7,853; a Beatles Christmas Show program signed by all four, $5,899; an album page signed by all three members of the Jimi Hendrix Experience, $5,899; a royalty agreement for the song "Wild Honey Pie" signed by John Lennon and Neil Aspinall, $5,362; a Gustav Mahler letter on the reception of his Sixth Symphony, $4,304; an early Marilyn Monroe signature, $4,027; and a signed copy of Houdini's Unmasking of Robert-Houdin, $3,660.
Top sports results included a pair of checks, one each signed by Babe Ruth and Gary Cooper, $4,430; a photo inscribed by Ruth to a fellow Board of Baseball member, $4,027; a set of four Home Run Kings signatures including Ruth, Roger Maris, Mark McGwire, and Barry Bonds, $3,232; and an American League Harridge baseball signed by Ruth and ten 1934–36 Chicago Cubs, $3,232.
All prices above include the buyer's premium. R&R Enterprises' next auction begins on July 28 and ends on August 13. Bids are accepted online or via telephone, fax, or e-mail. For information or to consign to future auctions, visit the R&R web site at www.rrauction.com or contact Elizebeth Otto at [email protected].