In one of the most remarkable pitching performances in baseball history, Carl Hubbell whiffed Babe Ruth, Lou Gehrig, Jimmie Foxx, Al Simmons and Joe Cronin in succession during the 1934 All-Star Game.
Seventy-four years later, a group of collectors is still striking out with that contest. PSA Set Registry enthusiasts pursuing the All-Star Game Ticket set have yet to uncover a stub from that storied match.
"I have not seen a 1934 (All-Star ticket)," said Al Glaser, who's just three tickets short of completing the Registry's All-Star set.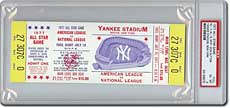 Joe Avey, who, with help from his wife, Cate, has assembled the Registry's No. 3 set, has been similarly stifled. But the ambitious hobbyist knows that there are 1934 ticket stubs out there.
"Over the last couple of years, Hunt Auctions has sold three," he noted.
A 1934 stub in "very good" condition was sold by the well-known auction house for $200 in February 2003, and two other tickets, offered in a lot with a game program, fetched $1,200 in February 2005.
The scarcity of tickets in general makes "striking out" a regular occurrence in building the All-Star set.
"There's a couple dozen years where there's likely 20 or fewer full tickets that are known to exist and with those numbers you're getting into Honus Wagner (T206) territory," said Dennis A. Jose, owner of ChicagoTIX.com.
But it's the thrill of the hunt that inspires these hobbyists.
"When you have a ticket in your hand, it's this little piece of history, as opposed to a baseball card, which might be of a great player, but it really doesn't signify a time in history," explained Glaser.
Jose shares similar sentiments.
"It's a piece of the game. It's something that was actually there," he said. "I mean, it's the next best thing to owning and inventing a time machine."
Avey agrees.
"I'm a big history buff, and there's just so much history in the tickets," he said.
There's a story behind each of the 78 tickets that comprise the Registry's All-Star Game set. Hobbyists can assemble this set with full tickets, stubs or a combination of both.
"I thought it was going to be an easy set. It was only going to be 75 tickets or so that you had to get, but my All-Star set is the one that's moving the slowest towards completion. It's a lot harder to get some of those tickets (than I anticipated)," said Lou Dicioccio, who owns the Registry's No. 4 set and also collects Super Bowl and Kentucky Derby tickets.
And if you're lucky enough to find a ticket, it's unlikely to be in pristine condition.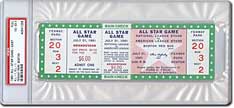 "A ticket is a consumable. It's not intended to be put in a hard plastic holder if you're going to attend the game," said Glaser. "There's only been five or six years where a (PSA) 10 (ticket) has even been graded and there's maybe only 10 years when a (PSA) 9 has been graded."
With the exception of 1945 when there was no game and a four-year stretch from1959 to 1962 when two midsummer classics were played in each season, collectors only have to acquire one ticket per year. But hobbyists have to be wary of replica tickets, and having a ticket graded by PSA will ensure its authenticity.
"From the earliest years, there are multiple security features that are designed into All-Star Game tickets," explained Jose. "So, while there are unofficial replicas or reproductions, it's possible for PSA's ticket authentication staff, with 10 or more security features inherent in each of the tickets, to sort out the real ones from the replicas."
Played on July 6, 1933 at Comiskey Park, the first All-Star game was the brainchild of Chicago Tribune sports editor Arch Ward and was played as part of the World's Fair. The inaugural contest featured Babe Ruth belting the first home run in All-Star competition. Tickets from this event are rare.
"In full form, a 1933 (all-star ticket) would certainly be the one that everybody would want," explained Glaser, who owns a PSA 1 stub.
Avey recently tracked down a full 1933 ticket. He has since learned that his ticket was once owned by Brian Gettings, the U.S. Attorney who drafted the National anti-racketeering legislation called the RICO Act in the '60s.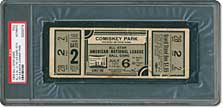 "The reason he had the ticket was that was his birthday – July 6, 1933," explained Avey. "The first All-Star game happened the day he was born."
Just three 1933 stubs have been submitted to PSA and Avey's is the only full ticket to be evaluated.
Aside from the 1933 and 1934 stubs, the 1937 ticket is also elusive. Both Glaser and Avey need this ticket for their Registry sets. The sole full 1937 ticket graded by PSA was deemed a PSA 6.
"It's very difficult to get a ticket from the 1930s or the 1950s that is graded a (PSA) 5 or a (PSA) 6. It just doesn't happen these days," said Avey. "Even in the 1960s, to get a (PSA) 6 is a very good grade."
Modern tickets can also be difficult to track down in pristine condition. For example, just seven full tickets have been evaluated from the 1990 All-Star Game at Wrigley Field, with just one example grading as high as a PSA 8.
"That's a really hard one to get . . . they didn't scan the tickets that year. They were ripped off," said Dicioccio.
Tickets from the 1995 midsummer classic in Texas are also appealing because of their design.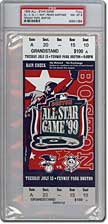 "They started making die-cut tickets in 1995 and 1996. They started using a die-cut, as opposed to your basic, rectangular ticket," explained Glaser.
"I like the shape of it," added Dicioccio of the 1995 ticket. "It has a big star on the top and it's not a square ticket. It's rounded on the top and it's square on the bottom."
Twenty full tickets from the 1995 showcase have been submitted to PSA, and there have been two PSA 9s and six PSA 8s.
Tickets from the 1999 Fenway Park matchup are also in high demand. SMR lists a PSA 10 ticket from this game at $1,000.
"The 1999 Fenway Park ticket is probably the toughest of the modern tickets and that can carry a pretty hefty price," said Glaser.
Dicioccio agrees.
"The 1999 All-Star Game ticket is a very difficult one to get because Boston fans gobble up those tickets and they don't want to let them loose," he said.
And the hunt for tickets is bound to get even more challenging, as more collectors join the Registry.
"It seems like every month, we're picking up new people," said Glaser.
Jose, who helped with PSA's ticket grading program in the early days, agrees.
"The growth has been exponential (in tickets being graded)," he said.
And with increased competition they might "strike out" a little more in tracking down elusive tickets, collectors seem happy to have new hobbyists entering the fray.
"We're hoping that the (grading) tickets will take off like the baseball cards took off," added Dicioccio.
---
Please feel free to contact Kevin Glew at [email protected] if you have any additional information or comments. Al Glaser and Joe Avey provided pictures for this article. Please note that the Population Report figures quoted are those as of press time.