Five years ago I retired after I realized it was time. I was fifty nine years old, in good health and had my children, grandchildren and baseball card collection to occupy my time. After three years it was evident I couldn't aggressively pursue my quest for an all PSA 9 1953 Topps set any longer as the funding simply wasn't there as it once was. For the entire year of 2007 I was only able to purchase two PSA 9's for my set, an all time low for the set I started building fourteen years ago.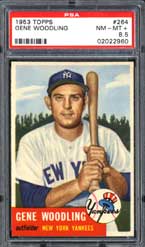 That shouldn't have been a problem because I anticipated selling the set after retirement anyway, but this hobby is addictive and very enjoyable and I couldn't do it. So, things were at a standstill and actually getting boring.
At PSA's conception, I was an outspoken advocate for .5 or more grades within the grades but the PSA management at that time disagreed and stuck with just whole numbers. A few years back when there was talk of PSA now going with .5 increments I was against it as I felt that boat had long sailed. Now I feel entirely different and would like to explain why.
As I was putting my set together, especially raw cards, I always tried for the best possible examples disregarding cost in some instances because you usually have to pay more for high grade examples. But, when all the holes were filled in I didn't stop there. Whenever possible I would upgrade PSA 8's with better 8's and even PSA 9's with better 9's. I am an advocate of the card and not the holder.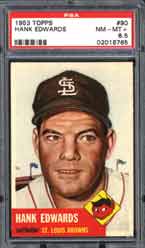 Now, with the advent of .5 grading I have been given a chance to make that system pay dividends by raising the GPA of my set and increase its value without a purchase by using the new review service for a possible .5 upgrade.
I started by pulling out my fifty best PSA 8's, divided them into 7 submissions and sent them in weekly for review. This was easy to do because I personally graded all my PSA cards over the years and listed them in my computer according to quality, at least in my opinion. The new pop report and "my account" feature made it fun and easy to follow the progress on a daily basis. My first submission was outstanding and anticipated since it was my six best 8's, but it was short lived. Out of the six 8's I got three 8.5's and one PSA 9 that had a history. I bought this card raw thirteen years ago and was very disappointed when it was graded PSA 8. I sent it in for review a couple of years later and it still was graded a PSA 8. There was no doubt in my mind it was going to be at least an 8.5 this time around and now it finally resides in a PSA 9 holder where it richly deserves to be, making this new feature a potential for very positive experiences.
I didn't have as much luck with the next 4 submissions but started to see the criteria that was being used to upgrade to an 8.5. Centering was clearly the key and it wasn't going to be easy for the upgrade. That frustrated me at first because every one of these cards were better than an 8, in my opinion. But, it became obvious that these cards had to be extremely well centered and borderline 9 in order to qualify for the upgrade making them very hard to come by but would also carry a high premium in the future. So, instead of being disappointed by those that didn't qualify I was happy for those that made the upgrade. As of this writing thirty seven cards have been reviewed with ten making the upgrade. That's a 27% success ratio when the projected average was 10%, so I can't complain. I will just be more particular with future attempts.
Collectors can now upgrade their sets either by review with success of cards already in their inventory or the purchase of .5's for less than what it would cost for the next full grade which will ultimately make this process a huge success. Of course, only time will tell. There is now a potential boost to the marketplace with people, including myself, that will purchase very high grade PSA 8's, PSA 7's, PSA 6's etc. with the hopes of a review and a .5 upgrade and then a future sale yielding a profit, as a result. I also agree that a PSA 9.5 would be unnecessary as there is a PSA 10 grade for a very high grade 9 already in place. This time next year we will have a better feel for how it will play out and I look forward to a successful outcome.
In the meanwhile, what seems like a very tedious and expensive task can be fun and rewarding. I have all my cards in safe deposit boxes and it gave me the opportunity to look at cards that I haven't seen in years and reevaluate them. As far as cost, the successful upgrades will more than pay for the grading costs. The card that was upgraded from PSA 8 to PSA 9 becomes a 1of 2 pop and the value goes roughly from $300 to $2000 which more than paid for all the grading costs. I understand that getting a full point upgrade will be very rare indeed but the possibility is always there.
That's my take on half-point grading. Good luck to all that choose to use the new service.