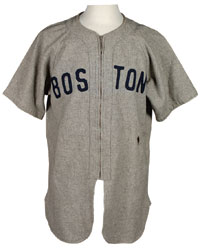 The magic number was "9" for the new owner of this
original 1940s jersey worn and signed by Ted Williams.
This baseball treasure, formerly the property of the
Ted Williams Museum, achieved the auction's highest
result at $29,220.
AMHERST, N.H.—No true sports collector minds getting a splinter now and then—as long as it means a treasure from the "Splendid Splinter" himself, Ted Williams.
This most fabled of baseball icons took top honors at R&R Auction Company's June auction, which ended on June 18. An original signed road jersey worn by Williams in the 1940s and later presented by legendary collector Barry Halper to the Ted Williams Museum in Hernando, Florida, reached $29,220, the auction's top result.
The focus shifted from sports to science with an outstanding 1917 letter from Albert Einstein to a bitter rival who sought to discount his epochal Theory of Relativity. In the letter, the famed physicist pokes a number of holes in his opponent's point of view, which he dismisses as "untenable." The letter, which also makes reference to Euclidean geometry and "the role of
universal time," sold for $16,979.
A rare relic from the Oval Office desk of JFK led the presidential category. A 1962 check from JFK to the Air Force, written just months before the Cuban Missile Crisis but never cashed, attained $12,756. While collectors of presidential checks are all too aware that examples from JFK are difficult to come by, the date, significant association, and attractive condition all contributed to the particularly impressive result for this specimen.
Other top results among presidential items included an 1800 land grant signed by John Adams, $7,986; a Washington free frank, $7,284; a Lincoln appointment for a quartermaster, $6,622; and an 1801 land grant signed by Jefferson and Madison, $5,948.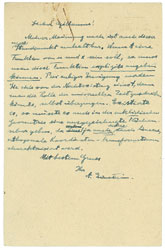 Einstein spars with a rival in this
signficant 1917 letter, which
sold for $16,979
Historical highlights included a rare copy of the account of the excavation of Tutankhamun's tomb signed by archaeologist Howard Carter, $9,502; a letter of condolence from General George S. Patton to a World War II widow, $9,306; a letter from Horatio Nelson to his notorious mistress, Emma Hamilton, $8,711; a page from a document flown on the Apollo 11 mission, signed by Buzz Aldrin, $7,199; an Apollo 11 "insurance" cover signed by all three crew members, $6,544; a document signed by James I and Queen Anne, $5,948; a 1949 check signed in full by Albert Einstein, $5,251; an 1862 J. E. B. Stuart letter inviting some ladies to join him on a sleigh ride, $5,027; a rare ink signature of Apache warrior Geronimo, $4,468; and a letter from Claude Monet refusing to haggle over the price of a painting, $4,339.
Music standouts included a scarce copy of the classic album Led Zeppelin I signed by all four members, $8,312; an early publicity photo signed by Elvis Presley and two of his Sun Records bandmates, $5,251; and a menu signed by Paul McCartney, George Harrison, and Ringo Starr during the filming of MagicalMystery Tour, $4,061.
Strong interest in the entertainment category was reflected in such results as a 1953 check signed three times by James Dean, $10,150; a collection of more than 1,100 mostly vintage signatures, $7,986; a rent check signed by Bruce Lee for his Jun Fan Gung Fu Institute, $6,587; a signed membership card for Lee's school, $4,562; a signed 78 rpm record of Abbott and Costello's classic "Who's on First?" routine, $4,339; a rare and stunning oversized photo signed by Jean Harlow, $4,339; and a vintage photo signed by Walt Disney for an early business associate, $4,254.
All prices above include the buyer's premium. R&R Enterprises' next auction begins on June 30 and ends on July 16. Bids are accepted online or via telephone, fax, or e-mail. For information or to consign to future auctions, visit the R&R web site at www.rrauction.com or contact Elizebeth Otto at [email protected].