It's only fitting that Ernie Banks is featured in a Double Headers Set. After all, it was Mr. Cub who famously quipped, "It's a beautiful day for a ballgame... let's play two!"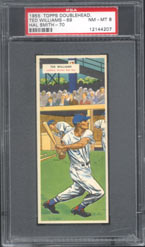 Surprisingly, however, Banks receives second billing to journeyman southpaw Howie Pollet on his 1955 Topps Double Headers single (#32). A possible explanation for Banks being relegated to the card back is that he hadn't blossomed into a superstar yet.
Banks and Pollet comprise one of the 66 cards (132 players) in the eye-catching 1955 Topps Double Headers set. Similar to the 1911 T201 Mecca Double Folders, these cards feature two players. When unfolded, these cards measure 2-1/16" by 4-7/8" and showcase player pictures against colorful stadium backgrounds. A second player is featured when the cards are folded the other way. The players share the same lower legs and feet.
The player's name, team and position are indicated, and the pictures generally resemble those on the background of their regular 1955 Topps cards. Card backs boast biographical information, statistics and card numbers. When placed side-by-side in reverse numerical order, the backgrounds on these cards form a continuous stadium scene.
Originally distributed in one-card, penny packs with gum, these cards were manufactured in much smaller quantities than the regular 1955 Topps singles.
"There's just not that many (Topps Double Headers cards) out there," said Don Spence, owner of the Registry's No. 1 Double Headers set.
Most cards from this issue boast horizontal perforations that facilitate the folding of these cards, but non-perforated examples have surfaced. PSA will not grade the non-perforated singles.
"It's rumored that a find of uncut sheets occurred some time ago and the non-perforated versions are believed to originate from those sheets," explained PSA president Joe Orlando.
Because of their size, these cards were not graded by PSA until 1999, reports Ron Hobbs, owner of the No. 1 Registry set from 2002 to 2007.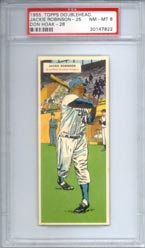 All of the players in the Double Headers set also boast low number cards in the regular 1955 Topps series. And while legends like Ted Williams, Jackie Robinson, Hank Aaron, Al Kaline, Warren Spahn, Harmon Killebrew and Hal Newhouser are featured, this set is just as notable for its omissions. Sandy Koufax, Willie Mays, Roberto Clemente and Mickey Mantle are all absent.
"At that time, Mantle is not in the 1955 Topps issue either. That's when they were having the battle between Bowman and Topps," explained Spence.
The Williams single (#69, also features Hal Smith #70) is the set's most coveted card. Of the 130 submitted, no card has graded above PSA 8. A PSA 8 Williams sold for $3,061.30 in a Memory Lane auction in August 2006.
Jackie Robinson (#25, also features Don Hoak #26) is probably the second most sought-after superstar card. A PSA 8 Robinson fetched $1,944.63 in a Mastro Auction in August 2006. Also popular is Hank Aaron (#105, also features Ray Herbert #106). Three PSA 9s and 13 PSA 8s exist of the former home run champ. A PSA 8 sold for $1,742 on eBay in January 2008.
Hobbs says that Al Kaline (#45, also features Corky Valentine #46) might be the most difficult Hall of Famer to obtain in top condition. Of the 71 examined, there have been four PSA 8s, with no cards grading higher.
But it's the common cards that have proven the most elusive for hobbyists. Just one PSA 8 (no PSA 9s or 10s) exists of the set's first card that features Al Rosen and Chuck Diering.
"For obvious reasons, the first cards (in sets) have always been the most difficult. If people put them in order, card No. 1 was on the top and it was the one that always had the rubber band placed around it," explained Spence.
Hobbs says a high-grade Rosen/Diering card would garner big bucks in an auction.
"If you put a PSA 8 on eBay, it would probably go for $3,000 or $4,000," said Hobbs.
Until recently, the set's last card (Herm Wehmeier (#131), Wayne Terwilliger (#132)) was just as tough to find in pristine condition. Of the 31 evaluated, there are four PSA 8s and two PSA 7s.
"Some of the stars are easier to obtain, even though they're expensive, but it's interesting to note that you're going to have to pay more for a Terwilliger common card than you would for an Aaron card or a Robinson card because of the availability," said Hobbs.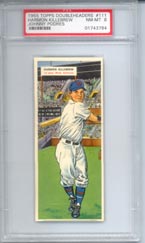 Hobbs adds that the Bob Kennedy, Windy McCall (#87-88) card is likely the most evasive in pristine condition. Spence agrees; this is the only card he needs to complete his Registry set. A sole PSA 8 copy (nothing graded higher) of this card exists.
The size of these cards makes them difficult to uncover in pristine form.
"Like any of the larger cards, they're harder to manage before they're put into cases. They're more susceptible to damage," explained Spence.
Of course, these cards were designed to be folded, so most of them have been well-handled. Being released in one-card packs with gum also made these cards vulnerable to gum stains.
These condition woes, along with the scarcity of these cards, make completing this set a challenge for collectors. For those who stay the course and complete the set, however, it might pay off financially in the future.
"I felt that the set was undervalued," said Spence, on why he started collecting the set. "It's not your mainstream set, but it is a Topps set and because Topps is so recognized within the industry, I felt like these cards would, in fact, appreciate in value."
Hobbs likes these cards so much that he has collected two sets: one with perforated cards and the other with non-perforated cards. Assembling two sets seem fitting – after all, this is a Double Headers set, and if Ernie Banks was a collector, he might say, "Let's collect two!"
Please feel free to contact Kevin Glew at [email protected] if you have any additional information or comments. Don Spence provided pictures for this article. Please note that the Population Report figures quoted are those as of press time.