His long and arduous trek to baseball immortality has been a wild "Goose" chase, but it seems appropriate that Rich Gossage will be enshrined in Cooperstown on the 30th anniversary of his best season.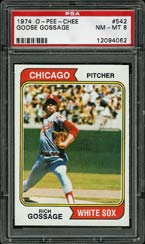 In 1978, his first campaign with the Yankees, Goose racked up 10 wins, topped the American League in saves (27) and toiled on his only World Series-winning squad. He was also named the Junior Circuit's Rolaids Relief Man of the Year and recorded the final out in the storied divisional tiebreaker against the Red Sox.
Never one to stifle his opinions or his emotions, the fiery closer had long campaigned for his induction, and it was hard to argue with his worthiness. His numbers compare favorably with the four other relievers – Hoyt Wilhelm, Rollie Fingers, Dennis Eckersley and Bruce Sutter – previously honored. For a man who threw 98 miles per hour, waiting eight years to be elected must have seemed a lifetime.
Showcasing an intimidating mound presence, the gruff Gossage played 22 big league seasons and often pitched more than two innings for his saves. Hence, his disdain for being compared to today's closers that generally toss one inning.
But despite his pitching heroics and now Hall of Fame career, few collectors are assembling Goose's Basic & Collectors Issues (56 cards) and Master (77 cards) sets on the PSA Set Registry.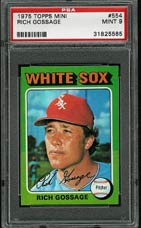 "There really aren't a lot of people on the Gossage Registry," said Joel Pankey, who owns the No. 1 Basic and Master sets.
Growing up in San Diego, Pankey is an avid Padres fan. With Gossage in their bullpen, the Padres 1984 World Series squad evokes some of Pankey's best memories.
"That was their glory days as far as I'm concerned," he said.
His goal is to complete the Goose Master Set and give it to his brother, A.J.
"Actually, Gossage is my brother's favorite player. I was more of a hitter. I idolized Tony Gwynn, but my brother was a pitcher who really liked Goose Gossage," he explained. "The idea was that I was going to get together the No. 1 set and then surprise him and give him a present."
Assembling this set, however, is a challenging task. Perhaps the most difficult Gossage card to obtain is his 1972 Puerto Rican League sticker. Part of a rare issue that consists of 231 stickers linked to the Puerto Rican winter league, this single measures 2-1/4" by 3". Color photos are showcased on the front of these stickers and biographical information is featured in Spanish on the back. An album was produced for these stickers to be pasted in. As a result, they're sometimes found with glue residue or paper tears.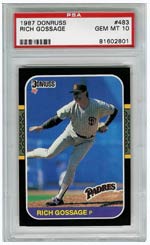 "I don't even know what the Gossage (1972 Puerto Rican sticker) looks like. I haven't even seen one. It's certainly the most challenging (Gossage) card to get," said Pankey.
Another elusive card in high-grade is Gossage's 1973 O-Pee-Chee rookie (#174). Just 25 of these have been graded, and the sole PSA 10 copy netted $8,865.43 on eBay in January 2007.
"In general, O-Pee-Chees in any condition are much scarcer than Topps... O-Pee-Chee cards are famous for their rough edges due to substandard cutting equipment at the factory where they were produced," explained veteran hobbyist Bob Fisk.
Pankey agrees.
"O-Pee-Chees are a greater challenge (than Topps) because the centering is typically bad, the edges were bad, and the card stock is different," he said. "It's harder to find cards with clean edges in O-Pee-Chee."
Also highly coveted is Goose's Topps rookie (1973 Topps, #174). Fifteen times as many Topps rookies have been graded as O-Pee-Chee rookies. Of the 375 evaluated, there are two PSA 10s and 37 PSA 9s. Savvy collector Rick Probstein purchased one of the two PSA 10s on eBay in January 2008 for $3,216.66.
"I bought it more as an investment. I think an Eckersley (PSA 10) rookie once sold for like $7,500, so I just felt that it (the Gossage rookie) was underpriced," he said. "I was prepared to pay a whole lot more."
The Topps rookie also has its share of condition woes.
"There are major (condition) issues with it," said Probstein. "The big thing is centering. It's a very hard card to get centered 50/50, but they (corners and edges on the Gossage rookie) also fray easily."
Gossage's 1982 Topps "blackless" variations are also evasive. The menacing moundsman has three cards in the regular 1982 Topps set: a regular issue (#770), an All-Star card (#557) and an In Action card (#771). Only the All-Star and In Action cards boast "blackless" variations. These variations reportedly occurred because a small quantity of cards was printed without black ink.
"A true blackless card will be missing the single line black border around the picture in addition to the signature and any black text that appears on a normal '82 Topps card," explained Fisk.
Fisk adds that the 1982 Topps cards were produced in six sheets (labeled A through F) of 132 cards each. Only the 396 cards in sheets A through C boast "blackless" variations. Gossage's all-star card (#557) can be found on sheet A. His In Action card (#771) is on sheet C.
"Sheet A is the most plentiful. 'Blackless' cards appeared in packs in the New York/New Jersey area and in Michigan. Sheet C cards seem to be more plentiful in Michigan," noted Fisk.
For the record, Pankey says that the regular version of Gossage's 1982 Topps In Action card is also evasive in high-grade. There has yet to be a PSA 10 example of this single and there are just two PSA 9s.
"The Gossage In Action card is really tough. I've opened up some packs from that year just looking specifically for that card. All the ones I've seen are off-center and the ink is kind of sloppy," said Pankey.
And it probably won't get any easier to track down these cards. Competition for Gossage singles has increased since the Hall of Fame announcement in January.
"Shortly after he was voted in, his mint (PSA 9) rookies started selling for double, triple, quadruple book value," said Pankey.
Despite this spike, there's still a relative dearth of Gossage collectors.
"I would really like to see some more people register some Gossage sets," said Pankey. "I'm hoping this summer as he gets into the Hall of Fame that that will stir some activity."
If Pankey's hopes come true, maybe we will finally see a wild "Goose" chase for some of Gossage's cards.