"There's not an American in this country free until every one of us is free."
-Jackie Robinson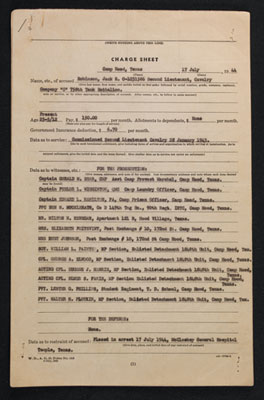 Lot 2 Jackie Robinson 1944 Original Court Martial
File PSA/DNA
A collection of papers chronicling a signature moment in the struggle for civil rights has been consigned to Memory Lane Incorporated and will be offered for sale as part of the company's upcoming Spring Fever Extravaganza auction.
The historic lot consists of file copies of the legal documents and transcripts associated with the 1944 U.S. military court martial of Baseball Hall of Famer Jackie Robinson, then a soldier stationed in Texas. The documents, one of which contains the hand-written initials of the former Brooklyn Dodgers' infielder, reveal that Robinson was pioneering civil rights years before he stepped onto the field as baseball's first African-American Major Leaguer.

Noted baseball memorabilia collector John Branca who is divesting some of his amazing private collection, consigned the papers to Memory Lane.

A second lieutenant in the United States Army serving at Camp Hood, Texas during World War II, Robinson was brought up on charges of insubordination over a racially charged incident on a U.S. Army bus. The verbal altercation with a white driver occurred when Robinson stopped to talk with a female passenger halfway down the aisle and was ordered to proceed to the back of the bus. Such a directive was against Army policy. Nevertheless, Robinson was subjected to a court martial. He was later acquitted and petitioned for an honorable discharge, which was granted by the Army.

After a stint in the Negro Leagues and the minor leagues of professional baseball, general manager Branch Rickey brought Robinson up to the Brooklyn Dodgers in 1947. He embarked on a relatively brief, but wildly successful Major League career that resulted in his election to the Baseball Hall of Fame in 1972.
Truly special pieces of sports memorabilia cross into the realm of American history. Perhaps no offering of sports memorabilia is more powerful than these documents, which chronicle the early courage of a man who would later call upon that inner strength numerous times while changing the face of baseball.
Over 900 lots of vintage sports cards and memorabilia is offered in this auction, which is now open for both online and telephone bidding. Auction closes May 17.
Visit www.memorylaneinc.com