Charlie Brown has his head examined-but turns the
tables on Lucy-in this 1971 Peanuts strip, which
reached $27,738
AMHERST, N.H.—It didn't matter whether your tastes ran more toward the funny pages than to Ben Franklin—there was definitely something for everyone at R&R's April auction, which concluded on April 16.
Collectors of original artwork from Charles Schulz's Peanuts indulged in some "retail therapy" in pursuit of a 1971 strip featuring a session at Lucy's psychiatric booth. A final result of $27,738 made it the top item in the auction, which featured more than 1,500 lots.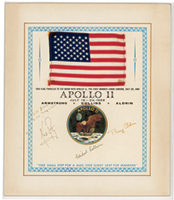 These well-traveled Stars and
Stripes, carried aboard the
Apollo 11 mission, achieved
a stellar $21,345
When it comes to space memorabilia, the magic number is 11—that is, the Apollo mission during which men first walked on the moon. Combine that with the most coveted category in the field of space collecting—flown items—and you get a potent prescription for auction excitement. Such was the case with a flown American flag from the Apollo 11 mission, affixed to its original presentation signed by all three crew members,
which sold for $21,345.
America's chief executives proved their leadership abilities once again with such impressive results as a discharge for a Revolutionary War veteran signed by Washington, $14,988; a John Adams appointment for a naval surgeon's mate, $7,853; an early legal brief signed twice by Lincoln, $7,145; and an 1809 military commission signed by Jefferson, $7,139.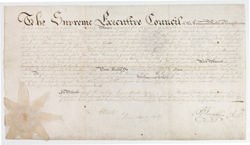 Franklin had just returned to America after a decade
as Ambassador to France when his signed this
1785 Philadelphia land grant, which sold for $18,741
Statesmen, scientists, and others kept distinguished company among the auction's top-performing historical figures. Leading the way was a 1785 land grant signed by Franklin, $18,741; a signed first edition of Martin Luther King, Jr.'s Stride Toward Freedom, $13,515; an early and remarkable handwritten poem by the future Benedict XVI (who was in the midst of his first U. S. visit as the auction concluded), $12,493; a document signed by John Hancock certifying fellow Signer Elbridge Gerry as a Massachusetts representative, $7,853; and a signed photo of genetics pioneers Watson and Crick, $6,844.
Space and aviation standouts included a Neil Armstrong postal cover and letter on the European reaction to Apollo 11, $14,867; a flown page from the Apollo 11 flight plan signed by Buzz Aldrin, $7,477; a space travel book signed by 24 astronauts, including 11 of the 12 moonwalkers, $7,139; and an oversized photo of the Apollo 11 crew signed by all three, $6,302.
Art and literature made a strong showing with a color print from Sleeping Beauty signed by Walt Disney, $7,139; a signed photo of Ernest Hemingway, $5,362; and a limited edition biography signed by Picasso, $5,117.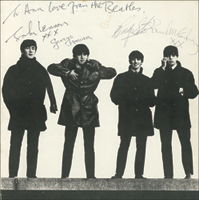 A rare program from the Beatles' 1964
"invasion" of the U.S., signed by
all four, brought $20,551
The Beatles topped the music charts once again with a program from their 1964 U. S. tour signed by all four, $20,551; a 1976 business check signed by Lennon and McCartney, $8,638; and a check signed by Lennon in the year he gained permanent American residency, $2,670.
Outstanding performers in the entertainment category included a signed membership card from Bruce Lee's martial arts school, $5,729; a signed photo of the Three Stooges, $4,027; a souvenir book signed by more than 100 Oscar winners, $3,176; and, in one of the auction's more surprising turns, a signed glamour shot of former Avengers star and onetime "Bond girl" Diana Rigg, $3,149.
Sports highlights included a baseball signed by Babe Ruth and Lou Gehrig, $8,701; a signed first edition of Ruth's autobiography, $4,608; and a photo of the 1927 Yankees signed by Ruth, $4,608.
All prices above include the buyer's premium. R&R Enterprises' next auction begins on April 28 and ends on May 14. Bids are accepted online or via telephone, fax, or e-mail. For information or to consign to future auctions, visit the R&R web site at www.rrauction.com or contact Elizebeth Otto at [email protected].