Upcoming auction by Memory Lane Inc. also includes dozens of high grade, rare baseball cards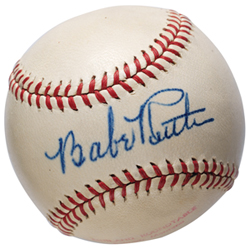 Lot 1 The Dr. Carvel Lincoln Babe Ruth

single signed baseball PSA/DNA 8

(TUSTIN, CA) -- Three historic and important pieces of baseball history will be among the hundreds of items available when Memory Lane Inc. opens its Spring Fever Rarities Auction.

The auction will be the largest ever conducted by the California-based company, well known for landmark sales in the multi-million dollar sports memorabilia industry. Over 1,400 lots of vintage sports cards and historic artifacts will be offered in the upcoming sale, which begins with online and telephone bidding April 27 and closes May 17.

Fans and collectors should gravitate toward two exceptional baseballs directly associated with the greatest player the game has ever known, Babe Ruth. 60 years after his death, the Babe remains as popular as ever with baseball fans and collectors who purchase important items representing his career.

Leading off the auction is an item that is indeed rare; an actual Ruth home run ball, signed by the Babe himself. Best of all, the ball dates from his record-setting season of 1927 when the Bambino established the benchmark of 60 homers in a season. One of only two known home run balls surviving from his historic '27 campaign, the ball represents Ruth's 13th home run of the year. It was snared in the stands by a proud fan that had it autographed by the Bambino after the May 29 game at Yankee Stadium. The family, which enjoyed this baseball heirloom for over 60 years, has now decided to part with it and Memory Lane is proud to make it available to those who appreciate its significance and rarity.

Amazingly, the Ruth home run ball is not the only phenomenal relic from the Yankees legend included in the Spring Fever Rarities Auction. Memory Lane is also offering a previously undiscovered, virtually pristine Babe Ruth autographed baseball dating from the final months of the Babe's life.

The ball was signed for a teenage member of an Idaho American Legion baseball team when Ruth was the special guest at a post-season tournament. The official American League baseball has been stored in its original box since that time, keeping it so well preserved that PSA/DNA has recently given it "8" (NM-MT) grade. Ruth's bold, clear, blue ink signature is on the sweet spot. The ball has tremendous eye appeal and Memory Lane officials say it is among the best autographed Ruth balls they have ever seen.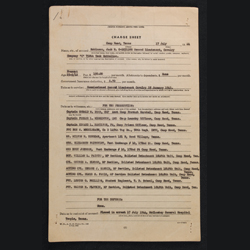 Lot 2 Jackie Robinson 1944 Original

Court Martial File PSA/DNA

Memory Lane is also honored to have been selected to offer a collection of papers crossing both baseball history and a signature moment in the struggle for civil rights.

The historic lot includes file copies of the legal documents and transcripts associated with the 1944 U.S. military court martial of Baseball Hall of Famer Jackie Robinson, then a second lieutenant stationed at Camp Hood, Texas.

One of the documents contains the hand-written initials of the former Brooklyn Dodgers' infielder, placing it in Robinson's hands at the time he faced his first major hurdle in the struggle for civil rights—three years before his barrier-breaking Major League debut.

Robinson had been charged with insubordination for his refusal to move to the back of a military bus. The order was against Army regulations, however, and his dispute with the bus driver that led to the court martial resulted in acquittal. It would set the stage for Robinson's courageous entry as the first African-American to play in the Major Leagues when he joined the Brooklyn Dodgers three years later. Legendary baseball memorabilia collector John Branca who is divesting some of his amazing private collection consigned the papers to this auction.

Memory Lane is also known for offering stunning lots of high grade and rare vintage sports cards and the upcoming sale is no different. Iconic names like Ruth, Gehrig, Jackson, Mantle, Mays, Aaron, Robinson, Williams and Thorpe are among those included.

Only a handful of 1951 Bowman Willie Mays rookie cards exist in PSA 9 (mint) quality, but Memory Lane once again brings this ultra popular card back to the table. The company sold one at auction last April for $93,412,50.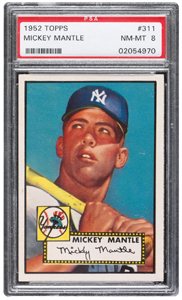 Lot 4 1952 Topps #311 Mickey

Mantle PSA 8 NM-MT

What major auction is complete without a 1952 Topps Mickey Mantle? Auction companies often feature them, but Memory Lane carries only the highest quality examples of the ever-popular high series rookie card from Topps' first major offering. Offered is a PSA 8 (near mint) Mantle sure to attract significant bidding from collectors of The Mick's cards or those chasing the elusive but extremely popular '52 Topps issue in graded form from start to finish.

As hard to find as those vintage beauties may be, it's difficult to fathom how few high-grade rare regional cards are still in existence today. A number of these popular and underrated issues are also among the pages of the Memory Lane catalog including a 1954 Wilson Franks full uncut sheet, one of the most rare and desirable uncut sheets in existence.

The golden era of baseball cards produced the classic 1956 Topps set and Memory Lane is offering one of the best anywhere; a complete PSA 8-graded set. The set likely offers incredible break-up value or it could certainly provide comfort for the winning bidder who seeks only the best for their collection.

19th century cards continue to appreciate in respect and value across the hobby. This sale includes several popular examples including a complete 1888 Scrapps Tobacco set, an 1888 N162 Goodwin Champions Cap Anson (PSA 7), an 1887 N175 Gypsy Queen Roger Conner (PSA 3) and an 1893 Just So tobacco Jesse Burkett. These cards represent not only the dawn of the baseball card hobby but, in fact, the beginnings of the game itself on a professional level.

Other treasures include a T204 Ramly William H. Dineen Square Frame (PSA 3), T205 Gold Border Christy Mathewson (PSA 7) and a gorgeous T206 Ty Cobb Portrait-Red (PSA 8). The Cobb card is one of the hobby's most historic and popular.

The amazing quality and number of rare pieces in this sale include many more cards soon to turn 100 years old but not looking a day over thirty!

Few vintage card sets are as beautiful as the 1911 T201 Mecca Double Folders and two examples sure to draw significant interest in the sale are: Mathewson/Bridwell and Johnson/Street (both PSA 8). Not to be outdone are the T202 Hassan Triple Folders. This auction includes a great Cobb/Moriarity (Good Play at Third) graded PSA 7. More than baseball cards, all of these pieces are really small pieces of baseball art, suitable for any museum or gallery.

When youngsters collected the 1914 and 1915 Cracker Jack sets, few players were as popular as Christy Mathewson. "Matty" embodied all that was good in sports. Bucknell graduate off the field; ferocious competitor on the diamond. Both of the Hall of Famer's Cracker Jack cards are included in the sale:

High grade Ruth and Gehrig cards never disappoint and the classic 1933 sets are where they are most at home. Goudey cards continue to gain in popularity among pre-War collectors and a stellar card of the Sultan of Swat: a #53 Ruth in PSA 7. You'll also find a 1933 Sport Kings Ruth card in the sale (PSA 7), and a card that will excite both collectors of the 1933 Sport Kings set and golf collectors as well. The legendary Bobby Jones card from that eclectic set is in the catalog and available to the highest bidder. Graded near mint, (PSA 8) it represents the dawning of golf's popularity in America.

High grade collectors of vintage Hall of Famers and rarities will appreciate the chance to acquire numerous post-War cards in high grade. The list is seemingly endless. It begins with five incredible 1948 Leaf cards: #3 Babe Ruth (PSA 8), the rookie card of Jackie Robinson, #79 in the series, graded PSA 8 and #120 George Kell (PSA 8).

The first card in any vintage set is nearly always impossible to find in high grade, yet Memory Lane has done it with a 1951 Bowman Whitey Ford (#1) graded near mint (PSA 8). Graded set collectors know opportunities to acquire such scarcities are not to be missed.

The 1950s was the 'golden era' of baseball cards and Memory Lane takes us all back to a time of card flipping, bubble gum and ballpark heroes with a spectacular array of high grade cards.

The 1953 Bowman Color set is a piece of artistry with clear, crisp, unencumbered photographs oozing with nostalgia. Memory Lane is proud to offer two masterpieces from the set: a mint #59 Mickey Mantle (PSA 9).

Other professionally graded and authenticated 1950s Hall of Famers in the auction include: 1954 Topps #201 Al Kaline rookie PSA 9, 1955 Topps #47 Hank Aaron (PSA 9), 1955 Topps #124 Harmon Killebrew (PSA 9), 1955 Topps #164 Roberto Clemente Rookie Card (PSA 8), 1956 Toppps #5 Ted Williams (PSA 9), 1957 Topps #10 Willie Mays (PSA 9), 1957 Topps Brooks Robinson Rookie Card (PSA 9), 1958 Topps #187 Sandy Koufax (PSA 9), 1958 Topps #418 Mantle/Aaron World Series Batting Foes (PSA 9), 1959 Topps #163 Sandy Koufax (PSA 9) and a 1959 Topps #514 Bob Gibson (PSA 9).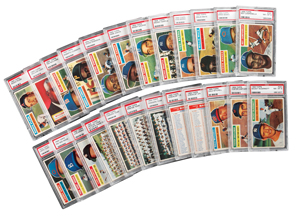 Lot 6 1956 Topps Complete Set: All graded PSA 8 NM/MT

For collectors who want the ultimate 1950s display piece for their hobby room, Memory Lane presents a full, uncut sheet of 1956 Topps baseball.

The value afforded collectors of 1960s material can't be ignored and regardless of era, top grade vintage sports cards have proven to be a wise, worthy and entertaining investment over time. Memory Lane has acquired consignments representing an exceptional group of cards from the 1960s era to present in the Spring Fever Rarities Auction, highlighted by a 1961 Topps #578 Mickey Mantle All Star in PSA 10 (gem mint) condition. This card may simply redefine the terms "high grade" and "scarce" when it comes to 1960s material.

Other 1960s cards include a 1960 Topps #300 Hank Aaron (PSA 9), a stunning 1963 Topps #573 Pete Rose Rookie Card (PSA 9), several 1964 Topps Stand-ups including: Aaron, Koufax, Mantle and Mays, all in mint (PSA 9) condition as well as two key cards from the 1969 Topps set: the #260 Reggie Jackson Rookie Card (PSA 9) and #650 Ted Williams (PSA 10). There is also a rare 1969 Topps Super Mickey Mantle (#24) graded PSA 10.

Pete Maravich rookie cards continue to increase in value each year as collectors appreciate the Pistol's life and talents. Memory Lane offers a mint condition (PSA 9) Maravich rookie from the ever-popular 'tall boy' set of 1970-71.

As hard to find as all of those pieces of cardboard may be, it's difficult to fathom how few actual unopened packs of vintage sports cards have survived the prying hands of excited kids (and later, adult collectors), but also among the pages of the Memory Lane catalog are two worth special mention: a 1933 Sport Kings Multi Wax Pack and an impossibly rare 1948 Bowman Basketball wax pack. Both will be available to anyone wishing to add truly rare pieces of sports card history to their collections.

In an election year, it would seem only proper that anyone registered to vote have the opportunity to bid on a special autographed baseball containing the signatures of former Chief Executives. Memory Lane is offering an historic ball signed by five U.S. Presidents from the latter half of the 20th century. The official National League baseball includes the autographs of Richard Nixon, Jimmy Carter, Ronald Reagan, George Bush and Bill Clinton.

Other important pieces of baseball memorabilia include a Hank Aaron game used, autographed bat, the 1966 Gold Glove award presented to White Sox infielder Bobby Knoop, a HOF signed oversized baseball with 83 autographs and a Babe Ruth signed, cancelled check authenticated by PSA/DNA.

The Spring Fever Rarities Auction is dedicated to the memory of our dear friend Roger Cameron, Memory Lane's marketing director, who passed away in January.

Memory Lane Incorporated has bought and sold some of the most rare and desirable sports cards and memorabilia in existence. Recent sales have included:
• 1951 Bowman Mickey Mantle PSA 10 $600,000
• T206 Honus Wagner PSA 2 $294,337
• 1952 Topps Mickey Mantle PSA 9 $282,587
• 1933 Goudey Lou Gehrig PSA 10 $274,750

To register for the auction visit: www.memorylaneinc.com or call 877.606.LANE