Bart Starr admits, in his autobiography, that he still shivers when someone mentions the Ice Bowl. But it was in that bitterly cold NFL Championship Game 40 years ago that the Packers quarterback became a legend.
On December 31, 1967, with the temperature at –46 degrees with the windchill, Starr orchestrated the most famous scoring drive in professional football history.
His team down 17-14 to the Dallas Cowboys with 4:50 remaining, the poised passer masterminded a drive that landed his team within two feet of Dallas's goal line. After the Packers had failed to score on two running plays, Starr, facing third down with 16 seconds left, used his team's final timeout to confer with legendary coach, Vince Lombardi.
"I can sneak the ball in," Starr writes that he told Lombardi, in his autobiography, Starr: My Life in Football.
"Then run it in. Let's get the hell out of here," Lombardi reportedly retorted.
With no timeouts left, if the Packers didn't score, time would run out and they would fail to capture their third consecutive NFL title. The safe strategy would be to kick a field goal for the tie, but Lombardi, coaching in his final season, wanted the win.
"As we broke from the huddle, I knew we would score," writes Starr.
Sure enough, behind the brawn of offensive linemen Jerry Kramer and Ken Bowman, he barreled across the goal line to tally the most renowned six points in gridiron history.
"I've heard from about 150,000 people that they were at the Ice Bowl and, of course, the stadium back then probably fit 50,000 (50,861 to be exact)," said Greg Curtis, a Packers season ticket holder who owns the No. 2 Current Finest Basic Starr set on the PSA Set Registry.
Such heroics were not uncharacteristic of Starr; he was always at his best in the postseason. The MVP of the first two Super Bowls, the Alabama-born quarterback guided the Packers to five NFL championships.
In 16 NFL seasons, Starr connected for 152 touchdowns, 24,718 passing yards and was selected to four Pro Bowls. He was named the league MVP in 1966 and was inducted into the Pro Football Hall of Fame in 1977. After his playing career, he would coach the Packers from 1975 to 1983.
But the legendary signal-caller was not only a star on the field, he was also a role model off of it. Starr has established a reputation as one of his sport's best ambassadors, a true gentleman who conducts himself with class and dignity.
His greatness – both on and off the field – explain why a number of hobbyists are pursuing his Basic (16 cards) and Master (29 cards) sets on the registry.
"He's one of my favorite Packer players of all-time for several reasons: one, I thought he was a great role model. Two, he was a team player. No. 3, on and off the field, he was always a class act. And finally, he was simply a winner," explained Curtis.
Randall Shier, another longtime Packers fan who owns the No. 2 (tied with another collector) Master Starr Set, agrees.
"I was reading all these books about Bart Starr and what a great guy he was. He was just somebody who became one of my early heroes," said the 39-year-old collector. "I love the Packers, and of all the Packers, I like Starr the best."
Troy Jilot, proud proprietor of the No. 7 Basic Starr Set, remembers Starr more as a coach, but he has gained a greater appreciation for the Packers legend in recent years.
"My father's company was hired as the general contractor for the new Lambeau Field, so I'm one of those spoiled Packer fans who has been to close to 100 games in my lifetime," he explained. "I've met Paul Hornung. I've met Starr at a couple of the alumni dinners, but nothing more than a 30-second conversation. He's a very nice guy, he's so good with the kids at these outings."
Of course, the key to any Starr collection is his rookie (1957 Topps #119). With some cards from 1957 Topps being issued in one-card packs with a stick of gum, gum stains sometimes hamper the Starr singles. They are also often plagued by centering issues.
"The centering on '57s can be problematic," noted Shier.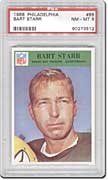 Of the 655 rookies submitted, there are three PSA 9s and, remarkably, one PSA 10. The gem mint example has yet to come up for auction, but the value of Starr rookies in any grade seems to be rising.
"In the last six to nine months, even a (PSA) 3 has been going for $150 to $175 on eBay and I mean a (PSA) 3 is something you can find underneath your car tire," said Jilot.
Shier agrees.
"I think the most shocking thing lately is the price the rookie card is going (for). It's doubled in the last year . . . I mean I could've gotten one (a PSA 8) for $600, three years ago . . . The last one sold for $2,200 (PSA 8)," he said.
Hobbyists attribute this increase to the growing popularity of the Registry's Pro Football Hall of Fame Rookie Players set.
"The competition out there for the Hall of Fame set, is driving the Bart Starr prices through the roof," said Jilot.
Starr's 1961 Packers Lake to Lake issue (#18) is arguably his toughest single to track down. Released by a Wisconsin dairy company, this card is part of a 36-card regional offering and measures 2-1/2" by 3-1/4". Starr's card is noted as a short print in hobby publications and just five have been graded. There is one PSA 9 and two PSA 7s.
"They're definitely difficult to find because it was a regional set from Wisconsin," said Jilot.
Shier agrees.
"That one's extremely difficult to find... I think that the Lake to Lake is probably going to prove to be the hardest Bart Starr graded card to get," he said.
The 1962 Topps (#63) card is also difficult to find in pristine condition. Not only are the borders unforgiving on cards from this set, but Starr is a single print.
"Any cards from '62 are very difficult because of the black borders," said Jilot.
Of the 211, 1962 Starr cards evaluated, three have been deemed PSA 9s and there are 29 PSA 8s.
The condition sensitivity of cards like the 1962 Topps, combined with the Starr's widespread popularity, makes the market for his cards highly competitive.
"There always is competition... I've never had trouble selling a lower grade one (Starr card) and I've always fought to get the higher grade one," said Shier.
Curtis agrees.
"He has to be, if not the most popular, certainly one of the most popular Packer players," he said.
So, yes, 40 years later, thoughts of the Ice Bowl may still give Starr shivers, but the market for his cards remains hot.
---
Please feel free to contact Kevin Glew at kevin.glew@sympatico.ca if you have any additional information or comments. Randall Shier and Troy Jilot provided pictures for this article. Please note that the Population Report figures quoted are those as of press time.