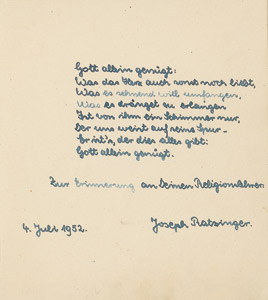 The future Pope Benedict XVI penned this
devotional poem for a young student in
1952, only a year after his own ordination
AMHERST, N.H—Church and state will mingle freely at R&R Auction Company, LLC's April auction, commencing March 31 and featuring an eclectic array of autograph items across a wide spectrum of categories.
Among the highlights is a rare and remarkable original poem penned by Joseph Ratzinger in 1952, a year after his ordination and more than five decades before he was elected Pope Benedict XVI. Ratzinger, then working and teaching in Munich, inscribed the poem in the autograph album of one of his young students "in memory of your religious education teacher." Taking inspiration from St. Teresa of Avila's famous motto, "God alone is enough," the future pope composed a moving, devotional eight-line poem beginning and ending on that same phrase. The text of the poem is discussed and published in full in the 2006 papal biography "Grundkurs Benedetto" by Stefan von Kempis. While papal autographs are occasionally available on photos and in other "souvenir" formats, the early date, outstanding content, and exceeding rarity of Benedict's poem render it one of the most significant manuscript items by any modern pope remaining in private hands.
The focus shifts from the Vatican to the White House with a select group of outstanding presidential items, beginning with a discharge for a seven-year veteran signed by George Washington just months before the Treaty of Paris brought an end to the Revolutionary War. Other notable offerings include a scarce naval appointment signed by John Adams; a check signed by Thomas Jefferson on his last full day as secretary of state, as well as a ship's papers for a cotton-laden vessel sailing from New Orleans, signed as president; a war-dated Lincoln endorsement and a promotion for a renowned officer; an uncommon 1965 Richard Nixon check payable to himself for $10,000; and a superb 1960s handwritten quotation from Ronald Reagan on the topic of appeasement.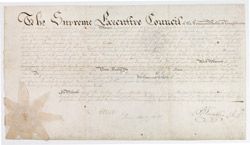 Benjamin Franklin grants a parcel of Philadelphia
land to a "cuttler" in this 1785 document boasting
a large, bold signature.
The parade of American statesmen continues with a 1785 document signed by Benjamin Franklin, granting a parcel of Philadelphia land to Thomas Goucher, a "cuttler" (maker or seller of knives). Franklin, who had only recently returned from nearly a decade in France as the American ambassador, signed the grant as part of his duties as president of the Supreme Executive Council—effectively, the governor—of Pennsylvania. One of the evergreen categories for collectors of Americana, the signers of the Declaration of Independence, features two items of particular note. The first, a handwritten letter from William Ellery, discusses at length the state of lighthouses in Rhode Island and describes one that was "burnt by the British in the revolutionary war." The second is a 1768 legal document signed by William Hooper, whose autograph material is second in rarity among the Signers only to the legendary and virtually unobtainable Button Gwinnett and Thomas Lynch.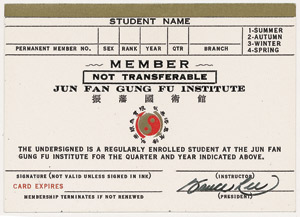 This membership card, signed by martial arts
legend Bruce Lee for his own Jun Fan Gung Fu
Institute, remains in perfect, unissued condition.
Items of special interest in the space category include a signed page from the flight plan used on the Apollo 11 mission, originally from the collection of Buzz Aldrin; a Neil Armstrong letter mentioning the European reaction to Apollo 11, together with a scarce signed FDC; and the original baby crib used by future spaceman Alan Shepard, accompanied by his handwritten childhood "autobiography" describing the same crib.
Exceptional items in other categories include an excellent signed copy of Martin Luther King's "Stride Toward Freedom"; an original 1971 "Peanuts" strip featuring Lucy, Charlie Brown, and the famous "Psychiatric Help" booth; a business check signed by John Lennon and Paul McCartney; a 1964 Beatles tour program signed by all four; a superb unissued membership card for the Jun Fan Gung Fu Institute signed by Bruce Lee; one of the largest signed images of Rudolph Valentino known to exist; the signed baseball bat used by George Brett for his 3,008th hit; and a baseball signed by desirable duo of Ruth and Gehrig.
Bidding in R&R's April auction ends on April 16. Bids are accepted online or via telephone, fax, or e-mail. For information or to consign to future auctions, visit the R&R web site at www.rrauction.com or contact Elizebeth Otto at [email protected].