AMHERST, N.H—There seems to be no wane in the demand for original artwork from the comic strip Peanuts—and serious collectors are still willing to pay dearly for particularly outstanding examples of the evergreen funnies favorite.

A 1995 single-panel wide angle Peanuts strip featuring
Charlie Brown, Snoopy, and Linus brought $38,569.
The robust Schulz market was clearly in evidence at R&R Enterprises' February auction, where Charlie Brown, Snoopy, and pals demonstrated their popularity yet again. A 1995 strip in Schulz's lesser-used "panoramic" single-panel format brought $38,569, the auction's top result.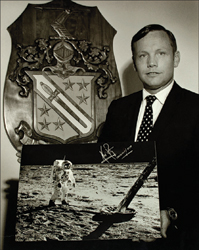 Neil Armstrong holds the oversized signed
photo that sold for $19,790. Documentation
of this sort is extremely unusual for items
signed by Armstrong, who has rebuffed
collectors' advances for decades.
Another top performer came in the person of Neil Armstrong, the astronaut perhaps most notorious among collectors for his reluctance to sign. While all signed images of Armstrong are highly coveted, few could boast the sheer visual appeal and exceptional documentation of the example offered by R&R. Not only was the photo, taken by Armstrong on the lunar surface, unusually large at 20 x 16, but it also bore the seldom-seen inscription "Tranquility Base" and came with another oversized photo of Armstrong posing with the signed image. This unusual confluence of factors generated much excitement and drove the final price to $19,790, approximately five times the amount more typical examples have brought at auction over the past few years.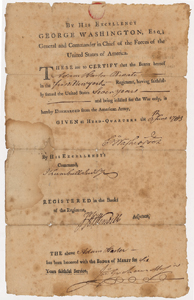 This 1783 Revolutionary War discharge,
signed by Washington months before his
famous farewell to the troops, sold for $13,915.
Notable results in the presidential category included a 1783 military discharge signed by Washington, $13,915; a Lincoln military appointment for a prominent research surgeon, $8,741; a different Lincoln appointment signed a day before the Conscription Act was passed in Congress, $6,545; a large photo inscribed by JFK to congressman Daniel Flood, who was later forced to resign in a bribery scandal, $5,544; and a franking signature on an address panel from John Adams to his son, John Quincy Adams, $4,357.
Other prizes from historical and military figures included an 1806 letter from Napoleon to his sister, $8,159; a letter from Einstein related to his work with the Emergency Committee of Atomic Scientists, $5,804; a letter from Robert E. Lee sending regrets that he cannot attend the burial of his older brother, $5,207; and a Horatio Nelson document sent from the HMS Victory in the months leading up to the Battle of Trafalgar, $4,430.
Rock and roll rarities sparked spirited bidding among advanced collectors, who made off with such impressive items as an early, effusive letter from proto-Beatle Stuart Sutcliffe to his girlfriend, Astrid Kirchherr, $9,975; an album of Beethoven piano sonatas signed by all four Beatles, $8,833; a Led Zeppelin II album signed by Robert Plant, Jimmy Page, and John Bonham, $5,117; and an early Paul McCartney letter mentioning the chart success of "Please Please Me," $4,228.
Outstanding entertainment results included a coveted signed photo of Boris Karloff as Frankenstein's monster, $7,627; an unusually large signed example of Alfred Hitchock's famous profile sketch, $4,165; and an early signed photo of Steve McQueen from the TV show Wanted: Dead or Alive, $3,844.
A baseball signed by Babe Ruth and Lou Gehrig fielded a respectable $7,898. Other sports offerings included a 1927 baseball signed by Ruth, Gehrig, and Jimmie Foxx, $5,484; a group of 92 signed Hall of Fame plaque cards, $4,228; and a signed candid photo of Ruth on a putting green, $4,027.
All prices above include the buyer's premium. R&R Enterprises' next auction begins on February 25 and ends on March 12. Bids are accepted online or via telephone, fax, or e-mail. For information or to consign to future auctions, visit the R&R web site at www.rrauction.com or contact Elizebeth Otto at elizebeth@rrauction.com.