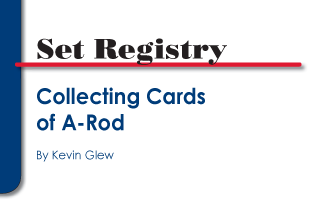 Alex Rodriguez may never be as popular as The Babe, but when his career is over, his numbers are bound to be "Ruthian."
"Unless he gets a real severe injury and his career suddenly comes to a screaming halt, I think he's going to be a sure-fire first ballot Hall of Famer. And he certainly has a shot to beat the home run record," said Mike Vichnin, who owns the No. 4 A-Rod Master Set on the PSA registry.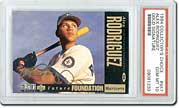 And thanks to his torrid start in 2007, the Yankees third baseman is again one of the hottest players in the hobby.
"There really wasn't as much competition (for A-Rod cards) until this year," said John Woody, whose A-Rod Basic Set was named PSA's Best Player Set of the Year in 2006.
This increased competition, combined with the sheer quantity of cards, has made completing the Rodriguez Basic (406 cards) and Master (1,775 cards) sets challenging.
Hobbyists seem to agree that A-Rod's 1994 SP rookie (#15) is his most coveted card.
"Anybody starting an A-Rod collection would have to start with the 1994 SP, which I think is his best rookie card," explained Vichnin. "It's really condition sensitive. It's a foil card, so the edges and corners are extremely sensitive."
Of the more than 12,000 SP rookies evaluated by PSA, just 38 have received a PSA 10 grade.
"The percentage (of PSA 10 SP rookies relative to the total number of cards graded) is unbelievably small," noted Woody.
Another A-Rod card that's difficult to obtain in high-grade is his 1994 SP Die-Cut single. Deriving their name from the way they were cut, these die-cut cards were parallels of the regular 1994 SP set. One card from the 200-card, die-cut issue was inserted in every 1994 SP foil pack.
"The die-cut is a really tough card," said Ken Kavowras, who owns the No. 2 A-Rod Basic and Master sets.
Vichnin concurs, "You can actually find it (the A-Rod SP Die-Cut rookie) in PSA 8 or 9. No PSA 10s have been graded to this point. A PSA 10 SP Die-Cut would be basically the Holy Grail of A-Rod cards."
Even more elusive is the slugger's 1994 SP Holoview Red (#33) card. Part of a 38-card set that employed revolutionary printing technology, the A-Rod card is die-cut and boasts a red strip running up the right side on the front and a red background on the back. Cards from this issue were inserted at the rate of one per every 75 regular, SP packs.
"The red (in PSA 10) has begun to go for $3,000 or more," explained Woody.
Another card that's surprisingly evasive to find in pristine condition is A-Rod's 1994 Collector's Choice single (#647). Of the 1,003 evaluated by PSA, just 36 – or less than 4% – have been deemed PSA 10s.
"To find it in (PSA)10 is really, really difficult," said Woody.
Even more difficult is the Gold Signature version of the Collector's Choice rookie. Showcasing a gold facsimile autograph, cards from this issue were inserted in regular Collector's Choice packs at a frequency of one per every 36 foil packs, making the odds of landing A-Rod very slim. So far, only 69 Gold Signature cards have been submitted and just six have received a PSA 10 grade.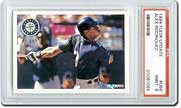 The 1994 Leaf Limited Rookies Phenoms Rodriguez (#10) is also highly coveted by collectors. Singles from this 10-card issue were reportedly inserted in Leaf Limited Rookies packs at the rate of approximately one per every 12 packs. These cards are also individually numbered out of 5,000.
The 1994 Sportflics 2000 Rookie/Traded Artist's Proof is another elusive A-Rod rookie. Parallels of the regular, Sportflics 2000 Rookie/Traded cards, these singles feature black and gold "Artist's Proof" logos on their fronts. Cards from this issue were reportedly inserted at the rate of one per every 24 packs and it's believed that fewer than 1,000 of each were manufactured. A PSA 10 example of this card lists for $1,750 in Sports Market Report, but Vichnin says it's not uncommon for this card to sell for $2,000 to $3,000 on eBay now.
Arguably, the rarest A-Rod rookie is his 1994 Score Rookie/Traded Call-Up Redemption card. To obtain this single, collectors had to mail a redemption card, found in Score Rookie/Traded packs, to the manufacturer. Redemption cards were distributed at a rate of one in every 240 packs. There have been 466 of these graded by PSA and 14 have been deemed PSA 10s.
Vichnin also contends that many of A-Rod's 1995 cards are difficult to find in high-grade.
"It's tough to find PSA 10, 1995 cards because a lot of people either didn't really hang onto them or don't really submit a lot of them for grading," he said.
On top of the elusiveness of some cards, another challenge is the sheer size of the Basic and Master sets. The Master Set boasts 1,775 cards and is still growing.
"There are so many cards with all of these different companies," said Kavowras. "It's not like in the '60s and '70s when I grew up and there was only Topps . . . It's tough to get every card, although I try."
Woody, who currently has all of the cards in the Basic Set, agrees.
"The problem is that it (the number of cards) will just keep going up because he's still playing," he said. "I try to always stay there (at 100%) but, tomorrow, a new card might be created."
And if A-Rod maintains his record pace, card companies will manufacture even more cards of the slugger.
"I think he has a great chance to break all the major records one day," said Kavowras.