Mission Viejo, Ca. – An outstanding array of fine sports memorabilia and cards offered by the partnership of Sotheby's and SCP Auctions was eagerly received by hundreds of collectors who participated in their January 29-30th Internet Auction. The 924 lots in the sale generated over $1.7 million, exceeding the firm's pre-sale estimate. According to Dan Imler, Managing Director of SCP Auctions, the sale attracted an extraordinary number of "new" collectors. Imler stated, "We are very pleased with the results of this sale. Beyond our satisfaction with the strong prices realized, we are thrilled with the incredible number of bidders who participated overall. We are especially pleased with the extraordinary number of new bidders who registered for the first time. This is a very positive testament to the strength of this market."
At the forefront of the auction was a quality selection of Game Used Bats from some of baseball's most prolific sluggers. Not surprisingly, this category yielded some of the priciest lots in the sale, including the top lot - an Extraordinary Ty Cobb 1917-21 H&B Game Used Bat (PSA/DNA Graded GU 8) which netted $87,114. Other big ticket bats included a Superb 1921 Babe Ruth H&B Game Bat (PSA/DNA Graded GU7) - $79,015, a Circa 1965-66 Mickey Mantle H&B Game Used Bat (MEARS Graded A7) - $26,698, and a Circa 1938-39 Jimmie Foxx H&B Game Used Bat (PSA/DNA Graded GU7.5) - $24,216.
Aside from the expensive lumber, some other big numbers were seen in the memorabilia category including a Complete Run of 41 Full Unused Super Bowl Tickets (I-XLII) - $47,263, Barry Bonds Home Run Ball #754 - Hit July 27, 2007 - $26,936, and a Rare 1920 Miller Huggins Signed Photograph - $18,574, the latter being a record price for a photo signed by the Yankees Hall of Fame manager.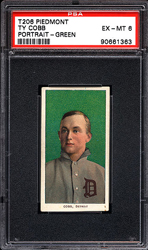 Other notable sales from the Memorabilia portion of the sale include:
• Circa 1965-68 Willie Mays Game Used Bat - $10,742
• Harmon Killebrew Circa 1960 H&B Game Used Bat - $6,062
• 1862 Proclamation Signed By Abraham Lincoln - $10,028
• 1902 Cincinnati Red Sterling Silver Season Pass - $8,877
• Christy Mathewson 1923 Signed Contract as Braves President - $12,426
• Babe Ruth Single Signed Baseball - $22,785
• Babe Ruth/Lou Gehrig Signed Baseball - $17,766
• 1955 World Champion Brooklyn Dodgers Team Signed Baseball - $8,070
• Roberto Clemente Single Signed Baseball - $8,487
• 1969 Curt Flood Rawlings Gold Glove Award - $10,015
• Dale Murphy 1983 Braves Jersey, Bat & Batting Glove - $5,573
• Mickey Mantle World Series Home Run Ticket Display - $12,426
• 1980 Andre Dawson H&B Silver Slugger Award - $7,161
• 1941 Augusta National Certificate Signed By Bobby Jones - $6,914
The bidding was equally brisk throughout the vast offerings of 19th Century, Pre-War and Post-War Cards. Among the top card lots was a 1952 Topps #311 Mickey Mantle PSA Graded 7 NM - $31,917.
Other notable sales from the Cards portion of the sale include:
• 1909-11 T206 Bill O'Hara (St. Louis) PSA 4 VG-EX - $10,742
• 1909-11 T206 Jimmy Collins PSA 8 NM-MT - $7,161
• 1909-11 T206 Ty Cobb (Green Portrait) PSA 6 EX-MT - $6,063
• 1911 T3 Turkey Red Cabinet #36 Tris Speaker PSA 5 EX - $5,380
• 1955 Topps Baseball Complete Set of 206 - $6,063
• 1969 Topps Super #58 Roberto Clemente Blank Back Proof - $3,736
• 1948 Bowman Basketball Complete Set of 72 - $5,011
A complete listing of prices realized from the January 29-30th, 2008 Internet Auction is available online at www.scpauctions.com. The success of this sale sets the tone for Sotheby's/SCP Auctions
forthcoming April 24th, 2008 Live Auction in New York. Sotheby's/SCP Auctions is currently accepting consignments for this event. Call +1 800 350.2273 for more information on how to participate.