Où sont les cartes de hockey O-Pee-Chee (série 1933-34)?
Translation: Where are the 1933-34 O-Pee Chee (OPC) hockey cards?
This opening is a nod to OPC's bilingual card backs, but it also poses a legitimate question. Just where are the 1933-34 OPC cards?
So far, only 985 of them have been submitted to PSA and just 36 have been deemed PSA 8 or higher. So an even better question might be where are all the high-grade singles?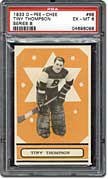 It's a question that's perplexed Chris Vandenberg, who along with his brother, Jordan, has been attempting to complete Series A of the 1933-34 OPC set on the PSA Registry.
"They're just really difficult to find in a high-grade condition. I mean, obviously the Population Report reflects that," he said.
Vandenberg has sifted through raw examples and purchased pre-graded cards, but he points out that unlike most vintage hockey sets, the high-grade, 1933-34 OPC examples are, for the most part, not listed on the registry.
"There's a lot of cards that are unaccounted (for)... People have these cards in their collections, but not nobody really knows where they are," he said.
Comprised of Series A (48 cards) and Series B (24 cards), the 1933-34 set is the first OPC issue ever produced. For years, hobby publications have indicated that Series A and Series B were released during the 1933-34 season, but Bobby Burrell, author of Vintage Hockey Collector, has recently challenged this. The tenacious researcher believes that Series B may have been released in 1934-35.
The numbering in the OPC hockey sets released from 1933-34 to 1937-38 is continuous. For example, after Series B (#49 to #72), the first card of Series C (released in 1935-36) was #73.
In Vintage Hockey Collector, Burrell points out that the 1933-34 OPC packs contained one card and a piece of gum, and packs were sold for one cent.
"There wasn't any vending back then. There were no cellos at the time. It (producing cards) was basically a way just to sell gum," said Burrell.
Measuring 2-5/16" by 3-9/16", the card fronts showcase black and white pictures on a colored background. Each card comes in four different backgrounds (red, green, blue and orange (sometimes referred to as yellow)). The card backs boast black print on a gray background and feature the player's name, card number and biographical information in French and English. A wrapper redemption program beckoned collectors to send in 10 wrappers and seven cents to receive a 72-card album. Burrell says that for five wrappers and five cents, they could also obtain a board game in another promotion.
The design and the fact that it's OPC's first set help explain why these cards are so highly coveted.
"They're a very popular set because of the colors, the blue, green, red (and orange backgrounds on the fronts). And being the first OPC set, everyone picks them up, no matter what the condition," said Paul Sacco, who owns the No. 4 Master Set on the registry.
Vandenberg agrees.
"OPC is synonymous with hockey cards... when you think of hockey cards, you think of OPC," he said. "I think that collecting that first (OPC) set really appealed to both of us (Chris and his brother, Jordan) and then just the design of the card. I thought it was really neat with colored backgrounds and then the black and white player photos."
The player selection is also impressive.
"A lot of the players in there are Hall of Famers and stars," said Sacco.
Vandenberg concurs, noting that rookies of Hall of Famers Eddie Shore, Charlie Conacher and Dit Clapper are included.
"You've also got guys like King Clancy and Howie Morenz. You've got a lot of the all-time greats in the set," he said.
The Morenz (#23) is the most coveted card. Of the 28 Morenz cards submitted to PSA, the highest grade doled out has been PSA 8. If a PSA 9 surfaced, it would likely fetch over $10,000.
"The Morenz is a difficult one to get because of the price," explained Vandenberg, who also noted that only a small number of Morenz cards have graded above PSA 6.
Even more elusive in pristine condition is the Shore (#3) card. The highest, unqualified grade a Shore has received is PSA 6. Vandenberg attributes its condition sensitivity to the fact that it's close to the beginning of the set, and is, therefore, susceptible to damage.
Similarly, the set's first and last cards, Danny Cox (#1) and Bun Cook (#72) respectively, are also difficult to track down in top condition. The highest grade recorded for these cards has been PSA 7.
"The first and last card are usually the toughest in a series," noted Sacco.
These cards, like most of the other singles in the set, tend to be hampered by surface creases.
"We've been to shows and even trying to find raw ones at those is very difficult, because they're so easily creased. You really have to look at the surface of the card," said Vandenberg.
The 72-card promotional album for these has also added to the condition woes.
"A lot of people glued them right into the book and the backs are all ruined now," said Sacco.
Vandenberg agrees.
"Much like the '52-53 Parkies, it's difficult to find these in top condition... because a lot of them have paper loss. People tried to extract them out of the album," he said.
So while this article explains, in part, where the 1933-34 OPC cards are, it doesn't shed much light on the whereabouts of the high-grade examples that aren't listed on the registry. Those cards, in their bilingual-backed glory, remain hidden in collections and shrouded in mystery.
---
Please feel free to contact Kevin Glew at [email protected] if you have any additional information or comments. Paul Sacco and Chris Vandenberg provided pictures for this article. Please note that the Population Report figures quoted are those as of press time.