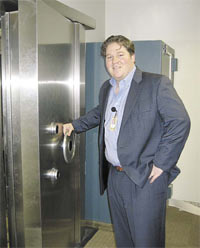 Although we have no hard proof, it is highly plausible that the collecting of sports items dates back to the cradle of civilization. When the Olympic Games began in ancient Greece, there had to have been those who harbored a fascination with the items that were being used by the athletes. The same would most likely be true of those who were spectators of the gladiators of Rome or the jousting tournaments of the Middle Ages. The "game-used" equipment adorned and utilized in those spectaculars had to have been admired and revered by those who counted themselves as fans.
As the centuries passed, the desire to hold on to something associated with a sporting event, team or player has always been an inherent part of the makeup of those who have been captivated by the thrill of athletic competition. Throughout the Twentieth Century, what sport's fan didn't tuck away a ticket stub or program of a game they attended? What kid didn't put the card of a favorite player into a place of safekeeping? And who didn't have dreams of securing a little scrap of paper that had been transformed into a treasure by having actually been touched and signed by the likes of a Babe Ruth, Bart Starr, Wilt Chamberlain or Joe Louis?
By the late 1980's and early 1990's, as the world began to rapidly shrink into a global community thanks to the Internet, those who have held onto or, in some cases, inherited some of those great items began to realize how much of a desire there was to own such things. That desire translated into cold hard cash, and whenever money is involved, that translates to a certain percentage of corruption. By the end of the 1990's, and into the new millennium, many sports collectors found themselves in a quandary, wondering if what they were buying was, in fact, the real deal.
Today, thanks to authentication services, grading companies, and reputable dealers who operate in a fashion that is above reproach, collectors have an environment in which they can buy and sell their treasures with the highest level of comfort and assurance. There are thankfully many such reputable dealers in business today; and along with a few others of the "big guys" in the hobby who are at the top of that list, stands the company who operates out of a gleaming building in Dallas, Texas -- Heritage Auction Galleries.
As the world's largest collectibles auctioneer, Heritage Auction Galleries boasts a membership of almost 300,000 strong. That impressive number stands as a testament to Heritage's reputation for professionalism, integrity, and knowledge in the field of collectibles. The company's mission is to provide the Internet's most indispensable trading platform and source of information for serious collectors, investors and dealers.
Established in 1976, Heritage offers an eclectic array of collectibles that range from Americana, books, manuscripts, art, coins, comics and comic art, to currency, entertainment memorabilia, jewelry, timepieces, and of course, sports collectibles. The company has built their reputation on only acquiring the most unique items of the highest quality. Over the years, they have built an impressive worldwide network of collectors and dealers who specialize in each genre they offer. Their goal is to provide their clients with a large selection of high-quality collectibles and they do that by offering state-of-the-art access to their services using the latest advancements in technology and, by maintaining a strong presence in the collectibles hobby and business.
As with any company or organization, Heritage's strength and integrity stems from the individuals who have built and maintain it. The company's knowledgeable staff and full range of services is what ultimately assists clients in developing the best collections possible.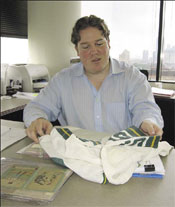 Heritage offers buyers and sellers
integrity, knowledge and security
On the sports side, the man who is responsible for making Heritage what it is today is Chris Ivy who serves as the company's Director of Sports. Chris came to Heritage in 2001 after serving as a professional grader with a major sportscard grading company. Hitting the ground running, Chris immediately became the driving force behind the inception of Heritage's sports auction division. In his position, Chris is responsible for the day-to-day operations of the sports division, executing his vision from a foundation based in business acumen and a passion for sports collectibles. His typical workday includes dealing with consignors and making recommendations on the disposition of the sports collections that Heritage handles. Chris handles each and every item with the utmost care in order to be sure that he has done everything possible to maximize each consignor's financial return.
While his youth may make some question how Chris could have become such an authority at such a tender age, one need only to speak with him to know his expertise has been in the making since childhood. Having been involved in the collectibles business his entire life, due to his father's long tenure as a respected coin collector and dealer, Chris realized his true interest was in vintage sports material before he was even in his teens. At the age of 12, he began working as a dealer at local trade shows while continuing to avidly add to his own personal collection. After graduating from high school, Chris went on to attend the University of Texas at Austin when he ultimately earned a Bachelor of Arts degree in History. Today, along with his professional work, Chris enjoys spending time with his beautiful wife, Brittany, and is an avid fan of college sports, especially the Texas Longhorns.
Sports Market Report recently caught up with Chris who gave us a bit more insight as to who he is, what he does, and why Heritage has hit the summit when it comes to reputable collectible dealing. We began our visit with him by asking the obvious question -- how and when did he start colleting?
Chris Ivy: I've been collecting for as long as I can remember. I used to travel to coin shows with my father when I was young and I always gravitated to the few tables that had sportscards and sports memorabilia available. I believe that collecting is a desire that many people have ingrained in them and while their tastes of collecting might change, the desire to collect or to start a new collection is endless. For better or worse, I am one of those people.
SMR: What did you collect specifically?
CI: I started out, like most kids, with the baseball card sets and wax packs of my era. For me this included 1984 through1990 Topps, Fleer, and Donruss cards. As my collection grew, my interests started to move to vintage material. I began to set up at shows at the age of 12 to sell my modern material while, at the same time, purchasing vintage cards and sets for my personal collection.
SMR: Do you still find time to collect today?
CI: Absolutely, but I have narrowed my focus substantially. I decided to sell all of my card collection several years ago and at the moment I only collect material related to my alma mater's team, the University of Texas Longhorns.
SMR: Chris, do you have any favorite items that have special meaning to you?
CI: The centerpiece of my current collection is quarterback Vince Young's game-used helmet from the Longhorns 2005 National Championship season. However, I am very interested in vintage photography of the Longhorns and I am currently trying to track down early team photos and panoramas to add to my collection.
SMR: When did you decide to transition from collector to dealer and make your passion a career?
CI: After graduating college I was accepted to several law school programs and thought I would move forward to get my degree and practice law. However, after a hiatus from collecting during the time I was a student, my passion for the hobby emerged again and I was hired at a major sportscard grading company. After some time working in the grading field, I came to work with Heritage Auctions and became the driving force in the inception of the sports auction division.
SMR: For dealers and collectors who are already familiar with you and Heritage, they know your father is in the same field. What was it like to grow up in the memorabilia industry?
CI: My father is in numismatics, so it isn't exactly the same field, but it's still very similar in many aspects. It's been great growing up and being involved with collectibles, going to shows, and working at the office during summers. I had the opportunity to be exposed to all types of deals and situations that help with everyday situations even now. I think that the coin industry and the graded card industry are actually very similar, especially considering what drives the market. Card grading did not become popular among hobbyists until approximately 15 years after grading was accepted in the coin hobby, so many of the things that we see in the sports hobby today parallel those that occurred with numismatics only a few years earlier.
SMR: The collectibles world has become such a competitive industry. How does Heritage distinguish itself from other notable auction houses?
CI: I can answer this with a single word: exposure. There is simply no other collectibles auction house that comes close to providing the level of visibility we can offer to quality material within the collecting hobby. Anyone will tell you that realizing top prices is simply a numbers game. The more interested bidders an auction house can deliver, the higher prices it will realize for the material it sells, and nobody provides a bidding clientele that can rival ours. Likewise, every time Heritage is mentioned on the network news or in The New York Times we're flooded with calls from consignors. This is why we're able to bring incredible, fresh material to the hobby on a consistent basis.
Chris went on to say that he and Heritage are always on the constant search to acquire interesting items through consignment or by outright purchase. The company is known to spend millions each month to keep their client's demands satisfied. They deal in sports collectibles across the board including autographs and autographed items, sportscards, used and unused tickets, memorabilia of all sorts, and game-used uniforms and equipment.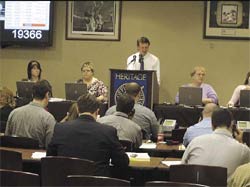 At Heritage, few things surpass
the excitement of participating in
one of their live auctions
If, as a collector, you have not yet worked with Heritage Auctions, you are doing yourself a disservice. There are many ways to become involved with the company that includes Internet bidding. Every lot Heritage offers is listed on their Web site with full descriptions, and most lots are presented with high quality images. The company also conducts Signature Auctions, in which they have a live floor session component.
Collectors can also bid on Heritage items by phone by calling (800) 872-6467 Ext. 150, by e-mail at [email protected]. by fax at (214) 443-8425, or in-person, where you can peruse the available items and then partake in the excitement of the live bidding.
If you have any other questions about Heritage Auction Galleries, you can log on to their incredible Web site at www.HA.com. If you would like to contact Chris personally, you may write to him in care of Heritage Auctions, Inc., 3500 Maple Avenue, 17th Floor, Dallas, Texas 75219-3941, or you can call him at (800) 872-6467.