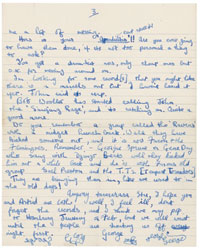 George Harrison boasts that the Beatles' first record
"is on every jukebox in Hamburg²"in a 1961
letter that brought $48,619, the top result at R&R's September auction.
AMHERST, N.H.-The early date, significant association, and outstanding Beatles-related content of a 1961 letter from George Harrison to former bandmate Stuart Sutcliffe gave a new twist to the familiar phrase "by George"-and at R&R Enterprises' September auction, one determined collector bought George to the tune of $48,619.
The letter, in which Harrison proudly touts the Fab Four's first appearance on vinyl, achieved the top result among the more than 1,500 items in the auction, which ended on September 19.
Likewise, there was no shortage of competition for outstanding items in the presidential category. Bill Clinton scored a "dubious victory" with "red-line" copies of the Articles of Impeachment against him, signed by various congressional officials and obtained directly from one of the House managers of the impeachment trial, which realized $13,279. Other results included a Washington free frank, $8,741; an Ohio land grant signed by Jefferson and Madison, $5,899; a letter signed by Lincoln for a young collector, $5,362; and a large photo of the signing of the treaty that ended the Spanish-American War, signed by 12, including William McKinley, $4,734.
Top results among other notable figures in history, science, space, and aviation included a 1783 pay order signed by Marie Antoinette, $8,833; an Apollo 17-flown American flag signed by Gene Cernan, $7,853; a Lindbergh-signed time certification for his record-breaking 1930 transcontinental flight, $7,154; a Neil Armstrong TLS with a handwritten postscript reflecting on potential mishaps during the Apollo 11 landing, $5,663; a 1965 NASA "effectiveness report" for Buzz Aldrin, signed by Armstrong and Deke Slayton, $5,207; a Hancock appointment for a captain in the Massachusetts militia, $4,027; an Apollo 17-flown ³beta cloth² patch signed by Cernan, $3,911; and a superlative signed photo of Amelia Earhart posing in front of her plane, $3,912.
One bidder went head over heels for a 1783 pay order
from Marie Antoinette, which brought $8,833.
Famously reclusive author J. D. Salinger emerged from hiding, if only briefly, to lead the art and literature category with a detailed 1981 letter discussing film, nutrition, and astrology, $7,299. Other items of note included a rare and unusual "graphic" signature from esteemed Spanish writer Federico Lorca, $4,652; a superb early photo of Mickey Mouse signed by Walt Disney, $3,660; and a letter of introduction from Dickens on behalf of his son, $2,838.
The full spectrum of musical tastes was represented by such standouts as an oversized photo signed by Giuseppe Verdi, $10,577; a royalty agreement for the song "Honey Pie" signed by John Lennon, $7,299; and handwritten souvenir lyrics from Jimmy Buffett, which raised many eyebrows with an unexpectedly strong $6,628.
A unusually fine and comprehensive selection of vintage Hollywood photos yielded such stellar results as a rare signed color image of Marilyn Monroe, $22,606; an elusive signed photo of James Dean, $8,833; a signed photo of Steve McQueen in The Magnificent Seven, $6,812; a signed photo of Audrey Hepburn, $4,652; a large vintage photo of Cary Grant, $4,228; a gorgeous image of Myrna Loy, $4,228; and a photo of Humphrey Bogart, $3,559.
Babe Ruth topped sports with a 1937 signed photo, $6,032.
All prices above include the buyer's premium. R&R Enterprises' next auction begins on October 1 and ends on October 17. Bids are accepted online or via telephone, fax, or e-mail. For information or to consign to future auctions, visit the R&R web site at www.rrauction.com or contact Elizebeth Otto at [email protected]