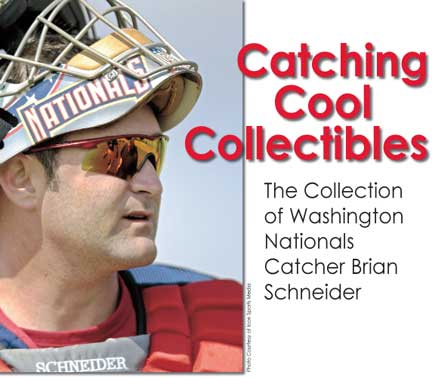 In the world of sportscard collecting, there are many levels on which dreams can become realities. As a child, few things can match the excitement of ripping open a new pack of cards and finding the offering of your favorite player. As the years go by, dreams come true by finding that last card you needed to complete a set, or perhaps by hitting the jackpot and coming across a limited edition card that has been randomly tucked into a scant few packs.
Other card collecting dreams are on a level that most of us will never have the opportunity to experience. It is few and far between that you will come across a collector who has parlayed their love for the hobby into a successful business, and even rarer is the collector who will live out the dream of owning a T206 Honus Wagner or a set of every Major League Baseball Hall of Famer in PSA Gem Mint 10.
Then, there is, what has to be the ultimate dream-come-true when it comes to those of us who have a love of sportscards – having a major card company produce and distribute a card with your name and picture on the front. That is a dream that came true for longtime card collector Brian Schneider who is the starting catcher for the Washington Nationals.
The first time Brian ever saw his face and name on a card was an experience he will never forget. It was really very weird, Brian said with a laugh. I knew they were going to do the cards but I had never seen one. Then, someone came up to me before a game and handed me my card for me to autograph it. It was the first time I had ever seen my card. It was pretty cool and I was kind of speechless at the time. But what was even better was when my father first saw it. I was home during the off-season and we had bought a box of cards. We sat opening the packs and, when he found my card and I saw the look in his eye, that was pretty cool. It was something I will always remember.
Brian Duncan Schneider was born on November 26, 1976 in Jacksonville, Florida and moved to Allentown, Pennsylvania when he was very young. Always a good athlete, he excelled in basketball and baseball at Northampton Area High School in Northampton, Pennsylvania and became a baseball standout in the extremely competitive Lehigh Valley Conference being named Player of the Year in both 1994 and 1995.
Schneider, who had been drafted by the Montreal Expos in the fifth round of the 1995 draft, made his Major League debut in 2000 and played with the Expos through the 2004 season when he married his wife Jordan and moved on to play with the Washington Nationals. That year, he turned in career-highs in hits, home runs, and runs batted in and also led the league in throwing out base-stealers.
In 2005, Washington s hopes were high that Brian would become one of the better hitting catchers. He hit 10 homers that season for a .268 batting average. In 2006, he hit four home runs with a .256 batting average, although he chalked up career highs in RBIs with 55, garnering 21 of them in the final 38 games of the season.

As the Nationals prepare for the 2007 season, expectations are again high that the six-foot, one inch tall Schneider will play a vital role as he uses his experience and leadership to mentor an extremely young and inexperienced starting team. Known for his easy-going demeanor and encouragement of unseasoned pitchers, the team s management believes that with Schneider s help, his teammates will gain confidence and composure.
The Nationals new manager, Manny Acta, has said that the expectations on Schneider are more than they are with most catchers I m expecting more leadership from him and I m going to give him the green light to basically run the pitching staff, Acta said during the off season.
Schneider has told reporters that he is extremely confident with Acta s leadership and feels that he and the team s new skipper are comfortable with one another and that they will have a good relationship that will have great benefit for the team.
Schneider, who will turn 31 this year, is also being looked to by the Nationals scouts who are always actively on the lookout for new talent. During the 2005 season, Schneider gave regular reports to the team s management and scouts on the abilities he perceived in the new crop of pitchers. When the 26-year old John Patterson was vying for a spot in the Nationals 2005 rotation along with Jon Rauch and Zach Day, Schneider was instrumental in making the decision as to who showed the most promise – and it didn t take him long to make that determination. On the first day of spring training, Brian gave the thumbs up on Patterson who went on to turn in a 3.13 ERA and struck out 185 batters in 198 innings.

A team without a standout power hitter, the Nationals have at least been fortunate to have Ryan Zimmerman and Austin Kearns who have shown some ability to put runs on the scoreboard. But, they will need to come up with a lot more plate power to become a force to be reckoned with. The team is pinning their hopes on Schneider to help at the plate this coming season.
Along with ascertaining the team s pitching staff, Brian will also be charged with another duty this season – assisting his team s management on who may be his heir apparent behind the plate. Acta appears to be leaning towards Jesus Flores, who they picked up last year. The team s Minor League manager John Stearns, scout Davey Johnson, and Acta all agree that Flores will be Schneider s successor.
The other thing that Schneider will have to be mindful of this season is staying healthy. Last year, he suffered injuries to the hamstring, groin and back. I feel great, he said, as he prepared for spring training. I really feel healthy .
This past February, on the day before he left his West Palm Beach, Florida home for spring training, Brian spoke with Sports Market Report during a break in a baby shower that was being thrown for his wife Jordan. He spoke a bit about how he hopes to be more consistent offensively and also wants to improve his percentage of throwing out base stealers this season. But, the thing that was occupying his mind the most was the arrival of his baby daughter who will add to the Schneider family, which already consists of two dogs, Dinger and Ribbie.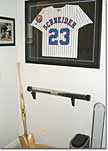 An avid golfer who loves all sports, Brian is not just a Major League baseball payer, he is also a major league collector who loves to share and talk about his treasures. Last year, I had a lot of my stuff authenticated by PSA/DNA, said Brian. I have over 35 autographed jerseys. I m trying to get as many Hall of Famers as possible and I have them ranging from my former manager Frank Robinson to Willie Mays, Brooks Robinson, Tom Seaver, Gary Carter, Kirby Puckett, Eddie Murray, Lou Brock, Mike Schmidt – it just goes on and on. I also have about 290 signed baseballs. I have balls signed by former President George Bush, President George W. Bush, Vice President Dick Cheney. I collect all sorts of people on baseballs and I have a lot of Hall of Famers.
Brian said that of all the items in his collection, he has a special fondness for a Willie Mays signed jersey. I think I really love that because I wore number 24 when I played for Team USA in the World Baseball Classic, said Brian. I know that Willie Mays collects number 24 jerseys, so I gave him one of mine, and in return, he gave me one of his and signed it for me. That will always be special because it came right from him.
Brian said that he was first bitten by the collecting bug when he was a kid growing up in Allentown, Pennsylvania. Baseball always played a big part in my family and, as a kid, I was really into card collecting. My dad was the one who got me started in cards. We were into it pretty heavily for a while and we went to a lot of card shows where we would buy and sell cards, Brian said.
While Brian said he loves all sports, he limits his collection to the one he loves the most. I only collect baseball memorabilia, he said. I ve had people offer me some great Hall of Fame hockey and football stuff, but my heart is in baseball. My feeling is that I would rather put together a really great baseball collection than dabble in everything.

Asked if he feels he has a better understating of collectors because he is an avid collector himself, Brian said there was no doubt about it. I understand that collecting can be a bit of an addiction, he said pragmatically. In the off-season, I m constantly on the lookout for more signed Hall of Fame jerseys, which I now keep in a closet and only take them out to show friends when they stop by. But, I m planning on building a big house up in Allentown on some property I own there. When I build it, I am going to build very high walls and ceilings and, when we move into that house, I m going to get the jerseys framed and hang them all over the walls.
Brian said that as a professional baseball player, it gives him a great advantage when it comes to collecting and garnering stories to go along with the items he collects. If we go to say St. Louis to play, I ll think maybe Bob Gibson or Stan Musial might be at the game, said Brian. So, I ll get one of their jerseys and then go up to them personally and ask them to sign it for me. To me, it s not just having the signed jersey but having a story of meeting them, shaking their hand, and asking them to sign it. As a player, it s easy for me to do that.
As for cards, Brian said he still collects and is constantly sending them to PSA to have them graded. When I think of authentication, not just for cards, but for jerseys, bats, signed baseball, whatever, I think PSA and PSA/DNA, Brian said. I trust them because they are the best out there. There s no reason for a collector to screw around with anyone besides the best and PSA and PSA/DNA are simply the best out there.
Pressed to comment on the emotional aspect of the items he collects, Brian said he has such great respect for the men who have been inducted into the Professional Baseball Hall of Fame that he finds it both incredible and inspiring to own things that are associated with them. In my opinion, the reason the game of baseball is a good as it is today is because of the Hall of Famers, he said. The guys who excelled helped the sport grow and become what it is today. I grew up listening to my grandfather, my dad and my uncles talk about those guys. Today, I have met many of them. I have had the opportunity to shake their hand and collect their jerseys and get them to sign them for me. I know I am playing baseball because of these guys. They made the game great and its an honor for me to have this connection with them. I never just send away to buy something. For me, it s the personal aspect that means the most. I want a story behind everything in my collection. I will never part with these things. They are for me to treasure and then to someday hand down to my kids. When that day comes, I will be able to tell them the stories about how I met these legends and had the chance to talk to them.

Asked if he had any advice to share with collectors, Brian was quick to admit that he has a tremendous advantage over most people. I m on the inside, so it s a lot easier for me, he said. But what I would recommend is that people start their collections by getting things that have to do with their favorite players and teams and then watch their collections grow. As for cards – I only collect rookie cards and I only collect PSA 10s because I want the very best. I go for guys that are just making the Hall of Fame or guys who I think have great potential for the future.
And, does he collect his own stuff? Brian laughed when asked if he has a Brian Schneider collection. Of course, he rapidly admitted. I have a lot of my stuff from my years up in Montreal and my time with the Nationals. I have all of my batting practice jerseys and my home and away jerseys. Last year, I got to participate in the World Baseball Classic and the Japan All Star Tour so I have a lot of stuff from that. I have the cleats I wore in the World Baseball Classic that I got the whole team to sign. I have a lot of signed batting helmets and I have a signed bat, jersey and ball from every team I ve played with.
Brian has even had some of the items in his Brian Schneider collection authenticated by PSA/DNA. I know that seems kind of weird, he said with a laugh. But, it was also kind of cool.
Kind of cool indeed.