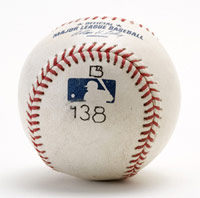 (Newport Beach, California) - Two of the most famous home run baseballs in sports history, Barry Bonds' 755th and 756th, have been certified by PSA/DNA Authentication Services. The two eagerly-anticipated baseballs are now being offered in the SCP Auctions "Road to History" online auction that closes on September 15.
"Working with SCP Auctions and the two consignors, we have marked these important baseballs with a synthetic DNA strand that only can be seen when illuminated by a specific laser frequency. Both baseballs are also now each accompanied by a PSA/DNA Letter of Authenticity so that future generations of collectors will know they are genuine," said Joe Orlando, President of PSA/DNA, the world's largest sports memorabilia certification company and a division of Collectors Universe, Inc.
"The DNA ink has an astronomical 1-in-33 trillion chance of being accurately reproduced by potential counterfeiters. We've used the same method to certify other historic sports items including footballs used in the last nine Super Bowl games and Mark McGwire's 70th home run baseball."
On August 4, Bonds tied Hank Aaron's legendary, lifetime home run record of 755 that was established in 1976. He then broke that record with home run number 756 on August 7.
"Barry Bonds is the most dominant baseball player of the 21st century, and his record-tying and record-breaking home run baseballs are among the most significant sports artifacts ever offered to the public. We are pleased that PSA/DNA certification is a distinguished part of this historic occasion," said David Kohler, President and CEO of SCP Auctions, Inc.
For additional information about the auction, contact SCP Auctions at (800) 350-2273. Online: www.SCPauctions.com.
For additional information about PSA/DNA, contact the company at (800) 325-1121. Online: www.PSADNA.com.