In the sportscards business, as in every business, people have gotten involved in the most serendipitous ways imaginable. That is certainly the case with Bob Krawetz who owns and operates The Ninth Inning in St. Paul, Minnesota. Since 1986, The Ninth Inning has specialized in sportscards and baseball collectibles from the late 1800s through the 1970s. They also specialize in football, basketball and hockey cards from the 1950s through the 1970s. Collectors from coast-to-coast have come to rely on Bob and The Ninth Inning to find what they are looking for and to be assured excellent customer service. And to think -- it all began with a newspaper clipping.
"I got started in the business by a total fluke when a friend of mine casually asked me if I had read a newspaper article," laughed Krawetz in his memorabilia-filled office. "In 1986, I had been in business for myself and had recently sold my company. After that, I began working as the western distributor for Phillips Electronics Surveillance. Then, one day, I received a phone call from a guy I knew who asked if I had seen an article about a friend of ours that we had grown up with. I had not seen it but I checked it out and found that he was buying and selling baseball cards."
By reading the article, Bob learned that, in 1985, his old pal had invested a huge sum of money to get started in the sportscard business. "I was totally intrigued," Bob admitted. "I had collected baseball cards myself when I was a kid but, honestly, I was really only mildly interested in them. I liked sports but I was not by any means a fanatic. I never kept any of the cards I had as a kid. But this article interested me enough to pick up the phone and contact my childhood friend."
Bob began picking the brain of his card-selling buddy and was ultimately invited down to his shop. "I began going down there in the afternoons and I would just sit and watch people when they came in," said Bob. "I would listen to them and observe them. From doing that I made my own determination as to where I thought the sportscard business was going. I had always been a sales person, and to me this was simply another form of sales."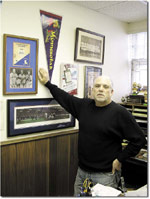 While Bob is the first to admit his intrigue was more with the business aspect than the emotional passion for cards, he began doing his homework -- studying up on everything he could learn about sportscards and buying rookie and older cards. "After learning everything I could about cards, I came to really believe that older cards were the way to go," said Bob. "At the time, new cards were the ones collectors were buying, but I always felt old cards were the future of the hobby. I saw that people who were buying new cards were carefully placing them in cardholders, but that with older cards most kids had played with them and had been very careless in the way they cared for them. So I figured the day would come when the demand for older cards, in good condition, would outweigh the supply."
Bob's first step into the business of sportscards came when he ran an advertisement in a local paper to buy old cards. "I had put together a fair amount of cards and did my very first show in a little town south of the Twin Cities around the end of 1986," he said.
While at that show, Bob invested in a very large collection of vintage cards. "After buying that collection, I started advertising them for sale. At the time, my other business was not doing that well and within a short time, I was doing around $3,000 a week in sales with the card business. At the time, that was a big deal. So that's how I started. From there, I branched out into a mail order business and eventually got involved with graded cards and that is where I am today."
Bob recalled that when he first started out in the business, he spent a lot of time on the road doing shows. "One of my first shows was in Omaha, Nebraska," he said. "I made around $2,000 and I thought that was great -- making $2,000 in a weekend. Then it just escalated from there and I got on the show circuit doing shows all over the country. I was driving all over the United States and, today, I am still one of the last guys who does shows -- at least whatever shows are left. There aren't that many shows being done anymore and I think that's tragic for the hobby. Today, with the Internet, there's no reason for dealers to do shows. And, from the collector's standpoint, they feel that with graded cards it's not that important for them to actually see the card before buying it. I think that has taken away a certain element of this business that is important. There are still grades within grades so I'm one who believes the old system with the shows was better. Personal contact is so much better. To actually see and hold a card and to actually put a face to a name of the person you are dealing with is important. Now don't get me wrong, I do a tremendous amount of my work over the Internet. But it's not the same. I always try to get to meet the people I deal with. On the Internet, everybody has their username and their eBay name. That takes the personal contact out of the hobby."
As a skilled student of sportscards and those who love and buy them, Bob believes that the state of the hobby is extremely healthy because there are so many people involved. "When you look at how many sales are taking place on a daily basis over the Internet, it is a phenomenal number,' said Bob. "That said, I feel we are getting to a situation with a lot of cards. As more and more cards have been graded, the price of some cards have come down and I think we have reached a point where, in some cases, there is more of a supply of certain cards then there is a demand."
Opining that there is constant change within the hobby, Bob said that he believes that cards tend to be cyclical in demand. "For a while, cards from the 1960s have been dead. But then we have recently seen a resurgence of interest in cards from that era. Prices are up a bit for 1960's cards. And, recently, I have begun to see the prices of some 1950's issues come down compared to where they once were. But that's what makes the business and the hobby interesting and why collectors absolutely have to deal with people who really know what they are doing. It sometimes only takes two or three set builders to start working on some particular set to see the cards of that set takes off and the prices start to rise. You have to understand how to deal with that. But overall, I think this is a great time for collectors to be buying cards from the 1950s because prices have come down a little bit and there are a lot of really good deals on many of those cards right now."
Asked what advice he offers his clients who are operating on a budget, Bob said there is one thing he constantly reminds them of -- patience. "Patience is the key to being a wise collector," said Bob. "If you are in a hurry to put together a set or a collection of any card, you are going to overpay. You have to educate yourself and use the population report as a guide to your advantage so you know what is going to be hard to find and what isn't going to be that difficult to locate, then pay accordingly. A smart collector always has a game plan. You have to be aware that you are going to have to pay a fair price for cards, and some cards are going to carry a premium price. If you do not accept the fact that you are always going to have to pay what is a fair price, you are never going to be able to complete a set. I see collectors who try to get by on the cheap and it never works. But, that doesn't mean you should overpay for a card. I think if you are diligent and you are willing to wait it out, you will be able to complete a set at a price that, when you are ready to sell it, you will turn a profit."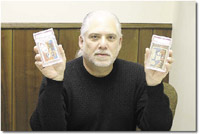 Bob also believes that, at times, profit making must be kept in perspective. "Let's say you collected a set and it cost you many thousands of dollars to finish it," said Bob. "It may have taken you ten years to complete and, by putting it together, you met a lot of great people and you had a lot of enjoyment. Then you go to sell it and you take a ten or fifteen percent loss on what you paid. Well, the way I see it is that's not much to pay for ten years worth of fun. That's how I look at collecting. I myself buy things all the time that I know will be very tough to ever get my money back on. But there's a price to pay for those of us who really enjoy the hobby and are passionate about building sets. It is a very fun and satisfying ordeal."
Although Bob regularly handles some hugely expensive cards and collections, he is adamant that the collector who operates on a budget has in no way been closed out of the serious sportscard collecting hobby.
"There is absolutely a place for the guy who only has a few thousand dollars to spend," said Bob. "My advice to that person is begin with the realization that you do not have the money to build a set. That's number one. Sets are for the guys with big money. I would key on a player or a team and then collect that specific team or player. I would collect Hall of Famers which, by the way, I think are vastly undervalued at this time. I also think that a lot of the star cards are undervalued at the moment. People are caught up in building sets and they are not paying as much attention to star cards as they have in the past. I think there is great value in buying star cards right now. My recommendation to people who don't have a lot of money to spend is to buy star cards right now when the prices are down and tuck them away. I think someone who buys star cards today will eventually do very well. But the most important thing is to have a plan. Figure on how much you want to spend on an annual basis and on what you want to collect. Then you can decide if you want to spend money throughout the year as you find things or do you just want to take that two or three thousand dollars and have a great time at the National. I know a lot of collectors who operate on a monthly budget and, if they don't find what they are really looking for that month, their budget carries over to the next month. If they overspend one month because they have found something great, then they don't buy anything the following month. Just don't go overboard."
Although Bob enjoys working with smaller collectors, he also freely admits that it is the guys for whom money is no object that have made his business a success. "I'm just like everyone else," Bob reasoned. "I like to make money. But I also realize that the guys with the big money to spend have knocked a lot of other guys out of the box. If you can't compete financially, you can't go after most sets because you know you'll just never be able to complete them. If a big card comes up for sale, you'll never be able to compete unless you have the big money. That's business -- the way of the world -- supply and demand -- and there's nothing wrong with that. There are a lot of people out there who have a lot of money and they are willing to spend it to get what they want and that's fine. That is what keeps a lot of money flowing throughout the hobby. Everyone has to approach this hobby realizing that it is a tiered hobby depending on your financial situation. There's just no doubt about that."
Asked to speculate on what he thinks may be the next thing to take off in the hobby, Bob said that he likes football and hockey cards. "Football is selling for good money right now, but I think they are still undervalued," said Bob. "Overall, I think that vintage football cards are still a good buy right now. I think hockey, pre-1968, is weak at the moment, and that's why people should be buying them. Collectors can get some really great cards at very good prices and I believe that, in the future, you could do very well with those cards. Boxing has been selling well lately. Basketball has been soft with the exception of the 1948 Bowman, 1957 Topps, 1961 Fleer, and that's about it. Basketball will always be rough because there's just not enough of it out there."
With over two decades of experience in the sportscard business, Bob said that he couldn't say enough about how PSA has strengthened the hobby. "PSA has helped to facilitate the sales of cards over the Internet," said Bob. "Prior to the time of PSA graded cards, you would never buy a card sight unseen. But now when you are buying a PSA8 you know exactly what you are getting. PSA has also cleaned up the hobby by policing out the altered cards. It has offered reliability for collectors."
While PSA graded cards are the mainstay of Bob's business, he also deals in non-graded cards. "I think that many of us tend to overlook the fact that non-graded cards are a very large segment of the hobby," said Bob. "I think it's wrong to discount that share of the market. If a collector just wants to collect Mickey Mantle or Willie Mays cards and really doesn't care about the condition and is just looking for the best deal they can get, I think that's perfectly fine. I have found that most people who collect non-graded cards tend to have a good eye and they know what a good deal is. Now most of the better condition cards have been sucked out of the market. They have already been graded and are in holders. That means that the non-graded market is lower grades. There's a market for those cards because there's a lot more of them out there and they are far more reasonable."
While Bob did not start out in the hobby as a collector, the more he has learned about cards has resulted in his gaining a greater appreciation for cards. Still, he is very select and discriminating about what he personally collects. "I collect a few things, but not much," Bob admitted. "I am currently putting together a 1935 Mickey Mouse set. I like non-sports cards, especially pre-war, non-sports. I think that the future of non-sports cards is unlimited. For the most part, these cards are extremely hard to find in high grades so it is a much more challenging aspect of the hobby than collecting baseball cards. Putting together sets of high-grade, vintage, non-sports cards is a huge challenge. There are just not a lot of them out there. If you are a collector who enjoys a real difficult challenge, then this is a fun way to go. I'm having a ball collecting the Mickey Mouse cards but I'm only a third of the way through, and the future is not looking good for me to be able to finish this set in sevens and eights. But I knew what I was getting into. I went into this knowing that it was going to be tough because there are cards in this set that have never been graded."
Bob, a native Minnesotan who follows the Twins, Vikings, Timberwolves and Gophers, is married with two grown boys. When not working, he enjoys traveling and is an avid golfer and fisherman. "I golf and fish quite a bit," said Bob. "And I also enjoy attending sporting events."
As for his overall feeling as to where the sportscard hobby is and where it is going, Bob is as positive as anyone in the business about the future. "I get excited about this hobby every day," said Bob. "I have always had a great appreciation for nice things and when I look at a mint baseball card that was made in 1933, I'm blown away by it. To think that a seventy year old card could look this great. I'm fascinated by that. It's a slice of American culture -- especially when it comes to baseball cards. When I grew up, in the 1950s, every kid idolized baseball players. We worshipped them and wanted to be like them. With the vintage cards, you get to see an era that is gone and is never coming back."
Bob said that his ultimate hope for the future is that young people are able to get more involved in the hobby. "If I had any big wish it would be to see kids get into sportscards," said Bob. "But frankly, I don't really know how to do that. The fact of the matter is that young people are priced out of collecting vintage cards and when it comes to the modern cards, there is really not enough out there to hold their interest."
When asked about the advice he would give to a young person hoping to get into the hobby, Bob shrugged. "I would tell them that collecting does not mean you have to collect the most valuable or expensive cards," he said. "It was never meant to be that. That's investing, and young people should understand the difference between collecting and investing. That's what we have to teach kids -- that you don't have to have the best of the best to get involved in the hobby. Now, maybe that's the direction they may want to go as they become more affluent and can afford to go that way. That is what we all hope for. But it doesn't have to be that way when you are young and starting out."
If you would like to contact Bob you can write to him at: The Ninth Inning, 1679 Selby Avenue, St. Paul, MN 55104. You can also e-mail him at [email protected] or call him at 651-645-5442.