New York, New York
– The partnership of Sotheby's and SCP Auctions continues to set the standard for live sports auctions, having recently concluded another landmark sale on June 5th, 2007. While these auctions have consistently set pricing records for high-end items – achieving average per lot prices in excess of $12,000, the partnership remains committed to serving buyers and sellers across the entire breadth of the market. Clear evidence of this commitment comes with the launch of their latest internet-only auction, set to open for online bidding on August 28th at www.scpauctions.com. Dan Imler, SCP Auctions Managing Director states, "In our continuing effort to offer the most diverse selection of quality sports cards and memorabilia possible, we are thrilled with the continued growth of our Internet Auctions. The number of lots offered in this sale represents a nearly 50% increase over our November 2006 Internet Auction, while the overall quality of the material has risen to a parallel degree. The response we've received from the marketplace in the form of direct feedback from clients, extraordinary prices realized in our November Internet sale, and the flood of interest from eager consignors has been phenomenal."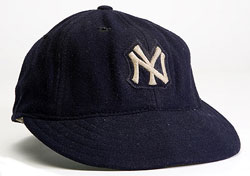 Riding the wave of success enjoyed in their June 5th Live Auction, the August 28-September 13&14 Internet Auction will feature several "Part 2" offerings from significant collections featured in the June sale. Among those will be another large selection of material from the esteemed Allan Schwartz Collection. Among the many highlights presented from Allan's collection are some fantastic 19th Century sets and singles, pre and post war football sets and singles, non-sports cards and early sports antiquities. Specifics include a 1887 N184 W. S. Kimball "Champion of Games and Sports" Complete Set of 50 plus 9 Variations, 1909-11 T206 Eddie Plank PSA 2, 1912 T215 Pirate Cigarettes Joe Lake PSA 6 (Highest Graded), and a superb 1951 Bowman #305 Willie Mays Rookie PSA 9. The vastness of the Allan Schwartz collection is such that Sotheby's/SCP Auctions will be offering a third portion in December, 2007. Other second round, first-rate offerings are included from the Collection of Robert Feinberg including prominent card sets and singles such as a 1909-11 T206 Ty Cobb (Green Portrait) PSA 7, 1909-11 T206 Bill O'Hara (St. Louis) PSA 4, 1909-11 T206 Ray Demmitt (St. Louis) PSA 4, 1909-11 T206 Addie Joss (Portrait) PSA 8, 1909-11 T206 Folly White (Houston) PSA 9 (1 of 1), 1909-11 T206 Ty Cobb (Bat Off Shoulder) PSA 7, 1910-11 M116 Sporting Life Ty Cobb PSA 8, 1910-11 M116 Sporting Life Honus Wagner PSA 8, and a 1913 T200 Fatima Team Card Cleaveland Indians w/ Joe Jackson PSA 7 (2nd Highest Graded) among others. More high-grade T206s will be presented from last year's astonishing "New York City Find" including Hall of Famers and "low pop" rarities. Another outstanding selection of Property From the Estate of Casey Stengel is represented, including Casey's Yankees cap, high-grade team balls and significant awards and presentation pieces.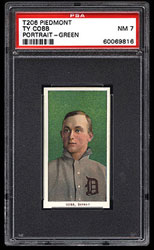 A wide variety of other quality card lots will appeal to all ranges of collectors from beginners to the most advanced hobbyists. The 1200-plus lot sale will showcase cards from nearly every vintage baseball issue, including 19th Century, early tobacco cards, Goudeys, Play Balls, early Topps, and early Bowmans in the form of Sets, Singles, and Group Lots.
More Pre & Post-War Card Highlights Include:
• 1887 N28 Allen & Ginter Graded Complete Set of 50
• 1888-89 N173 Cap Anson Old Judge Cabinet
• 1909-11 T206 Lot of 370 Different Including 65 Hall of Famers
• 1911 T205 Gold Border Hoard of Over 400 Cards Incl. 65 Hofers
• 1916 M101-5 Herpolsheimer's Joe Jackson PSA 6 EX-MT
• Rare 1921 Frederick Foto Babe Ruth SGC 30 (Highest Graded)
• 1915 Cracker Jack #57 Walter Johnson PSA 9 MINT (1 of 4)
• 1928 F50 Yeungling's Ice Cream #26 Lou Gehrig PSA 7 NM
• High-Grade 1949 Bowman Baseball Complete Set (240) Plus 11 variations
• 1951 Bowman #253 Mickey Mantle Rookie PSA 6 EX-MT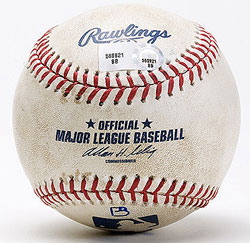 As per usual in any Sotheby's/SCP auction event, a vast array of fresh memorabilia items will be showcased ranging from significant autographed pieces, game used items, programs, display pieces, and more. Without question, the one item in the sale that is sure to draw nationwide interest is the Ball Hit by Barry Bonds For Career Home Run #755 Tying Hank Aaron For The All-Time Home Run Record. Bonds' historic 755th homer, hit of San Diego Padres pitcher Clay Hensley, sent shockwaves throughout the sports world. From the moment the ball left Bond's bat it was infused with extraordinary historical significance, becoming the embodiment of baseball's most hallowed record. The solo shot careened off the facing of the second deck in San Diego's Petco Park and into the hands of Adam Hughes of La Jolla, Ca. The historic ball was pre-marked for identification in anticipation of the event. Hughes was immediately escorted by security into an office within the stadium where the ball was immediately tagged with a hologram, and authenticated by Major League Baseball officials. It is offered by Sotheby's/SCP Auctions as the symbol of one of baseball's most extraordinary milestones.
More Memorabilia Highlights Include:
• Extraordinary C. 1905 Ty Cobb Signed Cabinet Photo - Earliest Known Signed Cobb Image
• 1907 World Series Program (Chicago vs. Detroit)
• 1934 US Tour of Japan Team Signed Baseball
• Stunning Babe Ruth Autographed Baseball – PSA/DNA Graded 7.5 NM+
• Phenomenal Lou Gehrig Single Signed OAL (Harridge) Baseball
• 1927 New York Yankees Team Signed Baseball (World Champs!)
• Joe DiMaggio c. 1947-48 H&B Professional Model Bat
• 1950's Ted Williams H&B Professional Model Bat
• Late 1950's Duke Snider H&B Professional Model Bat
• Elston Howard's 1962 World Champion New Yankees Rolex Wristwatch
• 1961-63 Roberto Clemente H&B Professional Model Bat (PSA/DNA GU7)
• 1964 Harmon Killebrew Sultan of Swat Award
• 1979 Pittsburgh Pirates World Series Full-Size Trophy (Pirates vs. Orioles)
• Elgin Baylor's Retired #13 Jersey That Hung in The Great Westen Forum
• 1986-87 Los Angeles Lakers Championship Banner That Hung In the Great Western Forum
Other noteworthy collections in the sale include the personal collection of All-Star catcher Del Crandall, including items commemorating Del's Championship season with the Milwaukee Braves, multiple All-Star appearances, and his coaching career. Also featured will be an unprecedented archive of handwritten letters from Ted Williams during his first years in professional baseball, offering unique insight into the early development of a baseball legend.
Each of the 1200-plus items will be featured in Sotheby's/SCP Auctions full color catalog as well as on the SCP Auctions website at www.SCPAuctions.com. The auction will be open to registered bidders on August 28thth with the conclusion of bidding for lots 1-573 to take place on September 13th and lots 574-1218 on September 14th, 2007. Call (800) 350-2273 for more information on how to participate.