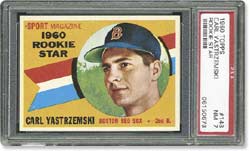 With a sense of loyalty that would make their baseball hero proud, these hobbyists are building their Carl Yastrzemski player sets.
No, they haven't been assembling them for 23 years -- the number of seasons Yaz toiled at Fenway -- but there's no question they've made a long-term commitment to their quests.
"I've been working on those for probably . . . five years, maybe six (years)," said Doug Rivard, about his No. 2 Basic and Master Registry sets.
Dave Sleeper, who owns the No. 4 Master Set, has been amassing Yaz's cardboard since adolescence.
"I've probably kept some of his cards since I was a teenager," he said.
Toiling in 3,308 games (the second most all-time) and playing until he was 44, Yastrzemski exemplified durability and determination – two character traits that these collectors have also found helpful in pursuing their sets.
Yaz's resume boasts 18 all-star selections, 3,419 career hits, and a plaque in Cooperstown, but he's, perhaps, best remembered as the last Triple Crown winner. In 1967, the Fenway legend led the American League in batting average (.326), home runs (44) and RBIs (121). Absent from his list of accolades, however, is a World Series ring. He played in two Fall Classics (1967 and 1975) but the Red Sox lost both.
"The 1975 World Series got me hooked on the Red Sox," said Derek Irwin, who possesses the registry's No. 5 Basic Set and made his first trip to see Yaz in Boston as a kid in 1977.
Rivard also has fond childhood recollections of Yaz.
"I saw him play (against) Nolan Ryan, when he (Ryan) was on the Angels. I remember that game. I was probably only eight years old. . . . I still have the ticket stub," he said.
These memories, coupled with their appreciation of Yastrzemski's accomplishments, have inspired these hobbyists' collections. Comprised of 34 cards, the Basic Set has been completed by nine registry members.
"To finish the (Basic) set in an (PSA) 8 is really doable," said Irwin.
Tracking down some of the cards in PSA 9 grade, however, is difficult. Yaz's inaugural mainstream card was 1960 Topps (#148). And though there are 32 PSA 9 examples -- and even one PSA 10 -- the Yaz rookie can be arduous to find in high-grade.
"The problem with that rookie card... is that it's notorious for having these black specks around it. And half of the card, the background is orange. These black specks line up against the orange and it really shows," said Irwin.
Eddie Horvath, proprietor of the No. 10 Basic set, agrees.
"When I was originally looking for that card, that had a lot of print defects... You would find cards out there -- nice cards -- but the printing (print dots, ink streaks, etc.) was terrible," he said.
The Bosox great's 1969 Topps (#130) single is also elusive in top condition.
"Centering in the '69 set, in general, is tough," said Horvath.
Irwin agrees, adding that the 1969 Yaz was the last card he needed to finish his set.
"That (the 1969 Topps card) is notorious for centering (left to right) problems," he said.
There has yet to be a PSA 10 example of the 1969 card and there are just eight PSA 9s.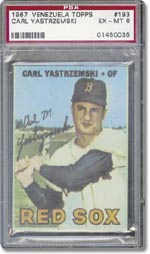 High-grade 1973 Topps Yaz (#245) cards are also difficult to track down. Irwin says that this single is tough to obtain in mint condition because it's almost always off-center left to right. Rivard, too, has had problems uncovering a PSA 9 example.
"That's another one where the card stock is not great," he said.
Of the 227, 1973 Topps singles evaluated by PSA, just four have been deemed PSA 9s and there are no 10s.
The 165-card Master Set also includes a number of cards that are evasive in pristine condition. At the top of that list are the Venezuelan cards. Only four of Yastrzemski's Venezuelan rookies have been submitted to PSA, with only one grading as high as a PSA 5.
"All the Venezuelans are just about impossible to find," said Rivard.
Poor card stock is one of the reasons these are difficult to find in high-grade.
"One of the biggest problems with the Venezuela cards is they came with a booklet and there was a placeholder for each card and a lot of the cards got stuck to the booklet with glue or tape," said Rivard.
Yaz's O-Pee-Chee (OPC) issues are also tough to pick up in mint condition. Printed in smaller quantities than Topps, these Canadian singles are notorious for centering problems and miscuts.
"You can find all of the OPCs, but to find them in any kind of grade at all is really tough," said Sleeper.
Rivard agrees, "If you look at my set, you'll see the lowest grades on my Yaz cards are all Venezuelans and OPCs."
The veteran collector cites the 1970 OPC All-Star single (#461) as one of the toughest cards.
"It's usually way off-center and with OPC, there were fewer made and usually printed on a softer cardboard stock," he said.
Of the two 1970 OPC All-Star cards graded by PSA, one is a PSA 7 and the other is a PSA 6.
The 1964 Topps Stand-Ups card (#77) is also difficult to uncover. Part of a 77-card set that features player photos with yellow and green backgrounds, this short-printed Yaz card will stand on display when folded.
"That and the Mantle are the toughest cards in that set," said Sleeper.
So far, of the 152 Stand-Ups graded by PSA, there has only been one gem mint example and three PSA 9s.
The 1971 Topps Greatest Moments card (#40) is another Yaz that has frustrated collectors. This 55-card set features career highlights of some of the era's top players. Measuring 2-1/2" by 4-3/4", these singles boast fronts that showcase a portrait photo of the player on the left and a deckle-edged action photo on the right. A small headline is also inscribed on the white border of the action photo. The backs feature a newspaper style presentation.
"It's a black border like the '71 set, so it chips very easily," said Irwin of the Greatest Moments cards.
Of the 82 evaluated by PSA, only two have graded as high as unqualified PSA 9s.
Hobbyists say that the competition for Yaz cards in auctions can be fierce.
"I'd say there are at least four or five diehard regulars out there that bid pretty much anything," said Rivard.
This competition, coupled with the scarcity of some Yaz cards, has tested the loyalty of these collectors. But they've passed this test with fl ying colors. No, they haven't been working on their Yaz sets for 23 years -- the length of their baseball hero's career -- but they're definitely in it for the long haul.