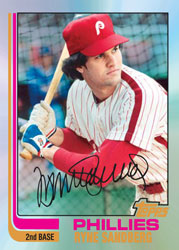 Topps has gone back in history and created a classic collection of cards that "Never Were" and is being sold exclusively on
www.etopps.com
starting today.
The highlights include:
* An ultimate tribute card: The 1952 Topps Joe DiMaggio.
* The 1952 Topps Ted Williams
* The 1954 Topps Stan Musial
* The 1952 Topps Whitey Ford. (Was serving in Korean War)
* The 1967 Topps Nolan Ryan.
* The 1982 Topps Ryne Sandberg (as a Phillie!) - image attached
All "Cards That Never Were" are sequentially numbered and are featured on stunning eTopps technology. There will also be autographed versions available.