AMHERST, N.H.-They may seem small on the page-Charlie Brown, Snoopy, and pals-but serious collectors pony up big money for outstanding original artwork from Charles Schulz's beloved comic strip Peanuts.
Just months after selling a "Flying Ace"-themed example for $65,274-a new auction record for a daily Peanuts strip-R&R Enterprises has once again set a benchmark in the increasingly competitive market for Peanuts artwork. The top lot in R&R's July auction was an original 1964 Sunday strip from the popular "Happiness Is" series, featuring Charlie Brown, Snoopy, Frieda, and a bevy of dancing bunnies, which sold for $71,951-a new auction record for any artwork by Schulz.
Demonstrating a difference facet of his leadership more than two hundred years after his presidency was George Washington, who topped the presidential category with two superlative items. A beautifully preserved
1785 Society of the Cincinnati certificate, issued to a prominent engineer and signed by Washington as the Society's president, reached $22,041, while a letter transmitting a congressional act that came to be known as the "Second Declaration of Independence" attained $20,8398. Other notable results included a rare Garfield document signed during his brief presidency, $17,220; a handwritten Madison letter related to his duties at the University of Virginia, $10,453; a handwritten Lincoln railroad pass, $8,833; a ship's papers signed by John Adams, $7,299; a congressional act signed by Jefferson as secretary of state, $7,299; and a Lincoln endorsement "repatriating" a rebel, $7,299.
Despots, heroes, and pacifists kept colorful company among such items of historical interest as a Lenin archive related to the investigation of a suspected traitor, $25,559; a petition for a postage stamp to honor rocketry pioneer Robert Goddard, signed by 15 pioneering astronauts, $12,650; an early letter from Gandhi encouraging a young friend to "bear all unhappiness", $8,372; an 1807 letter from Napoleon to his stepson, $5,729; a letter of consolation from George Patton to the father of a soldier killed in combat, $7,627; an Apollo 11 photo signed by all three crew members, $6,248; and a Patrick Henry document mentioning a slave traded in payment for a land transaction, $5,307.
Art, literature, and music standouts included a Voltaire letter related to the purchase of wine, $13,515; a scarce Melville letter with a possible association to Moby Dick, $11,760; a guitar signed by Bob Dylan, $10,560; a photo signed by Mahler, $10,474; and a Bayreuth patronage certificate signed by Wagner, $5,362.
Just in time for the summer movie season were such Tinseltown treasures as a stunning photo signed by Marilyn Monroe, $15,654; a rare, thrice-signed James Dean check, $13,241; a membership certificate for his martial arts school signed by Bruce Lee, $8,184; a vintage photo of Bert Lahr as the Cowardly Lion, inscribed to his niece, $4,490; and a letter from John Wayne related to his final interview, $3,556.
All prices above include the 19% buyer's premium. R&R's next auction begins on July 30 and ends on August 15. Bids are accepted online or via telephone, fax, or e-mail. For information or to consign to future auctions, visit the R&R web site at www.rrauction.com or contact Elizebeth Otto at elizebeth@rrauction.com.
This 1964 "Happiness Is" Peanuts strip reached $71,951, a new auction record for artwork by Schulz. Careful observers will note that this amounts to approximately $2,878 per bunny.
This 1785 Society of the Cincinnati certificate, signed by Washington and issued to Christian Senf, builder of America's first major canal, sold for $22,041.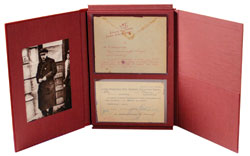 A group of documents related to the investigation of a potential traitor, including handwritten material from Vladimir Lenin, realized $25,559.
A rare document signed by James Garfield during his brief tenure as president-just six months and 15 days-brought $17,720.