Just Collect, Inc. (eBay ID: just_collect) is eBay's largest consignment seller of vintage cards and memorabilia. Each week, the firm sells tens of thousands of dollars of high-end graded cards and memorabilia on consignment for collectors, dealers, and investors across the country. Just Collect has built its reputation around professionally maximizing the value of its clients' consignments and providing a higher bottom line payment than any other auction house.
Private catalog auctions target minimum lot averages of several thousand dollars. Many card lots (particularly graded card lots and sets) sold by private auction houses are purchased by dealers who often profit 30-50% or more by breaking up the lot or set and re-selling the cards individually! Just Collect allows you to realize this profit because we sell your cards individually, just like a dealer would do with his own inventory.
Consigning to Just Collect Maximizes Profit
 
Just Collect, Inc.
Private Auction Houses
Group or Set
of Cards
Sells them individually to
collectors to maximize
consignor's value
Sells them in lots to dealers
to minimize auction house
expense
When Are Your
Cards Sold?
Sales begin the same week
we receive the consignment
3-6 months or more after
consigning
Buyer's
Premium
No BP to deflate values
results in higher consignor
payment
15% - 22.5%
Consignment
Checks
Sends consignment checks
every month
Sends consignment checks
4-8 months after the process began
Size of
Marketplace
Utilizes eBay's $2.2 Billion
Collectibles marketplace
Limited to private mailing
lists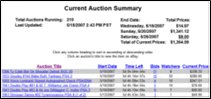 Just Collect offers its unique eBay online reporting software, ConsignorView, to all of its clients. ConsignorView provides a window into the eBay auction process, displaying both your current and closed auctions with pricing and bid histories. It simplifies accounting by providing weekly, monthly, and annual totals. We developed this software internally, exclusively for our clients -- there is nothing else available like it!
"Time and time again, a collector calls our office considering selling an entire PSA-graded set as a single lot in a private auction," says Leighton Sheldon, a principal at Just Collect. "In virtually every case, the collector nets far more money by allowing us to sell the cards individually on eBay. Dealers often purchase lots of graded cards from private auctions to sell them individually at a profit on eBay. Just Collect gives PSA collectors the ability to realize those profits by selling the cards individually for them, and provides convenient tracking through ConsignorView."
Just Collect offers free appraisals and consultations. We would welcome the opportunity to speak to you about your collection or your unwanted duplicates. Please call us at (732) 828-2261 or at [email protected] to discuss how we can work together. We look forward to hearing from you!