Just about every one of us can recall a time or two (perhaps more), when, as carefree youngsters, we dipped our toes into the world of juvenile delinquency and pulled some prank or act of defiance that got us into a bit of trouble. Come on... fess up... whether it was lighting a bag of dog poop on that nasty neighbor's porch or joy riding in your mom's car, all of us have, at one time or another, tasted the forbidden fruit of some sort of youthful indiscretion.
For most of us, the punishment for these crimes ranged from the loss of allowance or being grounded, to paddles and belts applied to our gluteus maximus. Rarely was any real harm done by either these acts of disobedience or the ensuing punishment; and we even provided our figures of authority with the opportunity to nip our life of crime in the bud before it ever bloomed.
For Jerry Rice, one of his youthful acts of defiance ended up providing him with something quite different than what most of us ever got out of our childish shenanigans -- fame, fortune, three Super Bowl rings, and a guarantee of future enshrinement in the NFL Hall of Fame.
Rice has many times credited his decision to play hooky from high school one day as the start of his football career. In his book, Rice (St. Martin Press, 1996), Jerry recalls ditching out of 10th grade one day, only to be tracked down by the school's principal. Upon spotting his wayward student, the principal called his name, which sent Rice sprinting in the other direction. The following day, Rice was called into the principal's office where he was dutifully punished and then praised for his speed. The principal later remarked to the school's football coach, Charles Davis, how incredibly fast Rice was and Davis subsequently talked Jerry into trying out for the team.
The son of a Crawford, Mississippi, bricklayer, Jerry's football career at B.L. Moor High School proved that he was as versatile as he was fast. During his high school career, he played end, defensive back, running back and quarterback. And while he was skillful at just about any position, it was his ability to catch a ball that would ultimately grab the attention of Archie Cooley, coach of the Division 1-AA Mississippi Valley State University.
Rice has often stated that his ability to catch so well came from working with his father and brothers in the bricklaying business as a young boy. Bricks would be tossed from brother to brother till they ultimately ended up with their father for placement. The Rice boys all learned quickly that it was far better to catch a brick then to have it bean you in the head.
THE COLLEGE YEARS
In 1981, Rice enrolled at Mississippi Valley State University, where he rapidly became a star on the school's gridiron. Tagged with the nickname "World" because there was not a ball in the world he couldn't catch, Rice nabbed 66 passes for 1,133 yards and seven touchdowns in his sophomore season. Partnering with the Delta Devils freshman quarterback, Willie "Satellite" Totten, the Totten-Rice combo became known as "The Satellite Express." This duo was such a dynamo that, in 1999, the school named its football stadium Rice-Totten Field to honor Rice and Totten, the latter who went on to play in both the Canadian Football League as well as the NFL before being named MVSU's head football coach in 2002.
Regularly breaking school, division, and NCAA records during his days at MVSU, Rice capped off his collegiate career having grabbed 310 catches for 4,856 yards and 51 TDs, (Note: MVSU stats from the 1980s were recorded in a rather inconsistent fashion and there has been debate over what Rice's actual numbers were. Some school records state that his final numbers were 301 catches for 4,693 yards and 50 TDs).
Named to every All-American team, Rice also finished out his college career by coming in ninth in Heisman Trophy balloting and attracting the attention of pro scouts from Dallas, Green Bay, San Diego and Indianapolis. Ironically, it would not be any of those teams to see Rice suited up as a player but rather the San Francisco 49ers, whose head coach, Bill Walsh, pushed for Rice. On the day of the 1985 NFL Draft, the 49ers used some creative trading, swapping and maneuvering to select Rice before Dallas (who reportedly had plans to secure him) even had a chance.
PRO LIFE
Rice became an immediate Bay area fave in his 1985 rookie season and watching him play was a true treat for football fans from coast to coast. Chalking up 49 grabs for 927 yards, he finished his inaugural pro outing with an 18.9 yards per catch average. The next year, he snagged 86 balls for 1,570 yards and 15 touchdowns, beginning what would be the first of six seasons that Jerry would lead the league in receiving and touchdown receptions.
The strike-shortened 1987 season saw Rice gain 1,078 in receiving yards and 22 touchdowns in just 12 games -- a performance that saw him named the NFL's Player of the Year. The 1988 season saw Rice turn in another phenomenal showing. Catching 64 balls for 1,306 yards and nine TDs, he was a major factor in seeing to it that the Niners got an invite to postseason play. San Francisco met the Chicago Bears that year for the NFC Championship. Rice's five snags for 123 yards and two touchdowns proved to be a major factor in the 49ers 28 to 3 trouncing of the Bears.
As NFC champs, the Niners had secured themselves a slot in Super Bowl XXIII, a game that gave Rice the chance to make him a star well beyond the city by the bay. Jerry caught 11 passes that day. He chalked up real estate that totaled 215 receiving yards, five rushing yards, and even scored a TD to boot as the Niners edged past the Cincinnati Bengals 20-16 to grab World Championship honors. For his outstanding Super Bowl performance, Rice became the third wide receiver to be named the game's Most Valuable Player.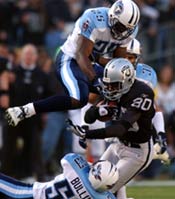 The following year saw the Niners once again take World Championship honors as Rice scooped in seven receptions for 148 yards and three TDs to win Super Bowl XXIV. His impressive regular season numbers of 82 catches for 1,483 yards and 17 touchdowns, along with 12 snags for 169 yards and two scores in the playoffs, were clearly a factor in seeing the bay area take back-to-back Lombardi Trophies.
In the 1990 season, Rice once again treated Niner fans to another fantastic showing. He led the league that year in receptions by snagging 100, receiving yards by gaining 1,502, and receiving touchdowns by scoring on 13 of his catches. San Francisco's 1990 regular season finish at 14-2 was the NFL's best record and northern Californians were talking "three-peat." That was, however, not to be as the New York Giants eked out a 15-13 victory over the 49ers for the NFC title.
It took a few years for Rice and company to make it back to the big game but, in 1994, he turned in career-high marks of 112 catches for 1,499 yards and 13 TDs during the regular season. In the first game of that season alone, Jerry grabbed seven catches for a season-high 169 yards. He also rushed for one TD and caught for two more. Rice's performance in that season's playoffs was lackluster by his standards but he returned to full strength as the Niners took on the San Diego Chargers in Super Bowl XXIX. His 10 receptions, 149 receiving yards, and three six-pointers sealed his team's 49 to 26 win over their neighbors to the south. In Miami's Joe Robbie Stadium on January 29, 1995, Rice, quarterback Steve Young and the full compliment of the 49ers team made NFL history by becoming the first team to ever win five Super Bowls.
Clearly entrenched as a dynasty, the Niners and Rice entered the 1995 season with high hopes. Rice's expectations were met; the team's were not. Jerry caught for a new career high 122 catches for a league record of 1,848 receiving yards and 13 scores. But even with a performance like that, the 49ers were downed and sent home for the off-season by the Green Bay Packers in the divisional playoffs.
In 1996, Rice chalked up 108 receptions and 1,254 yards of real estate as he scored eight TDs. The Niners made it to the NFC Championship game where, once again, they could not get past the Pack.
Rice's ability to ward off injuries throughout his career had been a major factor in his ability to chalk up such impressive year-after-year numbers. But, in 1997, his luck ran out -- fast. In the Niners first regular season game, Rice tore the anterior cruciate and medial collateral ligaments in his left knee. That injury ended a streak of play in 189 consecutive games and would bench him for 14 weeks. Although his doctors warned against his return to the game that season, Rice insisted that he was ready -- an insistence that proved to be both wrong and painful. In his first game back, while scoring a touchdown, he broke the patella in his left kneecap. That injury forced him to miss the Pro Bowl for the first time in 11 seasons.
By the beginning of the 1998 season, Rice was fully recovered and he caught 82 passes for 1,157 yards and nine touchdowns. Two seasons later, Rice said goodbye to the Niners to sign on with the Raiders. He turned in an amazing performance that year snagging 83 passes for 1,139 yards and nine TDs. In 2002, he bettered himself by catching 92 balls for 1,211 yards and seven touchdowns. The Raiders made it to the Super Bowl that year but, as the XXXVII playing of the big game ended, Oakland was on the losing end of the 48-21 score. The Tampa Bay Bucs won their first Super Bowl that day by intercepting five passes, three of which were returned for touchdowns. They also recorded five sacks and scored 34 unanswered points. Still, despite the fact that there would not be another Super Bowl ring in it for him, Rice had a respectable day snagging five balls for 77 yards. He also made history in that game with a 48-yard touchdown catch in the fourth quarter. That grab made him the first player ever to catch a touchdown pass in four Super Bowls.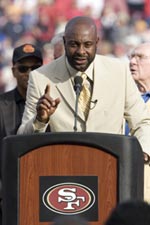 Super Bowl XXXVII would prove to be the last time Jerry Rice would step on to the gridiron for an NFL Championship. The Raiders slipped from an 11-5 record in 2002 to a 4-12 record the following season. In 2004, things got even worse as the team won only five games. Rice and the Raiders parted company four games into the 2004 season when he signed on with the Seattle Seahawks for the balance of the year. The following season, Rice again switched uniforms donning the blue and orange of the Denver Broncos. He was rostered as the team's sixth wide receiver throughout pre-season play but never played as a Bronco in a regular season game. Shortly before the start of the '05 season, Rice announced his retirement as a member of the San Francisco 49ers! How did that happen? Well, on August 19, the front office of the team that Rice had been so indelibly associated with offered him a ceremonial one-day contract for the sum of $1,985,806.49 so he could retire as a Niner. The amount of the contract was determined as follows: 1985 was the year Rice had been drafted into the NFL. The number "80" was of course his uniform number, and 06 and 49 respectfully stood for the year he briefly returned to the Niners' fold.
The man who has been called the greatest receiver in NFL history and who, to this day, still holds many of the most important receiving records, finished out his professional career by catching 1,549 balls for an amazing 22,895 receiving yards. He scored 208 career touchdowns and only missed 17 regular season games during his 20-year career. And to think -- this San Francisco treat may have never been served up had it not been for his ability to catch bricks, ditching a high school class, and scampering away at lightning speed when nabbed by his principal.
LIFE AFTER FOOTBALL
Today, Rice, his wife, Jackie, and their children, Jaqui Bonet, Jerry Jr., and Jada Symone live in San Francisco where he does broadcasting work with the local NBC affiliate station and Sirius NFL Radio. In 2005, Rice returned to competitive life as he competed in the reality TV show Dancing with the Stars. Partnering with professional dancer Anna Trebunskaya, Rice rose from underdog status to reach the finals in the ballroom dance competition. Although Rice and Trebunskaya untimely lost to singer Drew Lachey and his partner Cheryl Burke, the charming Jerry was a fan favorite throughout the show's run.
THE JERRY RICE CARD TO COLLECT
The 1986 Topps # 161 Jerry Rice card is the only recognized rookie offering of the man who is considered to have set the standard for NFL receivers. Although a modern card, it ranks with the heavyweights of the hobby for two reasons. First, because it is Rice's rookie card -- enough said. Secondly, because it is a very difficult offering to find in high grades.
For collectors who are familiar with this card and have searched for a pristine example, they are all too well aware that while the card is fairly easy to find in most grades, Gem Mint examples prove to be a toughie! This is due to the fact that the card's green borders are highly prone to chipping. Corner and edge wear on this card is, in fact, so prevalent that it is not unheard of for them to come fresh out of the pack with problems. To complicate matters further, this card is also known to have centering problems.
Joe Orlando, President of PSA and the Editor-in-Chief of Sports Market Report, has named the '86 Topps # 161 as one of the top 200 cards of all time. "When it comes to wide receivers, there is simply no one that compares to Rice," Orlando wrote in his 2002 book, The Top 200 Sportscards In The Hobby (Collectors Universe, Inc.) "This tough modern card is a hobby favorite."