Newport Beach, CA – As a public service and to help a worthy cause, officials at PSA/DNA have donated their services to authenticate 15 autographed baseballs. Each was signed by eight of the greatest relief pitchers of the game, including three Hall of Fame members.
Upcoming sale of the PSA/DNA-certified baseballs will help raise money for "The Greatest Save Campaign" by KinderVision®, a national organization that provides multi-media educational programs to prevent the abduction and sexual exploitation of children. Several of the baseballs will be offered to the public during the DHL All-Star FanFest® events in San Francisco, July 6 – 10, 2007, prior to the All-Star game. Announcement will be made in the future about the other autographed baseballs.
"The autographs were obtained through the cooperation of the Major League Baseball Players Alumni Association and Rollie Fingers, a member of the KinderVision Board of Directors, as well as the participating players. It was our pleasure to examine the autographed baseballs and provided the authentication pro bono, for the public good," said Joe Orlando, President of PSA/DNA (www.psadna.com), a division of Collectors Universe, Inc. (NASDAQ: CLCT).
"This is the first time we've done anything like this. We're grateful that PSA/DNA has joined the 'The Greatest Save' team," said Doug Sebastian, Founder and CEO of the KinderVision Foundation.
Fingers' 17-year major league career "epitomized the emergence of the modern-day relief ace," according to the National Baseball Hall of Fame. As the national spokesman for KinderVision, Fingers frequently proclaims the organization's child protection motto, "The greatest save is the one we never have to make."
That message is inscribed on each of the 15 baseballs.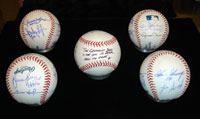 The signatures of the eight former relief pitchers (and the years three were inducted into the Hall of Fame) are: Dennis Eckersley (2004); Fingers (1992); Goose Gossage; Trevor Hoffman; Sparky Lyle; Mariano Riviera; Bruce Sutter (2006); and Lee Smith.
KinderVision was created in 1991 as a result of the kidnapping and murder of a seven year old girl in Southern California. The organization provides safety education programs for families, schools, law enforcement agencies and youth-assistance groups to teach children how to be safe from sexual predators.
"Rollie Fingers and the Major League Baseball Players Alumni Association have given tremendous help to promote such educational messages. And before he passed away, we also had generous support in the 1990's from another well-known name in baseball, California Angels owner, Gene Autry," said Sebastian.
For additional information about the KinderVision Foundation and The Greatest Save campaign, visit www.KinderVision.org.