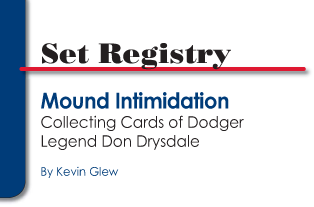 Orlando Cepeda once said his approach to facing Don Drysdale was to "hit him before he hits you."
Yes, the Dodgers hurler's propensity for bruising batters was legendary.
"My own little rule was two for one," Drysdale famously quipped. "If one of my teammates got knocked down, then I knocked down two on the other team."
But while intimidation was a key part of his game, the fiery right-hander's deceptive sidearm motion, 95-mile-per-hour fastball, and pinpoint control were equally responsible for his success.
"Drysdale was an overpowering pitcher and he didn't mind letting you know it," said renowned collector Marshall Fogel, who owned the PSA registry's top Drysdale Basic Set until earlier this year.
So dominant was Drysdale, in fact, that he was named to eight all-star teams and finished in the top 10 in the National League in strikeouts 11 times. He also won the 1962 Cy Young Award, tossed six consecutive shutouts in 1968, and helped the Dodgers capture three World Series titles (1959, 1963 and 1965). Regularly ranking amongst the top senior circuit hurlers in games started and innings pitched, the 6-foot-6 right-hander was a workhorse before a rotator cuff injury ended his career at age 33.
Drysdale passed away in 1993, but his legacy lives on in his plaque in Cooperstown and in the memories of his fans, including those pursuing his Basic (14 cards) and Master (80 cards) sets on the PSA Set Registry.
"He's just one of the great Dodgers of all-time," said Josh Bramlett, a California-based collector who owns the registry's No. 6 Basic set.
Doug O'Dell, a New York native who owns the No. 2 Drysdale Master Set, agrees.
"Although, I live on the East Coast, Sandy Koufax and Don Drysdale were the first names that I associated with baseball stars," he said. "I particularly identified with Drysdale because I was a big kid, right-handed, and pitched in Little League."
The Dodgers legend made his mainstream cardboard debut in 1957 Topps (#18). Fogel says that the paper stock and centering issues have made Drysdale's rookie difficult to track down in high-grade.
"In 1957, the paper was like rice paper," noted Fogel.
Of the more than 1,200 Drysdale rookies submitted to PSA, there has yet to be a PSA 10 example and only 13 have been deemed PSA 9s.
The Hall of Fame hurler's second-year card (1958 Topps #25) is actually more difficult to obtain in mint condition than his rookie. Part of a set known for poor paper stock and centering issues, the 1958 Topps Drysdale is also elusive because it's in the set's low number series.
"If you look at the history of the 1958 set, the first series is really tough to get in high-grade," said Frank Pizziketti, a Michigan native, who owns the No. 9 Basic Set. "I noticed a lot of them seem to be off-center."
Bramlett adds that the yellow background on the front of the 1958 Topps Drysdale also tends to bleed into the white borders.
Of the 416 Drysdales evaluated by PSA, just one has been graded as high as PSA 9.

The 1958 Bell Brand Dodgers Drysdale is also challenging to uncover in pristine condition. Commemorating the Dodgers first season in Los Angeles, the Bell Brand set consisted of 10 unnumbered cards that were inserted in chip bags. Measuring 3" by 4", these singles feature a sepia-colored photo inside a green, wood grain border on the front and statistical and biographical data on the back.
"They were issued in potato chip bags (though they were wrapped in cellophane) and bending and creasing were common just from handling the bags," said O'Dell.
Only 19 of these cards have been graded by PSA and so far, there is just one PSA 9 example.
The Hires Root Beer Drysdale from the same year is also elusive in high-grade. These cards measured 2-5/16" by 3-1/2" and were attached to a wedge-shaped tab that held them to a carton of bottles.
"The 1958 Hires Root Beer card is difficult to find with the tab intact because the tab was a send away coupon for a 'How to Play Baseball Book' and a membership card in the Hires Baseball Club," explained O'Dell.
The cards with their tabs are worth much more than cards without tabs. So far, no 1958 Hires Root Beer Drysdale singles (with a tab) have graded higher than PSA 8.
But the Holy Grail of Drysdale cards might be his 1961 Topps Dice Game issue. This single was part of an 18-card test series that features cards measuring 2-1/2" by 3-1/2". Void of Topps trademarks, these cards feature black and white photos on the front and a series of baseball plays (related to the dice game) on the back. These are so rare that many hobbyists doubt they were ever distributed externally by Topps.
"The 1961 Topps Dice sets were a test set by Topps, but no one can say for sure that they were ever distributed," said O'Dell. "The prices quoted in guides are in the thousands per player, and if ever auctioned, they would probably bring amazing prices."
The sole Dice Game Drysdale evaluated by PSA earned a PSA 7 grade.
Another elusive Drysdale to track down in high-grade is his 1962 Topps (#340) card. Pizziketti points out that with their brown, wood grain borders, these cards are susceptible to chipping.
"That (the 1962 Topps card) was probably almost as hard to get (in high-grade) as the 1958," said Bramlett.
There have been no PSA 10 examples of the 1962 Topps Drysdale and only six PSA 9s.
Collectors say that competition for Drysdale cards, in general, can be also be fierce.
"I notice in the older cards, the 1957, 1958, 1959 and even the 1960 for (PSA) 7 and up, there's a lot of competition in the bidding," said Pizziketti.
If Drysdale were alive, he'd probably enjoy watching such heated competition for his cards. The Dodgers legend might equate these collectors' feverishly bidding against each other to a steady series of brushback pitches being delivered.