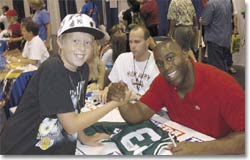 These collectors are working some "Magic" on the PSA Set Registry.
Devoted to their Earvin Johnson Basic (37 cards) and Master (166 cards) sets, these hobbyists are spearheading their own "Showtime" offense when it comes to the former Laker's cardboard.
"I actually have three (Magic Johnson Master) sets," explained Jon Darby, who owns the No. 1 Basic and Master registry sets.
The California-based enthusiast saw the Lakers' legend play live more than 300 times.
"I've actually met him several times... I've got a real nice picture of him and my son," said Darby.
Suli McCullough, a well-known comic and proud proprietor of the No. 5 Master Set, has also met Johnson.
"I played in a game to raise money for a local high school with him about a week ago," said the California-based comedian, who starred on The Jamie Foxx Show from 1999 to 2001.
Arnold Varona, who boasts the No. 3 Basic Set, has never met the Lakers' great, but growing up in Southern California, he has fond memories of Johnson.
"I loved the 'Showtime' Lakers and Magic was my favorite player," he said. "He was the best point guard and team player in history, in my opinion."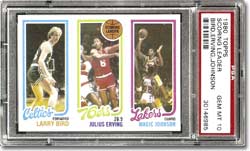 It's this type of adulation that's inspired these enthusiasts. And of course, a key to any player set is a high-grade rookie. Johnson's cardboard debut was in 1980-81 Topps, where he was showcased on four different cards. His most coveted rookie single is a three-panel card that also features Julius Erving and Larry Bird. The perforations between each panel on this card invite collectors to tear them apart. Separated panels generally sell for significantly less than cards in their original form.
A number of other condition issues also hamper this single.
"Aside from normal off-centered problems that exist, there is also a smudge which causes a designation of PD (PSA's "Print Defect" denotation) in many cases... The smudge is generally near the Magic Johnson portion of the card," said Varona.
Of the more than 4,700 rookies (meaning the three-panel card with Erving and Bird) submitted to PSA, only approximately 8% have graded PSA 9 or higher.
The 1985 Prism/Jewel Magic Johnson sticker is another item that has been difficult for collectors to track down in high-grade. Printed on flimsy stock and reportedly distributed in vending machines, the Johnson and the 13 other stickers in this set are elusive in pristine condition.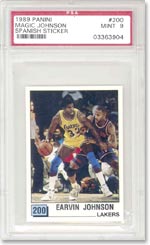 "The stickers came out of vending machines -- if I recall correctly -- which made it difficult to get them out of those things in perfect shape," said Varona.
Jim Bingaman, who owns the No. 3 Prism/Jewel set on the registry, points out that there are a number of condition issues with these stickers.
"The stickers have rounded corners and sometimes they can be miscut from the factory," he explained. "So you might have a sticker with one or more not-so-round corners. Also, they tend to show scratches easily."
Ungraded, near-mint to mint Magic stickers from this set generally sell in the $60 range, so a PSA 9 example is likely to fetch over $100. So far, only 10 Magic Prism/Jewel stickers have been sent in to PSA and just two have been graded as high as PSA 9.
Another elusive card is Johnson's 1990 Upper Deck Prototypes single (#32). Upper Deck spokesperson, Don Williams, was able to uncover that this card -- along with a Larry Bird single (#33) -- were likely disseminated in limited quantities to NBA employees and card distributors to promote their 1991-92 NBA set.
Steve Taft, a respected basketball card dealer in California, says he has not seen any major condition issues with these cards.
"Those I've seen are pretty consistent, just a matter of corner wear being (PSA) 7, 8, or 9 quality," he said.
The value of these cards has fluctuated over the years.
"These used to go for $1,500 to $3,000 each. Then a few more surfaced and they dropped into the $300 to $500 range ($300-400 for Magic and $400-500 for Bird). Now, I see them up a bit because they just have not been around (that I've seen the past year or two)," said Taft. "I think I'd say Magic is $400-500 and Bird $500-600. This would be my thinking for a clean, ungraded example or a PSA 8. In a (PSA) 9 grade, I'd think a premium would be appropriate over these prices."
Six Magic Upper Deck Prototypes singles have been evaluated by PSA, with the top grade being PSA 9.
Magic's 1991 Pro Set Prototypes card is also difficult to track down. Issued as part of a five-card set, this is another Johnson single that was produced in limited quantities.
"The best I can put together is that Pro Set management/ownership gave out a few samples to some of their biggest distributors. I had one of the larger California dealer/distributors tell me he got a set at a meeting of Pro Set Management and a handful of distributors from around the country. He implied it was a small meeting with only a few distributors," explained Taft, who owns the registry's No. 1 set and has a number of these cards for sale.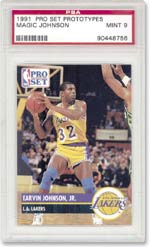 Some minor condition issues also plague these cards.
"Most have a tiny bit of corner wear, so finding mint or better grades is a bit tricky," said Taft, who's selling a PSA 9 Magic card for $275. "I think if you could scoop up every Pro Set Prototype in the hobby and grade them, typically, there would be a majority of (PSA) 8s... The only problem I've seen occasionally is a hand-cut example from a small strip or sheet."
Of the 22 Pro Set Prototypes Magic cards graded by PSA, three have garnered a PSA 10 grade and 10 more were deemed PSA 9s.
Competition for Johnson's cards, in general, can also be heated.
"There are probably about half a dozen serious Magic Johnson collectors, which makes for a very competitive marketplace when one of those rare or low population cards hit the marketplace," said Varona.
McCullough says he has noticed more competition in the past year.
"It seems like I keep getting knocked lower and lower (on the Set Registry)," he said.
In general, however, it's surprising that Magic's cards aren't more popular. Compared to other basketball legends like Michael Jordan, Johnson's cards remain relatively affordable.
"I think, to some extent, people just forget how great of a player he was because he really built up his name as a businessperson in the community. His celebrity is still out there, but if we're just talking about his basketball skills, it surprises me sometimes how people forget how great he was," said McCullough.
Perhaps with these devoted Set Registry enthusiasts spreading the word, more people will discover the "Magic" of collecting the legend's cards.