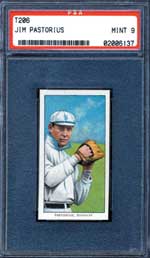 Watchung, NJ - Collectors, dealers, and market watchers were expecting great results, but in the end were absolutely stunned by the across-the-board record final prices, totaling a staggering 8.7 million dollars, on all nineteenth and early twentieth century baseball cards and memorabilia at Robert Edward Auctions on April 28th.
"It is hard to put into words the success of this auction," said REA president Robert Lifson. "Everything went perfect. In many ways, this was the single most successful baseball auction in the history of the collecting world." The total $8.7 million in sales for the auction set a new world record for a multi-owner all-consignment baseball card and memorabilia auction. This total also represents a new world record for any multi-consignor auction in which the auction house, auction house executives, and employees are prohibited from bidding in the auction. In fact, the $8.7 million dollar auction total is also a new record dollar volume ever to be hammered down in a single day in the history of sports collecting, surpassing the previous record of $7.5 million set by REA in 2006.
No other sports card or memorabilia auction in the history of the field has ever sold anywhere near this dollar volume in a single day. Even the number of catalogs shipped - ten thousand - was a record! The auction results at REA are widely recognized as providing the most important and respected snapshot of the vintage baseball card and memorabilia marketplace of the entire year.
"The disclosure policies of the REA auction process, our focus on there being no conflict of interests, the unparalleled confidence that bidders have in REA, all of these factors naturally contribute to strong results and the market's confidence in these results," explains Lifson. "Of course, it helps to have great material, and we really had a lot of incredible consignments. The confidence our consignors and buyers have in us is the real key to the great success of this sale." Record prices were set on countless items, both in cards and memorabilia, and spanning all eras. "Compared to some companies, Robert Edward Auctions is a small firm. But that's actually part of our strength. We pay attention to details. We do everything better. No matter what criteria you have, we believe that we do the best job in the world for buyers and consignors. Our philosophy has always been very simple: If we do a great job, great things will happen. And the results show."
The extraordinary results do, indeed, leave no doubt that every item was sold to the person or institution that was willing to pay the most. The 1594 lots offered were won by an incredible 629 different bidders, illustrating the power of the marketing and auction process, and the breadth of bidder interest. Successful bidders included some of the nation's most prestigious museums and corporate institutional collections. By any measure this was one of the most carefully assembled, important, and successful baseball card and memorabilia auctions in the history of collecting. "We set record prices across the board" reports Lifson. "All areas of the auction received a tremendous response and very strong prices. Nineteenth-century baseball items were unbelievable, as always, as were all early baseball cards, advertising and display pieces, graded cards, Babe Ruth items, autographs, memorabilia, non-sport cards and artwork. This was a record-setting auction in every way."
The sale was the most successful auction in Robert Edward Auctions' 37-year history. Thousands of bidders from all over the world, primarily the U.S. but also including Europe, Japan, and Hong Kong, participated. Exactly 24,470 bids were placed and over 99% of the lots sold. The average lot sold for more than double the high-end estimate. "Prices were significantly higher than most consignors expected" according to REA president Robert Lifson. "Part of this, of course, is due to a strong market and having great material, but part of this is also because all of the most serious collectors in the world are comfortable bidding at Robert Edward Auctions. Our Honest-Auto Bid system allows bidders to place limit bids and know that they are the only ones in the world that know their limit. The fact that we are truly an all-consignment auction, maybe the only one in the field, and the fact that we don't allow auction house executives, employees, or the auction house itself to bid, is also very confidence-inspiring to serious bidders. We don't take any shortcuts in processing collections. Bidders have confidence in our expertise and opinions. We don't own the material so we naturally have more credibility than dealers or auction houses that are also dealers. Our commitment to research and authentication is universally recognized as unparalleled. Our expertise in general is highly valued by bidders in a way that is very rare for an auction house. There are many collectors that only bid with us. It's not an accident. We go out of our way to do a better job. It shows in the prices realized."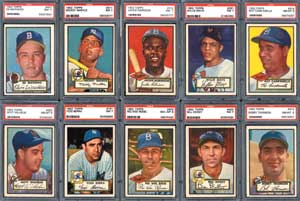 Highlighted by The Barry Halper Estate Collection, the REA auction also included numerous additional important collections and new discoveries. The recently rediscovered 1838 Olympic Constitution, previously known to exist but which had been lost to the collecting world for decades, sold for an astounding $141,000, setting a record price not just for any baseball publication but a record price for any sports related publication of any kind. The 1914 Baltimore News Babe Ruth rookie card was consigned by a non-collecting family from Providence, Rhode Island. The grandfather, who passed away in 1985, was a casual collector who had a small vintage card collection he assembled mostly from frequenting flea markets. The collection, which had been kept in storage since 1985 until very recently, by chance included the Ruth rookie. Just prior to contacting REA, the family came very close to selling the heirloom outright to a dealer who offered $8,000. They're glad they waited. The card sold for $200,000.
The Barry Halper Estate Collection, consigned directly from the Halper family and comprised of the "small collection" of items that Barry Halper kept for his personal enjoyment during his "retirement from collecting," was offered in 247 lots and realized $1.4 million dollars. The Halper baseball film library alone (reserve $2,500) sold for $117,500.
Significant card highlights in the auction include: A 1952 Topps set (reserve $50,000), entirely graded by PSA, sold for $164,500. An impressive collection of 403 1886-1889 Old Judge tobacco cards in varying conditions, with a reserve of $10,000, sold for an incredible $111,625. A complete set of T206 White Border tobacco cards in varying condition (reserve $10,000, estimate $20,000/$30,000) sold for $105,750. The 1953 Bowman set (which was entirely graded by PSA, with an SMR value of $65,000 and a reserve of $25,000, sold for an amazing $94,800. The M101-4 1916 Sporting News Babe Ruth card, graded Near Mint 7 by PSA, sold for an astonishing $82,250, by far a record price for this important card in this condition.
Additional auction highlights include: The 1912 Fenway Park First Pitched Ball sold for $85,000; a 1915 Yankees jersey (with a reserve of $2,000) sold for an unbelievable $55,812, by far setting a record for a non Hall of Famer jersey style of any team from any era; the circa 1869 bat attributed to George Wright, with a reserve of $10,000, sold for $88,125, setting a new auction record for any nineteenth-century bat; Mickey Mantle's 1955-1965 era cap (reserve $5,000) sold for an incredible $52,875, setting a new world record for a postwar game-used cap.
Additional early card highlights: The Tango Eggs near-set (16 different cards, the #1 set on the PSA Registry) sold for $58,175. The $100,000 reward publicly offered by REA for proof of the existence of six rumored-to-exist but not yet formally documented Tango Eggs cards went uncollected. "They could certainly be out there but, fortunately for us, no one actually came through to claim the reward" reports Lifson. "But it was fun talking to collectors about the reward money."
The previously undiscovered Baltimore News team card with Babe Ruth (found with the individual $200,000 Ruth card) sold for $52,875, bringing the total take for the Rhode Island family to just over a quarter of a million dollars for the two cards. "This has been very exciting. It's been like winning the lottery for us, only more fun," said a family representative.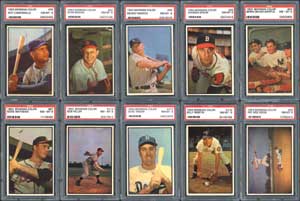 The auction included two examples of legendary T206 tobacco card rarity Eddie Plank. The first was graded PR-FR 1 by PSA, the lowest grade possible. With a reserve of $2,000, the PR-FR example sold for an incredible $21,500. The second T206 Plank (reserve $2,500) was graded "Good" by PSA and sold for an amazing $35,250. Both of these results are by far record prices for this card in each of these grades. The T204 Ramly tobacco set in mixed grade sold for $52,875. A very clean mixed-grade T205 Gold Border tobacco card set (208 cards) with a reserve of $10,000 generated tremendous interest, finally selling for $70,500. "Some of the prices on these vintage mixed grade sets may seem high, but collectors were particularly drawn to these sets. They may have ranged from Fair to Excellent condition, but most of these cards were assembled decades ago by old-time collectors, as opposed to being collected in modern times. Many bidders were willing to pay a significant premium because of this." explained Lifson.
Nineteenth-century cards and memorabilia were extremely strong, setting record after record, as is always the case at REA. The 1887 N690 Kalamazoo Bats cards of Danny Richardson (which was previously sold by REA in June 1995 for $3,357, and was consigned to the 2007 REA auction directly by the original 1995 buyer), sold for a record $49,937. An 1871 George Wright cabinet card by Warren Studios (reserve $1,000; estimate $2,000/$4,000), which was the only baseball item discovered among a group of unrelated-to-sports documents during the settling of an estate in Colorado, sold for a record $17,625.
The 1869 Cincinnati Red Stockings Peck & Snyder advertising trade card, one of the classics of nineteenth-century card collecting and featuring the first professional team, was encapsulated as "Authentic" by PSA and sold for a new world record price of $29,375. An exciting collection of 59 1898 Cameo Pepsin Gum pins, one of the largest groups of these important early baseball celluloid pins ever assembled, was offered in seven lots and sold for $44,236.
The 1864 Brooklyn Resolutes CDV team card, encapsulated by PSA as "Authentic" and featuring Henry Chadwick, which last sold for $16,000 at auction just a few years ago, set an extremely important new record when offered at REA, selling for $47,000. This is a record price not just for this particular nineteenth-century team card, but for any baseball CDV of any kind to appear at auction ever. "It was great to see this card get the respect it deserves. This is a card that in the past, in our opinion, was always undervalued and underappreciated. We never understood why. We were happy to see the market appreciate the significance and rarity of this card in this auction."
Results on all 1910 era cards, especially extreme rarities, were very strong. A T206 of Ty Cobb with a rare UZIT advertising back graded EX-MT by PSA sold for $29,375. This very same Ty Cobb tobacco card with a common advertising back lists for just $2,900 in the SMR this grade. A T206 tobacco card common player (Pastorious) graded MINT 9 by PSA (SMR value $2,400) sold for $8,225. A complete set of 1910 D322 Tip Top Pirates bakery cards in mixed grade (reserve $2,000; est. $4,000/$6,000) sold for an incredible $23,500.
The largest collection of E125 American Caramel Die-Cuts to ever be assembled, a total of 37 cards, was presented in nine lots. The collection realized a total of $154,000, including $26,437 for Eddie Plank, a record price for any E125 of any player ever. A collection of seven T3 Turkey Red tobacco cards, all Hall of Famers and all graded by PSA (reserve $5,000; est. $10,000/$15,000), sold very strong at $26,437. Four M110 1911 Sporting News cabinet cards were offered individually and sold for an incredible total of $47,587, including a record $22,325 for Honus Wagner in Vg-Ex condition. A T205 Gold Border of Christy Mathewson graded NM+ sold for $10,575; and a 1911 M116 Sporting Life card of Walter Johnson, graded MINT 9 by PSA, was hammered down at $12,925.
It was only a few years ago, in May 2004, that a color 1912 Boston Garter of Hall of Famer Christy Mathewson in Very Good to Excellent condition sold for a then mind-boggling record price of $31,900. In this auction a common player, Robert Bescher, in Very Good condition sold for an astounding $35,250. "We can't explain some of these prices," comments Lifson, "It just goes to show that in an auction, anything can happen, and when it comes to really rare material, collectors will often throw out the book as far as referring to past prices. As advanced collectors grow more and more experienced, they're learning what they will see again and what they won't. There will always be cards that get a lot of hype and go for a lot of money but aren't that rare. Advanced collectors are growing more sophisticated and many are putting a greater emphasis on rarity in determining values. That hasn't always been the case. The market is constantly changing. It's hard to predict what some significant rarities will bring when they finally go to auction, but clearly, in some cases, it's a lot more than any guide will say and a lot more than people expect."
Additional interesting highlights: In 2006, REA offered a pair of 1911-1914 D304 Martens Bakery cards, representing two cards from a find totaling six of these rare cards, all in high grade, which were tucked within the pages of a book, undisturbed for decades. Those two cards offered last year sold for such an incredible and unexpectedly high record amount ($18,000) that the consignor was moved to offer the remaining four cards (which he had planned to keep forever) in 2007 in the hopes that the remaining cards would bring a similar record price. Lightning did indeed strike twice!
The four remaining cards, three high-grade and one only graded Vg, sold for $32,312. A 1915 Cracker Jack of Joe Jackson graded EX by PSA, which lists for $6500 in SMR, sold for $18,800. A 1914 Cracker Jack of Joe Jackson graded EX+ sold for $21,150. A 1933 Goudey #106 Nap Lajoie, one of card collecting's famous gum card rarities, was graded Near Mint by PSA and sold for $32,312. A 1933 Goudey #53 Babe Ruth graded NM-MT 8 by PSA sold for $38,187; a T206 Ty Cobb with green background graded NM 7 by PSA sold for $17,625; a 1955 Topps set with all 206 cards graded NM 7 by PSA sold for $19,975; an extremely high-grade 1959 Topps set, #11 on the PSA Registry, sold for $38,187. A high-grade 1959 Fleer Ted Williams set, with seventy-eight cards graded MINT 9 by PSA, sold for $15,275. An unopened cello pack of 1954 Topps, looking exactly as it did when it originally sold for a nickel some fifty-three years ago, sold for a "slight premium" to its original cost: $5,581. For what this pack sold for in 2007 at REA, in 1954 you could have gotten 110,620 packs!
As strong as cards were, a case can be made that memorabilia was even stronger: An original 1923 Yankee Stadium Terra Cotta figural piece, one of the great souvenirs from Yankee Stadium which previously had an auction record of $9,600 sold for an astounding $52,875. The Joe Jackson signed document in the sale was last sold at REA in 2004 for $25,875. In 2007 this very same document sold for a record $44,062. Additional signed items include: An autographed photo of Christy Mathewson sold for $19,975; an autographed photo of the 1939 Hall of Fame Induction Ceremonies brought $23,500; a Roberto Clemente single-signed ball sold for $9,987. A presentation photograph of the 1917 All-Star team assembled in honor of Timothy Murnane Day was highly sought after, selling for more than double its previous auction record at $18,800.
The 1870 New York Fashions litho, the auction catalog cover piece, was instantly propelled to being one of the most valuable nineteenth-century baseball display pieces, selling for more than three times its previous record at $22,325. A recently-discovered Babe Comes Home insert movie poster with restoration sold for $23,500. The title lobby card from this same movie sold for $16,450. A particularly strong and magnificently signed example of Mathewson's book "Pitching In A Pinch" (reserve $2,000; est $4,000/$8,000) sold for $26,437, by far setting a record for any Christy Mathewson-signed book ever sold at auction.
A check written to and endorsed by legendary deadball era pitcher Joe "Iron Man" McGinnity, the first McGinnity check REA has ever seen, had a reserve of $500 and was estimated at only $1,000 to $1,500 because it was laminated, a condition problem which traditionally very significantly impacts the value of autographed items. "We're seeing more and more that technical condition problems are secondary when it comes to important rarities. Eye appeal will always play a role, of course" adds REA president Robert Lifson, "but if it's rare, important, and is pleasing to look at, even if it does have serious technical condition flaws, it might bring as strong a price as if it were perfect." That is certainly what happened to the McGinnity check. It sold for $19,975.
Additional highlight memorabilia results include: 1927 Jim Bottomley St. Louis Cardinals game-used road jersey (reserve $5,000) sold for $38,187; a 1911 Boston Red Sox jersey of a common player realized $12,925; Derek Jeter game-used 2002 Yankee pinstripe jersey (reserve $2,000) sold for $15,275; 1911-16 Ty Cobb pro model bat sold for $29,375; 1917-1920 era Joe Jackson pro model bat sold for $35,250; 1939 era Ted Williams pro model bat $17,625; 1956 Mickey Mantle game-used bat $32,312. Pete Rose's Hall of Fame Lifetime Pass signed inscribed to Barry Halper: "Barry, I shouldn't need this pass to get into the Hall of Fame" was always one of Halper's favorite "story" items, and sold for $18,800. A very noteworthy new record was set for highly respected baseball artist Mike Schacht (1936-2001). His Warhol-style four portraits on one canvas of Joe DiMaggio sold for a world record for this important artist at $29,375.
As usual, all items related to Babe Ruth were red hot. A never-before-offered autographed photograph of Babe Ruth and Lou Gehrig, taken on July 4, 1939, the day of Lou Gehrig's famous farewell speech, sold for $58,750, deservedly selling for a great premium to what Ruth-Gehrig autographed photos normally bring. A beautiful and extremely striking large-format 11 x 14-inch signed presentation photograph of Babe Ruth originating from the H&B archives sold for $26,437. Ruth's book contract for his biography, The Babe Ruth Story, sold for $38,187. A promissory note relating to the 1920 sale of Babe Ruth from the Yankees to the Red Sox, signed by Frazee, Ruppert, and Huston, sold for $44,062. Ruth himself was sold for only $100,000.
Even Babe Ruth's hair, which REA officials noted they have no way to authenticate but which had for decades been a highly-prized keepsake in the legendary Barry Halper Collection, sold for $38,187. Ruth's personal toiletries, including a hand mirror, hair brush, comb, shoe horn, and glass toothbrush holder with metal cap, all with Ruth's monogram and which were a gift direct from Mrs. Ruth to Barry Halper, sold for $16,450. A 1934 Tour of Japan photo album with signatures of all the tourists including Ruth and Gehrig, realized $26,437.
Numerous Babe Ruth signed baseballs in all conditions were sold, including a particularly impressive signed (non-Major League) Goldsmith brand ball (reserve $1,000; estimate $2,500/$5,000+) that realized $26,437. "Non-Major League Ruth balls traditionally sell for a significant discount, but this result shows that non-Major League signed balls can bring big money too." This was a record for a non-Major League Ruth-signed ball.
The last lot in the auction, Lot #1594, was comprised of cards donated by generous vintage card collectors to raise money for charity. The lot raised $7,050 for The Painted Turtle, an innovative camp and family care center for children with life-threatening illnesses. It seems most fitting to us that a shared interest in collecting baseball cards, which were intended to bring joy to children long ago, should play a role in contributing to the well being of children today who have to deal with the most serious hardships that life can offer to them and their families.
The auction also included an impressive selection of select items from other sports, Americana, nonsport cards, and original card artwork, all of which sold extremely strong, including: A Michael Jordan rookie jersey (reserve $10,000) sold for a new world record price, an extraordinary $70,500. The 1992 Jordan Olympic jersey also sold very strong at $38,187. A 1948 Leaf football card of Sammy Baugh, graded NM-MT 8 by PSA and which lists for $2750 in the SMR, sold for an amazing $12,925.
A 1975 Peanuts daily by Charles Schulz sold for $11,750, and a 1991 Peanuts Sunday sold for $23,500. Many high quality non-sport cards sold at levels that have historically been reserved only for rare baseball cards. Among the many impressive non-sport card auction results: There was tremendous interest in the complete set of 1932 U.S. Caramel "Presidents" cards (reserve $2,500) that included the rare McKinley card, universally recognized as one of non-sport card collecting's great rarities. The set finally sold for $22,325. A complete set of 1936 Gum, Inc. "G-Men & Heroes of the Law" (reserve $2,500, est. $5,00/$7,000) was hammered down at $22,325; and a tremendous collection of miscellaneous nineteenth-century non-sport tobacco cards sold for $32,125.
Many other auction records were shattered for pre-1948 baseball cards, nineteenth-century baseball cards and memorabilia, non-sport cards, and Americana. Further information and complete auction results are available online at www.RobertEdwardAuctions.com
Copies of the 680-page full-color premium catalog are also still available free. Go to www.RobertEdwardAuctions.com, click "Free Catalog," and fill in name and address. Robert Edward Auctions is currently assembling its next sale. For further information contact: Robert Edward Auctions, PO Box 7256, Watchung, NJ or call (908)-226-9900.