New York, NY - On June 5, 2007 Sotheby's and SCP Auctions will offer three unprecedented single-owner collections: The Estate of New York Baseball Legend Casey Stengel, The Collection of Mitsuhiko Fujita featuring memorabilia from the 1934 Tour of Japan and the finest private collection of Hall of Fame basketball jerseys ever to come up for auction. Additional outstanding sale highlights include a 1931 Lou Gehrig New York Yankees Home Jersey, a selection of Jim Thorpe Letters and other materials from his personal archive, Walter Johnson's Single Signed Baseball from the Last Out of the 1924 World Series and important baseball cards, game used bats, boxing and golf memorabilia. The approximately 360 lots, expected to bring $3/4.5 million, will be on public exhibition at Sotheby's New York from May 31st through June 4th.
Of the selection of material slated for the sale Dan Imler, Managing Director of SCP Auctions, stated, "In every Sotheby's/SCP Auctions sale, we take pride in bringing forth historically important material that is fresh to the marketplace or largely uncirculated. The majority of the property offered in this sale, whether part of a collection or an individually consigned item, comes from either it's original owner or a very small chain of ownership. As such, collectors will see many of the finest pieces in the sale for the first time in the pages of our catalogue."
Lee Dunbar, Director of the Collectibles Department, remarked about the property, "This auction offers the greatest depth we've ever had in a Sports Memorabilia sale at Sotheby's. From the Estate of Casey Stengel and The Collection of Mitsuhiko Fujita, unearthed for the first time in 70 years, to the collection of basketball jerseys and the Lou Gehrig jersey, collectors will, more than ever, have a unparalleled selection from which to choose."
The Estate of Casey Stengel
As the only person to have worn the uniform, as player or manager, of all four Major League baseball teams that played in New York City in the 20th century, Charles Dillon "Casey" Stengel is a true New York baseball legend. Stengel's playing career spanned 14 seasons with five major league organizations, including visits to three World Series. Casey's true legacy comes from his tenure as manager of the New York Yankees. Coaching such Hall-of-Famers as Yogi Berra, Joe DiMaggio and Mickey Mantle, Stengel led his squad to an unprecedented five consecutive World Series titles (1949-1953) in his first five seasons as manager. In just 12 seasons, Stengel won 10 pennants and 7 world championships for the baseball club. After "retiring" as the manager for the Yankees after the 1960 season, Stengel agreed to manage the New York expansion team, the Mets, from his inaugural season in 1962 to his retirement in 1965.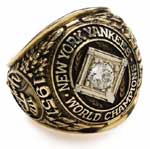 Among the marquee items being offered by the Stengel Estate are Casey Stengel's 1951 World Series Ring (est. $30/50,000), won during his only season as manager for both Joe DiMaggio and Mickey Mantle; his 1969 Mets Championship Ring (est. $25/35,000), bestowed upon him by the Mets players in honor of their former manager; and his Hall of Fame Plaque (est. $8/10,000). The estate collection also includes team signed baseballs, photos, scrapbooks, contracts, (12) World Series bats, caps and cleats, programs, press pins and memorabilia from the 1955 Tour of Japan, including his own Kimono and Geisha Wig (est. $2/3,000).
The Collection of Mitsuhiko Fujita
The late 1920s to early 1930s welcomed the Golden Age of American baseball, led by the exhilarating duo of Babe Ruth and Lou Gehrig. Their achievements inspired Japanese baseball's own Golden Age, which peaked with the visit of the Ruth and Gehrig-led U.S. All-Stars in 1934. Although US teams, as early as 1888, traveled to Japan to face the best team the Japanese could put together, the 1934 tour had by far the most dramatic effect on the popularity of baseball in Japan. The Collection of Mitsuhiko Fujita represents the finest and most extensive collection of autographed baseballs and photos that document this Japanese Golden Age. Mitsuhiko Fujita, grandson of Baron Denzaburo Fujita, grew up watching and playing baseball in Kobe, Japan. Young Mitsuhiko always carried his camera, taking as many photographs of both the Japanese and American baseball greats as he could. He then had the photographs developed, ready to be signed at the ballpark the following day.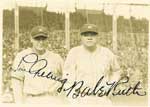 One of the highlights of this private collection is a 1934 US Tour of Japan Team Signed Baseball in Original Japanese Ball Box (pictured on page 1, est. $25/35,000). No tour team in the history of baseball had a more impressive lineup, headlined by Babe Ruth, Lou Gehrig and Jimmie Foxx. Also from the same tour are a Babe Ruth Single Signed Baseball in Original Japanese Ball Box (est. $25/35,000); a Babe Ruth/Lou Gehrig Signed Snapshot Photo, 1934 (taken by Mr. Fujita, est. $8/12,000); and three Babe Ruth Signed Snapshots (est. $5/7,000).
This collection also represents the single greatest assemblage of autographs of pre-war Japanese and American Nisei baseball legends ever publicly offered. The Japanese Baseball Hall of Fame Autographed Photo Collection (est. $8/10,000) features 41 circa 1920s-30s autographed photographs, some of which are the first autographs of these players, managers and founding pioneers of Japanese professional baseball, ever offered at auction. The offering also includes a 1935 Dai Nippon Tokyo Yakyu Club Autographed Team Photo (est. $4/6,000), Japan's longest standing professional team.
Private Collection of Important Basketball Jerseys
The final single owner section is the finest private collection of basketball jerseys ever to come up for auction. The more than 80 lots recall the playing days of basketball legends from all eras: from a George Mikan 1947-48 Minneapolis Lakers Road Jersey (est. $50/75,000), to a Bill Russell 1967-68 Boston Celtics Home Jersey (est. $40/60,000), to a Larry Bird 1992 Dream Team Jersey (est. $7/10,000). Included in the numerous Hall-of-Famers represented in this unrivaled collection is Wilt Chamberlain, a player who will always stand out as one of the greatest. The Wilt Chamberlain 1959 Philadelphia Warriors Rookie Uniform (est. $50/75,000) serves as a reminder of one of the pivotal years in professional basketball. It was during this rookie season that Chamberlain, an intimidating 7'1" and 250 pounds, brought a level of domination to the game which had seldom been seen before. In 1959-60, Chamberlain averaged an unbelievable 37.6 points and 27.0 rebounds, easily surpassing the previous regular-season records and meriting him both the NBA Rookie of the Year and NBA Most Valuable Player awards.
A second highlight of this section is Willis Reed's 1969-70 New York Knicks Home Jersey (est. $75/100,000), from his historic performance in the 1970 Championship Series leading his team to their first NBA title. Reed, who missed Game 6 of the series with a torn right thigh muscle, amazingly appeared on the court in the middle of pre-game warm-ups to join his team for the deciding game of the NBA Finals. It was this dramatic entrance that is said to have set the tempo energizing his team to victory and was recently voted in a national poll as the most dramatic sports moment in the history of Madison Square Garden. The epic game seven win finished a phenomenal season that saw the Knicks win a franchise-record 60 games while Reed became the first player in NBA history to be named the NBA All-Star Game MVP, the NBA regular season MVP and the NBA Playoff MVP in the same season.
1931 Lou Gehrig New York Yankees Game Worn Jersey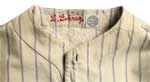 The sale will also include one of only a handful of known examples of a Lou Gehrig New York Yankees Game Worn Home Jersey (detail pictured on page 5, est. $200/300,000). Despite his longtime link with Babe Ruth as the enforcer of baseball's most prolific slugging duo, Lou Gehrig often stood in the shadow of the "Sultan of Swat's" huge numbers at the plate. However, nothing about Gehrig's accomplishments should be minimized, from the 2,130 consecutive games he once played as the "Iron Horse" to his all-time record 23 career grand slams. Although virtually every season of his 14-year career is admired as one of the professional sport's best, 1931 was particularly special for the slugger. He batted .341 and led the league with an astounding 184 RBIs setting a still-standing single season record. Gehrig, having never won a home run title, finally notched a league leading total of 46 in 1931, but in the end had to share it with Babe Ruth.
Jim Thorpe Letters and Personal Archive
Jim Thorpe was one of the greatest and most versatile athletes in modern times. Not only did he win Olympic medals in the pentathlon and decathlon, but he excelled in college and professional football as well as major league baseball. Although much has been written about Jim Thorpe's early career, very little is known about his life and athletic exploits during the mid 1920s. This personal archive of rare handwritten letters and other materials directly from Thorpe's family sheds new light on this relatively unknown period of his life.
Included in this offering is a group of Fourteen (14) Letters from Jim Thorpe to Fiancé Freeda Kirkpatrick during the Summer of 1924 with Baseball Content (est. $20/30,000). In the summer of 1924, Thorpe separated from his first wife Ida and began courting Freeda Kirkpatrick, a young office worker employed by the Oorang Indians football program. All of these letters were handwritten from Thorpe to Freeda and contain previously unknown information about Thorpe's challenging and at times lonely life on the road playing semi-professional baseball in Massachusetts. A second grouping contains Fourteen (14) Letters from Jim Thorpe to Wife Freeda Kirkpatrick from Late 1925 and Early 1926 with Superb Football Content (est. $20/30,000), just two months after his marriage to Freeda. Thorpe wrote during the time he played football for the Tampa Bay Cardinals, at which point he met his match in football's newest "Golden Boy," Red Grange. They detail the longing for the new Mrs. Thorpe from an aging athlete's worn-out life on the road. Also offered is a Jim Thorpe Archive Including a Signed Movie Contract, Citizenship Letter, Marriage Certificate, Western Union Telegram Announcing Their Marriage, Divorce Decree and More (est. $10/15,000).
Walter Johnson's Single Signed Baseball from Last Out of the 1924 World Series
Passed down from Walter Johnson through the generations and consigned by his grandson, this ball was used to get the final out during game seven of the 1924 World Series, the pinnacle of baseball in the Nation's capital. Johnson, after losing his first two games as a starter, was called to pitch and threw four innings of scoreless relief. It was this crucial outing that held off the Giants until the 12th inning when the Senators were able to score a run and win their first and only world title. This ball is signed by Johnson and notated "World Series 1924." This keepsake, one of only three balls personally saved by the Washington Senators pitcher, is estimated to sell for $60/80,000.
1927 Babe Ruth and Brother Mathias (St. Mary's School for Boys) Dual Signed Baseball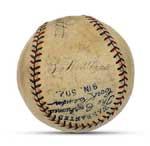 Signed at the apex of Babe Ruth's celebrated career, this ball connects the legend with his childhood guardian and mentor, Brother Mathias, the Prefect of Discipline at St Mary's School. Despite Babe's reputation as an unruly student, Brother Mathias had a profound influence on young George's life and played an integral role in developing a passion for baseball in the young student. Estimated to sell for $20/30,000, this baseball is the only known example featuring this unique combination of signatures.
Ted Williams' Cleats Worn for his Final Home Run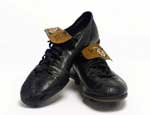 Ted Williams is undoubtedly one of the greatest hitters in major league baseball history. The 'Splendid Splinter,' the last to bat over .400 in a season, consistently performed at the highest caliber throughout his career (elected to 17 All-Star games in 19 seasons). In 1928, Williams batted .327 with 145 RBI as a rookie and in 1958, at 40 years old, batted .328 and became the oldest batting champion of all time. An extraordinary offering in this sale is a pair of cleats worn by Williams during his final game on September 28, 1960 when 'The Kid,' then a 42-year-old veteran, hit his 521st and final home run of his celebrated career (est. $20/30,000).
Early Negro League Memorabilia
Included in the offering are a number of relics from the early Negro baseball leagues, such as a circa 1870s Rare Tin Type of Two African American Ball Players (est. $3/5,000); an Original 1902 Chicago Union Giants Cabinet Photo Representing the Earliest Known Image of Rube Foster (est. $6/8,000) and a Philadelphia Royal Giants Japan Tour Team Signed Baseball, 1928, also from the Collection of Mitsuhiko Fujita (est. $6/8,000).
Important Boxing Memorabilia
Highlighting the boxing memorabilia is Jack Johnson's Confession Letter to Nat Fleisher of Ring Magazine (est. $20/30,000). This fascinating five page letter written by Johnson to Fleisher gives a full explanation for losing his championship on April 5, 1915 to Jess Willard, a 34 year old who has only boxed for four years. Johnson confesses to throwing the title fight against Willard, a battle that to this day is one of the most controversial and racially charged heavyweight championship fights ever. Also offered is the Only Known George Dixon Autograph, the first black boxing world champion in any weight class (est. $5/7,000); a Signed Contract for the First Million Dollar Gate: Jack Dempsey vs. Georges Carpentier's "Battle of the Champions" (est. $8/10,000) and an 1820s Large Format Color Lithograph Featuring Boxing Greats Jack Randall and James Ward (est. $2/3,000).
Golf Memorabilia
Among the important golf memorabilia offered in the sale is Bobby Jones' First Edition Copy of "Bobby Jones on Golf" Book Inscribed to Gene Sarazen (est. $3/5,000); a 1908 Handwritten Letter from Six-Time British Open Champion Harry Vardon (est. $2/3,000) and the Earliest Known Tiger and Earle Woods Autographed Golf Scorecard (est. $5/7,000).
Additional Highlights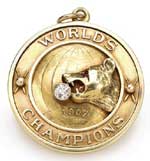 Additional highlights include numerous game used baseball bats, such as a Circa 1928-29 Babe Ruth Game Used Bat (Graded 10) (est. $125/175,000), a Ted Williams 1955 All-Star H&B Game Bat (Graded 10) (est. $45/65,000), a Walter Johnson Script Signature Game Bat (est. $40/60,000), a Ty Cobb 1917-21 H&B Game Bat (est. $30/40,000) and Henry Zimmerman's 1907 Chicago Cubs Championship Medallion (est. $15/25,000). Also included in the sale is a strong offering of baseball cards, including a 1909-11 T206 Eddie Plank Card (est. $40/60,000), a 1952 Topps Baseball Complete Set of 407 Plus Sain Variation (est. $40/50,000), a 1960 Topps Baseball (2nd Series) Cello Box with 35 Packs (est. $25/35,000), a 1911 T3 Turkey Red #27 Christy Mathewson (est. $6/8,000) and a 1915 Cracker Jack #30 Ty Cobb PSA 5 EX (est. $4/6,000).
The Catalogue
The catalogue can be pre-purchased by logging on to www.sothebys.com or by calling (888) 752 0002. Catalogues are also available for purchase in Sotheby's galleries in New York and London. The price for the catalogue is $40 including shipping and handling (or $35 in the Sotheby's gallery).
Registering to Bid
Registration is required to bid in Sotheby's auctions. You can register in person at our New York headquarters any time before the sale, or via fax when you submit an absentee bid form. Please call the Bid Department at (212) 606 7414 for further information.
Placing Bids
There are four ways to bid in this sale:
Bid through the Internet using real-time and absentee bidding at www.ebayliveauctions.com. You can register there to place bids through eBay's Live Auctions tool. Note that online registration only enables you to bid online.
Bid in the room by attending the auction in New York and raising your paddle (issued upon registration).
Bid by absentee. An absentee bid is a form you fill out and return to Sotheby's bid department via fax or mail. The form indicates the highest amount you would like to bid for an item or items. The auctioneer will submit bids on your behalf as necessary, up to -- but never above -- the amount you specify. Absentee bid forms are printed in the back of each catalogue, and are available at Sotheby's offices and at www.sothebys.com.
Bid over the telephone through a Sotheby's representative, who sits in the room and conveys your bid to the auctioneer. Phone bidding is best when you have not set a limit for an item and want to pursue it until it's yours. Call the Bids department at (212) 606 7414 to set up an account.
*Estimates do not include buyer's premium
For more information, please visit www.sothebys.com or www.scpauctions.com.