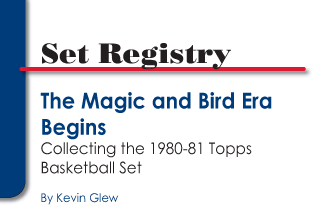 American novelist Herman Melville once said, "It is better to fail in originality than to succeed in imitation."
For years, the 1980-81 Topps Basketball set appeared to be an "original" product that failed. With cards boasting three player panels, this series was largely ignored by collectors.
But a lot of things have changed in the 26 years since this set was released. Basketball has become more popular. The demand for hoops cards has grown. And Larry Bird, Julius Erving and Magic Johnson – all featured on one card in the 1980-81 set – have evolved into court legends. As a result, the 1980-81 Topps set is now considered one of the most desirable basketball issues ever produced.
"What drew me to the '80 set were really two things: the big card with the Bird, Erving and Johnson on it. The other thing was the design itself . . . The design is just so different from all of other cards around that same period," explained Norberto Salinas, who owns the No. 7 set on the PSA Set Registry.
Segmented by perforations, each regular panel on the 1980-81 cards (176 cards in the set) showcases a color photo, along with the player's team, name and position. The backs of the regular singles sport statistics, biographical information and a cartoon.
Designed with the idea that hobbyists would rip the panels apart, these cards feature a number on the back of each panel. Therefore, if collectors divide the panels, the card numbering is easy to follow. Over the years, however, separated panels have become virtually valueless and collectors now almost exclusively covet cards with panels intact. This has created confusion with the card numbering.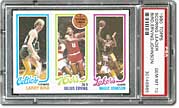 "No one has looked at the set more than me and it's (the numbering) extremely confusing," said Brian Gorman, who owns the registry's No. 6 set.
Hobby publications have gone so far as to assign their own number to each card based on the number on the back of the left player panel. For example, card No. 1 is generally listed as the single that includes Dan Roundfield (left panel #3), Julius Erving (middle panel #181) and Ron Brewer (right panel #258). This single is card No. 1 because Roundfield boasts the lowest number (#3) of any left player panel.
The biggest selling point of the set is that Erving, Bird and Johnson are featured on multiple cards, but it's card #6 (the number generally assigned by hobby publications) that showcases all three of them that's the set's crown jewel.
"Magic Johnson and Larry Bird, I mean to have two of those players on one card for me – that just seemed like having a Mickey Mantle/Babe Ruth rookie card," said Gorman.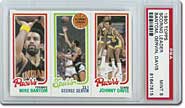 Unfortunately, this single is not easy to find in high-grade. Of the more than 4,700 submitted to PSA, just 17 have been deemed PSA 10s.
"That (Bird/Magic rookie) always has a lot of print dots," said Matt Linderman, who owns the registry's No. 5 set. "Some print dots are white. Some of them are black colored."
Salinas agrees, "I've seen several print defects on them (the Bird/Magic rookie) – just a little dot here and there that are noticeable."
A black cut line is also often visible.
"There was a black print line that ran underneath the Johnson in the white border. It usually shows up as a very small 1/8th of an inch black line. It's on most of the Bird/Magic rookies," said Steve Hart, owner of the Baseball Card Exchange.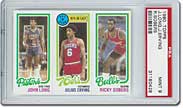 Renowned basketball card dealer, Steve Taft, concurs, "The cut line is very common on Bird/Magic rookie cards."
Bob Zimmer, who owns the registry's top set, says that the Bird/Magic rookie suffers from the same condition issues as the other cards in the set.
"They're (the Bird/Magic rookies) just like any of the other ones: off-centered," he said.
Aside from centering issues, it's also common to find these cards with panels ripped apart. That was one of the reasons that Linderman decided to amass cards from this set. He figured that a lot of people would've separated these panels when they were kids.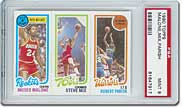 One particularly elusive card to find in high-grade is the Brian Taylor, John Shumate, Larry Demic card (#76). Linderman has 10 to 15 of these cards and they're all off-center.
"It's always off-center and it's not just left to right (or) top to bottom, it's a little bit of both," he said.
Salinas concurs, "That's a major card that I know a lot of collectors who want to complete sets are looking for."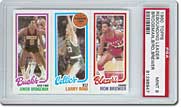 So far, only six of these cards (#76) have been submitted to PSA and there has yet to be a PSA 10 example.
This set also boasts the last regular issue cards of Pete Maravich. Pistol Pete is featured on two cards (#8 and #96) – both have been difficult for Linderman to find in mint condition.
"For the most part, every Maravich card . . . has centering issues," said Linderman.
Competition for 1980-81 cards has also increased in recent years.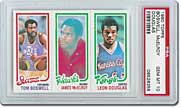 "In the last few years, I've been bombarded with people trying to buy my PSA 10s," said Gorman.
Zimmer agrees, "There's obviously a couple of the guys out there that have the funds to spend . . . especially if it's listed as one of one (PSA 10), they'll bid up to $500, $600 on a card if they need it."
Despite this rise in demand, most hobbyists still believe the set is underrated.
"I think that eventually the value of these cards will come to life," said Gorman.
Linderman concurs, "I think as time goes on, people will realize how great the set is ... It will continue to rise in popularity, but it's still kind of under the radar."
And as more people embrace this set, it will become increasingly clear that it's no longer destined to fail in its originality.