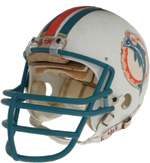 Dallas, TX - Heritage Auction Galleries' Sports Collectibles division will present a fabulous array of vintage sports memorabilia and trading cards in their upcoming May 5, 2007 Signature Auction to be held in Dallas, Texas.
"Few locations outside of Cooperstown and Canton could match our offices today in terms of quantity and quality of Hall of Fame game used memorabilia," explained Chris Ivy, Director of Heritage Auction Galleries' Sports Collectibles division (HSC). "Football is particularly well represented in this auction, though there is certainly something for game used collectors of every discipline."
Those who favor pen and ink over the tools of the trade will also find no shortage of treasures to covet. "Yet again, Babe Ruth and Lou Gehrig figure prominently into this auction, and we're particularly proud of two pieces that speak directly to each legend's distinct legacy," said Ivy. "A 1922 signed addendum to Ruth's New York Yankees contract was Colonel Ruppert's effort to limit the Babe's drinking and carousing for which he was famous. And an incredible Lou Gehrig handwritten letter dating two weeks after his 'Luckiest Man' speech discusses his illness and his mistaken belief that he would be cured."
These Yankee icons are far from the only pre-war baseball legends to be represented among the auction's elite pieces however. Direct from the Newcomerstown, Ohio area where Cy Young spent the final decades of his life comes some incredible artifacts never before seen in the collecting hobby, including a 1908 loving cup presented to the great athlete on "Cy Young Day" and Young's personal traveling trunk.
Two of the most incredible football programs available in the hobby find their way to the auction block on May 5th, each one of just a tiny handful known to exist today. "Each of these programs resides at the very top of the 'endangered species' list," notes Ivy. "The 1872 Yale vs. Columbia program is believed to be the earliest football program on earth, and the only example in existence. The first Rose Bowl program from the inaugural 1902 game is one of fewer than ten known." And furthering the theme of exceptionally rare early collegiate football memorabilia is the earliest known Notre Dame full uniform, dating to the turn of the century. This is also believed to be the only surviving example.
"This is going to be an extremely exciting auction," Ivy said, "and I'd invite everyone to visit our website at www.HA.com, where they can view full-color, enlargeable images of each lot, read our complete and informative catalog descriptions, and even place their bids online from the comfort and convenience of their home or office."
1985 Dan Marino Super Bowl XIX Game Worn Helmet
ESTIMATE: $20,000 - $30,000
1969 Roger Staubach Game Worn Rookie Jersey
ESTIMATE: $15,000 - $20,000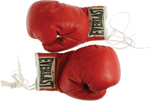 1977 Muhammad Ali Fight Worn Gloves from Shavers Bout
ESTIMATE: $20,000 - $30,000
1994 Wayne Gretzky All-Star Game Worn Jersey
ESTIMATE: $10,000 - $15,000
1922 Babe Ruth Signed Contract Addendum Limiting His Drinking, Late Nights
ESTIMATE: $30,000 - $50,000
1939 Lou Gehrig Handwritten Signed Letter Discussing His Illness
ESTIMATE: $20,000 - $40,000
1908 "Cy Young Day" Loving Cup Presented to Cy Young
ESTIMATE: $20,000 - $40,000
Circa 1903 Cy Young Personal Traveling Trunk
ESTIMATE: $10,000 - $20,000
The Oldest Known Football Program
ESTIMATE: $20,000 & up
1902 Inaugural Rose Bowl Program
ESTIMATE: $20,000 - $30,000
1890's-1900's Notre Dame Game Worn Full Football Uniform
ESTIMATE: $10,000 & up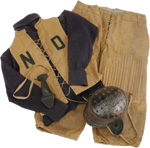 Heritage Auction Galleries specializes in rare and collectible sports cards, as well as uniforms, equipment, and related vintage sports memorabilia. Consignments for future Signature Sports Auctions are currently being accepted. Prospective consignors or sellers of quality vintage sports cards and sports memorabilia are encouraged to contact:
Chris Ivy at 800-872-6467 Ext. 319 or email: [email protected]
Mike Gutierrez at 800-872-6467 Ext. 183 or email: [email protected]
Mark Jordan at 800-872-6467 Ext. 187 or email: [email protected]
Jonathan Scheier at 800-872-6467 Ext. 314 or email: [email protected]
For more information about Heritage's auctions, and a complete record of prices realized, along with full-color, enlargeable photos of each lot, please visit www.HA.com.
To reserve your copy of any Heritage auction catalog, please contact Client Services at 1-800-872-6467, ext. 150, or www.HA.com/Catalog to order by email.