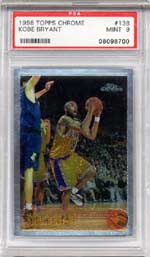 He's named after one of the world's most expensive kinds of beef, but to some he's nothing more than a hot dog.
His first name derived from Kobe beef - a Japanase delicacy - Kobe Bryant is arguably the NBA's best player. Yet, off-court controversies have damaged his reputation and his marketability.
Those who loathe him contend he's a narcissistic ball hog. But those who adore him, revere his swagger and his point-scoring prolificacy - many of them also collect his cards. In fact, a number of Bryant supporters have started building the Basic (301 cards) and Master (1,729 cards) sets on the PSA Set Registry.
One such hobbyist is Diamond Rose, who owns the No. 1 Bryant Master Set. The hardcore basketball aficionado owns 36, one-of-one Kobe cards and has decorated his bedroom with the superstar's memorabilia. He chose to focus on Bryant because he wanted to collect a player whose cards would maintain their value.
"I didn't want to save somebody who was going to falter later on," he said.
Pierre Noboa, who owns the No. 4 Master Set, is also a longtime Bryant collector.
"I actually watched him play in a couple of high school games. . . . I was excited when they (the Lakers) traded Vlade Divac (to the Charlotte Hornets) for him," he said.
Like Noboa, Jon Darby, who owns the No. 1 Basic set, is also a diehard Lakers fan. The California-based hobbyist has met Bryant on two occasions.
"I actually have a son named Kobe also," he said.
Contrary to popular belief, Noboa says that Bryant's most difficult rookie to obtain in high-grade is not the 1996-97 Topps Chrome (#138) single. The veteran collector does concede, however, that the Chrome singles are susceptible to surface scratches. Rose agrees, but in his experience, because the Chrome cards tend to stick together in packs, they're more likely to be chipped than scratched.
Bryant's toughest "mainstream" rookie to uncover in pristine condition is his 1996-97 Ultra single (#52), says Noboa. Of the 2,682 submitted to PSA, only approximately four per cent have been evaluated as PSA 10s. In contrast, 13 per cent of the graded 1996-97 Topps Chrome rookies have been deemed PSA 10s.
"All the borders are black and it's very easy to see chipping," said Noboa of the Ultra rookie.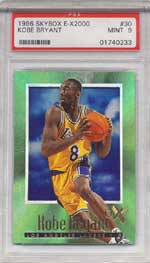 The most coveted Bryant rookie in high-grade is his 1996-97 SkyBox E-X2000 (#30) card. Of the 2,648 submitted to PSA, only 10 (or less than one per cent) have received PSA 10 grades.
"The reason (for the dearth of PSA 10s) is that if you look carefully at the card, you'll see two cards in one," explained Noboa. "What I mean by that is it looks like the manufacturer pasted one side of the card to the other side . . . so you're actually working with eight corners. It's going to be very tough to get perfect corners."
Rose, who owns a PSA 9 E-X2000 rookie, can also attest to the card's condition sensitivity. He says collectors should be prepared to pay a lofty price for a gem mint example.
"I bid $1,000 on it (a gem mint E-X2000 rookie) and I was left in the dust," he said.
Another challenging Bryant card to acquire in top condition is his 1997 Sports Illustrated (S.I.) for Kids Rookies issue (#59). Of the 63 submitted to PSA, there has yet to be a PSA 10 example.
"The Kobe Bryant S.I. for Kids rookie card, similar to the Tiger Woods S.I. for Kids, came in the magazine as part of a page with perforated edges," explained Noboa. "Not only was it difficult to successfully tear out the card without damaging any of the edges, but it was also difficult to attain as the majority of these magazines were discarded after being read."
Another Bryant card that's difficult to obtain is his 2000-01 Upper Deck NBA Title Thread Employee Game Jersey card (#KB2000). Distributed to Upper Deck employees and limited to 300 copies, these autographed cards include a swatch of a Bryant jersey. So far, PSA has evaluated 16 of these, with only one card grading as high as a PSA 9. Non-graded examples are generally sold in the $1,000 to $1,500 range.
Over the years, the popularity of Kobe cards has fluctuated. Hobbyists began disposing of Bryant cards when rape allegations surfaced against him in 2003.
"It made me mad when he got in trouble," said Rose. "One month my cards were worth $50,000 and the next month they were worth $30,000."
Darby also noticed that prices for Bryant cards dropped significantly during the scandal.
"They shouldn't have, but they did," he said.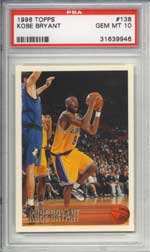 When interest in Bryant's cards waned, however, Rose saw this as an opportunity to buy. He was able to purchase Bryant rookies at bargain prices.
"Cards that I couldn't touch before the scandal for $150 . . . I was getting them for $35 to $40," he said.
Recently, however, the value of Bryant cards has rebounded.
"After the 81-point game (January 22, 2006 against the Toronto Raptors), all his cards just went crazy. They just started going up," said Noboa.
Overall, the perennial all-star's 2005-06 season was the finest of his career. He set Laker marks for most 40-point games (27) in a season and most points in a season (2,832). His on-the-court success has translated into more collector interest on the PSA Set Registry.
"It has grown (the number of Bryant collectors on the PSA Set Registry) within the last year. At first, there was just a couple of us," explained Noboa.
Darby says that the perception of Bryant amongst fans is also improving.
"He's not getting booed as much as he was," he said.
Perhaps this is an indication that more people are embracing Kobe and that he's finally shedding his "hot dog" tag.