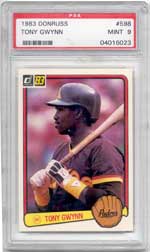 With eight batting titles, 15 All-Star selections, and five Gold Gloves, Tony Gwynn will be a worthy Hall of Fame inductee. But despite his forthcoming plaque in Cooperstown, the former Padres outfielder remains one of baseball's most overlooked stars.
"Tony doesn't seem to get a lot of respect nationwide. He should with all of the awards he has won," explained Randy Davenport, a San Diego resident and devoted Gwynn collector.
Andy Ho, another San Diego native and Gwynn enthusiast, agrees, "San Diego, even though we're one of the top 10 cities in the United States, it's such a small baseball market."
Longtime Padres fan Scott Thompson also believes that geography has contributed to the career .338 hitter's lack of renown.
"I wonder how much more publicity he would've gotten if he had played 90 miles north in Los Angeles or in New York or Chicago or Boston," he said.
Davenport and Thompson are also two of the hobbyists pursuing the Tony Gwynn Basic (146 cards) and Master (1,072 cards) sets on the PSA Set Registry. Davenport, who is No. 1 on both registry sets, has acquired more than 60 per cent of the Master Set.
"He's (Gwynn) the family favorite," explained Davenport. "He's the first superstar that my kids have ever seen."
Ho, who owns the No. 5 Master Set, collects for similar reasons.
"I'm definitely a huge fan," he said. "He's still obviously my all-time favorite player."
Thompson, who possesses the No. 4 Basic Set and No. 3 Master Set, has admired Gwynn for his efforts both on and off the field.
"One, he's a great player. Two, he seems to be a pretty good person, and he's a throwback in that he spent his entire career with one team," he said.
Mike Moore, proprietor of the No. 2 Basic and Master sets, has similar feelings about Gwynn.
"You can just kind of tell from his personality that he's just a great guy," said Moore. "He just seems to represent the part of baseball that is good."
Another appeal of amassing Gwynn cards is their affordability.
"They're not that expensive. Most of his (modern PSA) 10s are probably selling for under $15," said Davenport.
Of course, there are exceptions. Gwynn's 1982 TCMA Hawaii Islanders minor league card (#10), for example, is considered his rarest early single. The two PSA 10 examples that exist are likely to fetch around $650 each.
In 1983, four manufacturers produced rookie cards of Gwynn: Topps, O-Pee-Chee (OPC), Fleer, and Donruss.
"When you think of Mantle, you think of '52 Topps, so I think when people think of Gwynn's rookie, they immediately think of the Topps," said Ho.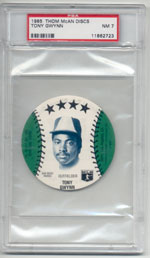 Of the more than 14,000 Topps rookies (#482) submitted to PSA, approximately one per cent have been graded as gem mint. Close to 75 per cent, however, have been deemed PSA 8 or PSA 9.
"The Topps was pretty readily available (in high-grade)," said Ho.
The OPC rookie (#143) is the most difficult to obtain in high-grade. Of the 546 sent in, only seven have been deemed PSA 10s. Ho says that PSA 10s are difficult to find because of the stock that OPC used.
"The other issue with the OPC cards from the early '80s was the rough cuts on the sides," explained Ho.
Davenport agrees, "That one's (the OPC rookie) a tough one to get. . . . I haven't seen one of those come up for sale in close to eight months or so."
Another elusive Gwynn is his 1984 Smokey Bear Padres single (#19). Featuring Gwynn posing with Smokey Bear, this single was part of a 28-card set that was distributed at a Padres' home game. The card backs showcase player information and a fire prevention tip. Ho says it's difficult to find this card in pristine condition.
"If I'm not mistaken, it's because they came in a cellophane wrapper and I'm pretty sure that the Gwynn card came on top, which would make it really tough on the corners," explained Ho.
So far, only six Smokey Bear Gwynns have been submitted to PSA, and there has yet to be a PSA 10 example.
Another Gwynn item that's tough to uncover is his 1985 Thom McAn disc. Released by Thom McAn as a promotion for their "Jox" tennis shoes, these discs have a diameter of 23/4 inches and feature a black and white player photo against a color background. Just three of these have been evaluated by PSA and the highest grade has been a PSA 8.
Gwynn's 1993 Finest Refractor (#77) is also highly coveted. With a reported print run of just 241, these singles generally fetch $300 to $500 in PSA 10. Of the 125 submitted to PSA, only 12 have been deemed PSA 10s.
"It's hard to find it in mint (PSA) 9 without a qualifier because a lot of them are off center," said Thompson.
Similar to the Finest Refractor, Gwynn's 1993 Pinnacle Cooperstown Dufex card (#20) is also elusive, points out Moore. Only 1,000 sets were manufactured of this series. Its design mimicked that of the regular Pinnacle Cooperstown issue, but the cards were printed on foil. So far, only six Gwynns from this issue have been evaluated by PSA and Moore owns three of the five PSA 9s (there are no PSA 10s).
And with Gwynn's pending Hall of Fame induction, it might be a good time to start tracking down some of these tough-to-find issues.
"I think the rule across the board for our hobby from what I've seen is that there's always a demand leading up to the Hall of Fame (induction)," explained Ho.
Davenport says he's already witnessing an increase in demand.
"I've seen a lot more action on eBay now that he's getting closer to the Hall of Fame," he said.
But this group of Set Registry enthusiasts has never overlooked Gwynn's accomplishments.
"I'd really like to complete the Basic Set and I'd like to hold on to that," said Moore.
Thompson would also like to hold on to his sets.
"I'm hoping that this (his Gwynn Registry sets) can be something I can pass onto my daughter later on," he noted. "Not from a monetary standpoint, but just the fact that this is one of daddy's favorite players who won eight batting titles, was a good person, and worked hard."
Davenport hopes his collection might help him connect with Gwynn.
"Kind of my hidden dream on this set is to have it built one day, close to completion on the Master Set, then get an e-mail from Tony. He's about the only person I'd sell the set to right now. If he wanted the set, it would become available to him. . . . Who knows? Someday, I might get to meet him in person and have a chat about it. That would be awesome."