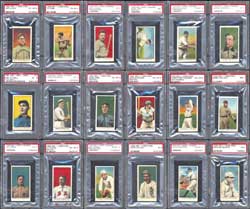 Centennial, CO - In what appears as commonplace Mile High Card Company continues to roll out the goods! The January 18th auction that is in progress offers an amazing 1008 lots of meticulously selected cards, complete sets as well as astounding memorabilia, the type of items that has pushed MHCC to the very forefront of the sports collectibles industry today!
This Mile High Card Company sale will continue its long-standing pattern of offering premier high-grade collectibles as well as a selection of items that have a decidedly collector grade feel so as to usher in a well rounded auction that is represented by items of select choice as well as items that have been chosen for their aesthetic draw as well as the overall scarcity of the subject matter.
Many hobby rarities and scarcely seen cards that are in great demand within the marketplace at the current time highlight this auction. For starters MHCC has procured a stunning high grade 1909 E90-1 American Caramel nearly complete set (119/120) that is being offered as both a complete set or as singles (the set will either be sold as one or broke up, determined by whatever has the greater bid price) many of the cards within the set are at the highest level of PSA grades known! Also falling within the classification of esoteric and rare are the following highlights: an 1887 N690-1 Kalamazoo Bats (Black Mount) Boston Team Card graded PSA Authentic as well as a 1908 E102 Ty Cobb PSA 6 EX/MT, 1914 Texas Tommy Honus Wagner PSA 4 VG/EX, as well as a stunning and exceedingly difficult 1921 Herpolshimer's Ty Cobb PSA 6 MK (EX/MT).
As is the norm of any Mile High Card Company auction, there is a litany of exceptionally high-grade cards the likes of which are scarcely seen. Highlighting this portion of the sale are the following spectacles: 1910 E98 Ty Cobb PSA 7 NM (The highest graded specimen in the hobby), a stunning 1911 M116 Sporting Life Nap Lajoie PSA 9 MINT, 1911 T201 Walter Johnson PSA 8 NM/MT, a 1933 Goudey #160 Lou Gehrig PSA 8 NM/MT, 1933 Goudey #149 Babe Ruth PSA 8 NM/MT, 1933 Goudey #181 Babe Ruth PSA 8 NM/MT, 1933 Sport Kings #2 Babe Ruth PSA 8 NM/MT, 1933 Goudey #144 Babe Ruth PSA 8 NM/MT, a 1941 Play Ball #71 Joe DiMaggio PSA 8 NM/MT, as well as a 1951 Bowman #165 Ted Williams PSA 9 MINT, and a 1954 Bowman #170 Duke Snider PSA 10 GEM MINT, as well as a 1960 Topps #377 Roger Maris PSA 10 GEM MINT!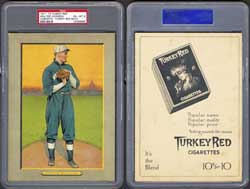 In what has become somewhat the norm the current MHCC auction features a stellar group of complete sets and partial sets with many of the exceptionally high-grade variety. Highlighting this area of the auction are the following: A nearly complete (237/240) 1933 Goudey Set that has been completely graded by PSA, as well as a stunning super high-end 1954 Bowman Baseball set that is completely graded by PSA with every card having been graded either PSA 8 or 9, in addition there is a spectacular 1955 Bowman baseball set that has been entirely graded by PSA and boasts a 7.94 GPA with it being 100% complete ranking it as the 33 All Time Finest PSA Set Registry Master Set, like wise there is a spectacular 1959 Topps Baseball Set that checks in with a 7.31 GPA and features each and every card having been graded by PSA, A stunning 1970 Topps Baseball complete set is featured as well claiming a stunning 8.04 GPA as well a scintillating 1973 Topps baseball set is featured boasting a nearly miraculously 8.897 GPA. Baseball is not the only sport that is represented in the Mile High cavalcade of sets as there is also the following stunning sets: A marvelous 1948 Bowman Basketball set that ranks as the #4 All Time Finest set on the PSA Set Registry with an amazing 8.00 GPA being 97.22% complete, as well there is a spectacular 1961 Fleer basketball Set that checks in as the #3 Current All Time Finest PSA Set registry Set with a GPA of 8.21 while being 100% complete, Football is not to be forgotten as the MHCC sale is buoyed by a stunning 1955 Bowman Football Set that is 100% complete and offers a GPA of 8.00, not to be forgotten there are several Hockey sets within the auction that demand to be accounted for, the first being an incredible rendering of Topps first issue the colorful 1954 Topps issue that is completely graded by PSA with every card graded PSA 8 with only 3 examples graded PSA 7 which is good enough to garner the 5th best set ever recorded, as well MHCC is offering a stupendous representation of the exceptionally popular and difficult 1964 Topps Tallboy issue that boasts every card having been graded by PSA and a ranking as the 2nd current finest PSA Set on the registry.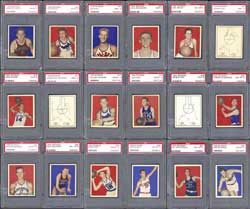 All of the items listed as well as many, many more great items are available for bidding by going to the company website at www.milehighcardco.com or by phone at (303) 840-2784. A 176 page full color catalog has been mailed to registered bidders, and if you would like to receive the catalog you may either call or email and a copy of the catalog will be sent to you free of charge. The auction will culminate January 18th. Mile High Card Company will accept bids either through their real time auction software or via phone or fax. To register and participate in this special collector event call (303) 840-2784. Mile High Card Company is planning a May auction as a follow up to this auction and is accepting consignments at this time.