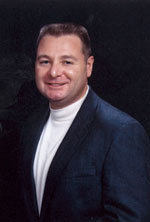 Speaking to Andy Madec about sports memorabilia is like chatting with Tiger Woods about golf. An expert in his field, Madec owns Andy Madec Sportscards, Inc., which has been ranked in the top one percent of the hobby's dealers. Since establishing the company in 1994, thirty-eight year old Madec has appeared on ESPNEWS with Josh Elliott and has been profiled in several major publications such as CnnMoney.com, The Los Angeles Times, and Forbes, just to name a few. His hobby has evolved over his lifetime from collecting the 78 Topps of his boyhood to vintage cards worth several thousand dollars.
A self described "show warrior" and "straight-shooter," he champions changes in the industry such as media advertising and higher standards of professionalism. Madec spoke candidly with SMR about collecting, his business, and the industry at large.
As a young boy, Madec discovered what would become a lifelong passion and career. He began collecting 77 and 78 Topps at the age of eight. "I collected the cards that were coming out at the time. My first real direction in collecting was when I decided to get one card of every Hall of Famer, preferably their rookie card." Once he gained a sense of focus, Madec began to amass more and more cards, and eventually realized his love of collecting was more than just a hobby.
At eleven years old, Madec began participate in shows, buying and selling cards. "I did that mainly to support my habit," he said. "In order to acquire more cards I had to generate income. I was pretty savvy with the cards. I was a real hustler and really into it. I started wheeling and dealing at a young age."
Despite his intense interest, Madec put his cards on the side as soon as he entered high school. "At the time, I was more interested in girls, sports, and partying," he said. He picked them up again after finishing his degree in American History at Cal State Northridge. "I was about twenty two and I had just graduated. I did not know what to do with myself."
With a baby on the way, Madec started doing card shows on the weekend to generate income. "I had not been to a show in years and I went to go sell some cards. I noticed how things had changed. I could see there was something going on in the market with the condition of cards and relative values, the oncoming of grading. That was PSA's inception. I thought to myself that the market could jump really big here and saw it as a real chance for me to get a foothold and start something."
And start something he did.
Madec established Andy Madec Sportscards, Inc. in 1994. "I really started to be active [in collecting] and decided I wanted to make a business out of it," he said. In his business, he particularly stresses PSA grading and authentication, making internet auctions more secure and reliable. "When you're buying a graded card over the internet, and it's a PSA, you are kind of covered in that way," he said. "That's one of the beautiful things about third party authentication and grading. You don't have to put as much faith into people as you did in the past. I built my business on the grading. I had really good foresight in that regard."
Madec, despite a busy schedule, finds his career extremely rewarding. "My favorite part of the business is dealing with the material. For me, sitting down and going through a box of a thousand cards is like therapy. I love it. It is soothing to look at them, especially when I'm looking at something new," he said.
Also, the industry's element of changeability amplifies his job's excitement. "I love going out on a deal and getting a virgin collection, something that has not seen the light of day for fifty years," he said. "To me, it is a great thrill to uncover new material or discover newly found gems."
During his career, Madec has stumbled upon some exciting, valuable finds. "It happens all the time. There is always that element of surprise. Literally, any morning I wake up, we could hit a home run that day," he said. "Something can happen where we really land something significant and it happens a couple times a year like that. That is often enough for us, the rest of the time we grind out deals. Once in a while, you get a call on something brand new, a treasure. It happens."
Currently, Madec says he is handling a particularly interesting treasure. "I'm dealing with a gentleman in upstate New York right now who was just gutting his grandmother's barn. It was filled with turn of the century stuff. He was tearing down some of the walls, and within the walls of the barn were 19th century baseball cards in untouched, sheet form. It could be a major find."
Some monumental deals, however, involve a bit of risk-taking. "At the Long Beach Coin Show a few years back, I had a guy walk up to my table once, and I bought two cards off of him for 40,000 dollars. When I was buying them, it was a lot of money. They were un-graded and I was taking a bit of a chance, but I know what I'm doing. I bought them, paid him really strong money for un-graded cards and I was rewarded because they happened to grade out extremely high. We got a 'nine' on a Mickey Mantle rookie and it ended up being worth about 50,000 dollars and we got a 'ten' on a 1952 Mays and we got about 85,000 for it," Madec said.
As far as his own collection, Madec said that, although he has never seen one, he would like to have an autographed picture of Babe Ruth while he's with the Boston Red Sox.
Aside from the material, Madec greatly enjoys working one-on-one with his clients. "I like going to shows; I'm kind of a show warrior. I'm a people person. I really enjoy it when a client calls me up out of the blue and we talk for half an hour," he said.
Madec said that the only part of his business he does not enjoy is the accounting, paperwork, tax issues, and other mundane but necessary business logistics. "When it actually comes down to dealing with the material, talking about the material and about sports with my clients, I love it," he said. "It never gets old for me."
With years of experience under his belt, Madec has a plethora of advice for anyone interested in collecting. "A new collector coming in should find a dealer he is comfortable with. This would be somebody that can help him along the way, give him advice on what to buy, and make sure he is not overpaying," he said. "Industry contacts and a really good, honest dealer could help somebody out. Since a lot of business is done on the internet these days, a lot of fraud goes on. People need to watch out when the price seems too good to be true."
Avoiding fraud, Madec explained, is crucial to the success and integrity of the industry. "If a new collector happens to deal with the wrong person and gets burned or put off, that will affect his desire to stay in the industry and evolve into the kind of participant that we are looking for," he said.
Madec implores that necessary changes must be made in the industry in order to elevate it. "I think a lot of the people that are involved dealer-wise in the sports card and collectible industry are 'carpet baggers,' honestly. What I mean by that is they are just there to make a buck and then go home," he said. "I would like to see a lot more professionalism from the industry's participants. I would also like to see a lot more caring going on."
An unprofessional attitude, he explained, can be detrimental to the whole. "I think a lot of people in our industry are short-sighted. I don't know if they handle their transactions with enough care and handle their clients with enough care. I think we need to project the industry in a more positive light and professional manner. We need to make it a program of attraction," Madec said.
Madec said that the existence of "carpet baggers" mars the industry's reputation and dissuades potential collectors from continuing their hobby. "I think that there are a lot of people out there who are very interested in sports collectibles and cards, but they just don't know enough," he said. "What they do know are things that they have heard. Maybe they watched a 60 Minutes special and heard about counterfeit autographs. They have heard a lot of bad press and a lot of bad news. I always try to let people know the good news, and there is certainly a lot of it."
To increase public knowledge of collecting, Madec does two or three radio talk shows a month. "I try to be an ambassador for my industry," he said. "I want to be an innovator in a way. I don't think there are a lot of people in the industry that do media advertising like I do. They are not tapping in to the great resource that is out there: all of the people who are interested in what we are doing, but they just do not know enough."
Improving the reputation of memorabilia collecting has become one of Madec's prime objectives. "I really want to make it a fun, safe, positive experience for people and I'm interested in helping anyone who wants to get involved," he said.
Aside from sports memorabilia, Madec is also excited about other facets of collecting. The vintage photography market, he believes, is ready to explode. "I think there is so much room there. I started buying vintage sports photography about five years ago and I would not sell it. I would just buy it and buy it and buy it. The last couple years, I haven't been able to buy anything so I decided to start selling them. I have been getting five, six, ten times my money on a lot of this stuff," he said. "That market has come so far and I think it still has a little ways to go. Now, we're going to see the other sports and non-sports, including political and Hollywood vintage photography."
The stamp market, Madec says, is also ready for growth. "Talk about a collectible market that lacks youth! The average stamp collector is about seventy, which is a problem. It is such an established collectibles market. People have been collecting stamps forever. They have tremendous historical significance. I can't help but think that, what with grading and authenticating, the market can't be helped. It happened with coins, I saw it. It happened with cards. The market grew a thousand percent in a few years. I think it's going to happen with stamps." he said.
Madec said he also anticipates a rise in poker chip collecting. "It seems to me that there is a big market for poker chips. They don't have grading yet; they're resisting it. I think that those things could easily be graded, and the popularity of poker these days could definitely enhance and encourage it. There are a lot of shrewd people in that particular market, and grading would really help to temper that and police it. That's what grading did for cards."
Grading, he explains, is crucial to the collectable industry. "What legitimate third party authentication does is that it tells people that it's safe to go into the water. It tells them, 'Hey, you're covered. You're protected. It's a good item. You are getting what you paid for.' People like that. I have to think that stamps and perhaps poker chips and other collectibles will follow. "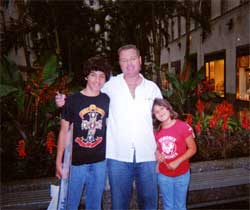 When he's not working, Madec enjoys a variety of interests. Among them are music, fishing, and studying history. He is particularly interested the expansion era in American history in which the country was acquiring territory. "There was so much newness with the whole country moving west," he said. "There was a lot of fighting for territory and it was a really trying time for a lot of people. That whole era is very fascinating." Madec said that another one of his favorite periods in history is the 1950s. "That's when the world came to reality for a lot of people because of TV. At that point in time, people got to see for themselves things they had only heard about. That was the time when baseball really came to life for a lot of people. It was a real golden age for our country," he said.
Madec's love of history also translates to his career in the collectable industry. "I am a big historical guy. I love history and I love the past. I also like business. I think my job is great because I can combine the two," he said. "If you love the past, and you love sports, and you are investment conscious, sports memorabilia could be a very attractive thing. Collecting is an alternative form of investment, combined with someone's passion and nostalgia for sports and the past."
America's obsession with sports and idolization of athletes, Madec says, makes it a prime location to get people interested in collecting. "Let's face it: we're a nation of collectors, competitive by nature. We have a lot of people that like to accumulate and amass collectible type items." he said. "In this country, we idolize sports figures more than any other. Whether that is good or bad, I don't know. We are competitive. We all want the best. That in itself gives [the industry] unlimited potential and that is also why it has so far to go."