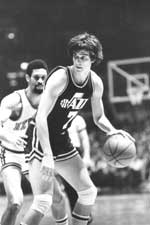 For thousands of years, the Chinese have adhered to the concepts of Feng Shui to bring harmony and prosperity into their lives. They believe that in order to experience Sheng Qi (or Chi) which means "alive energy", they must be attuned to the Chi, which moves when it encounters Feng (wind), and gathers when it meets Shui (water). The goal of those who adhere to these beliefs is to attempt to make sure that the Chi does not stagnate or dissipate, but thrives as the elements come together in a harmonious flow.
In ancient China, Feng Shui was known as the black bird craft after it was observed that black birds, while flying along the river in search of a place to build their nests, would finally settle in the most fortuitous place in accordance with the way the air flowed along the river.
Simply put, Feng Shui is the art of balancing our surroundings. Wind is the moving, strong Yang aspect; represented in the landscape by mountains. Water is the still, far-reaching Yin aspect; represented in the landscape by rivers and lakes. Bringing these two elements together harmonizes the Chi by bringing about a more alive and energetic living and working environment.
Perhaps, it is in adherence to the concepts of Feng Shui, that Western Pennsylvania, a region blessed with mountainous terrains and flowing rivers, has proven to be such a rich producer of professional athletes. Honus Wagner, Arnold Palmer, Johnny Unitas, Joe Namath, Joe Montana, Dan Marino and Ben Roethlisberger are just some of the legendary athletes that have come from this land where the Allegheny and Monongahela Rivers flow along the Allegheny Mountains.
Some, the more pragmatic perhaps, may argue that Western Pennsylvania's prolific production of superb athletes is simply a result of the fact that during the 19th and 20th Centuries, the region's young men, many the sons, nephews, and grandsons of Eastern European immigrants, grew up in an environment in which they saw their fathers, uncles and grandfathers toil in the back-breaking world of the steel mills and coal mines - that they were bred with a work ethic based on hard labor and a determination to find a way out of the mills and mines that in many cases claimed the spirits and even the lives of their family members.
When it comes to thinking about why Western Pennsylvania has proven to be the cradle of so many professional athletes, there is one man who specifically stands out as a testament to the fact that it is most likely a blend of dedicated hard work and an environment of alive energy that has given us these giants of athletic hierarchy. He was not a laid back, smooth gent like Palmer. Nor was he an archetype clean-cut athlete like Unitas or a roguish rebel like Namath. He was a mop-topped kid who, in saggy socks, spent the majority of his childhood obsessively working to perfect the passing skills, head fakes, ball control and long range shots that would. in time, make him one of the most legendary players to take to the courts of the NCAA and the NBA. He was a dazzling star that came wrapped in a plain and somewhat disheveled package known as "Pistol Pete" Maravich.
IN THE BEGINNING
Born on June 22, 1947, in the Pittsburgh suburb of Aliquippa, Pennsylvania, Pete was the son of Press Maravich, a former professional basketball player who had been a guard with the Youngstown Bears and the Pittsburgh Ironmen in the mid-1940s. The elder Maravich began instilling the fundamentals of basketball into his son from the time he took his first step and by the time young Pete was a second grader he had adopted an obsessive desire to learn, practice and perfect every aspect of the game.
A natural athlete who spent endless hours of his youth at the gym and on the basketball court, Pete's first foray into organized sports came in high school at D.W. Daniel High School in Clemson, South Carolina, Needham B. Boughton High School in Raleigh, North Carolina, and the Edward Military Institute in Salemburg, North Carolina. It was during his time at those schools that Pete's years of childhood practice evolved into stunning basketball play that was noticed by college scouts
As his high school career came to an end, Pete began thinking about where he wanted to matriculate, and while he was partial to West Virginia University, his father wouldn't hear of it. Press Maravich practically demanded that his son attend Louisiana State University, which may have had something to do with the fact that he had just been named the school's head basketball coach.
In 1966, NCAA rules would not allow first-year students to play on their school's varsity teams, so Pete began his collegiate basketball career with LSU's freshman team. Turning in prestigious play and a promising future, the following year saw Pete move up to the varsity team where over the following three years he led the nation as he respectively averaged 43.8, 44.2, and 44.5 points per game. In 1970, his senior year, Pete scored 50 or more points in ten games which set an NCAA record for the highest scoring average in a single season. That year also saw him win the Atlanta Tippoff Club's Naismith Award for Collage Player of the Year and be named The Sporting News Player of the Year. By the conclusion of his college career Pete had also been named a first team All-American three times.
THE PROS COME A CALLIN'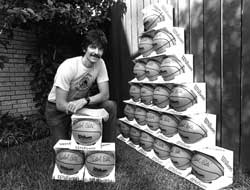 After graduating from LSU in 1970, the Atlanta Hawks selected Pete as their third overall pick in the first round of the NBA Draft. Signing on for a then-staggering $1.9 million dollars, Pete was tapped to replace forward "Pogo Joe" Caldwell, who had just left the Hawks to sign on with the American Basketball Association.
As a pro Pete wasted no time in establishing himself as a force to be reckoned with. He averaged 23.2 points per game during his rookie season and was named to the NBA All-Rookie Team. With Pete's help the otherwise hapless Hawks finished their 1970-71 campaign at 36-46 and made it to the conference semifinals where they were stalled by the New York Knicks.
By the start of the following season the Hawks and their fans believed that Pistol Pete would spark the team to deep post season play and possibly a championship. It was not to be. Maravich limped along during his second pro season missing 16 games and averaging only19.3 point per game. Although Pete could not take much credit for it, the Hawks did get to the first round of the playoffs. Facing the Boston Celtics, Maravich turned in a far better performance than he did throughout the regular season averaging 27.7 points per game. Still despite his turn around play, Atlanta was sent home for the off-season by the Bean Town boys.
During the Hawks 1972-73 campaign Maravich began to season as a pro. He avoided injury and played a vital role in seeing his team finish the regular season with a 46-36 record. That year, with a 26.1 points per game average, Maravich was tagged for his first All-Star appearance and was also named to a slot on the All-NBA Second Team. In the post season Atlanta once again fell to Boston in the conference semifinals despite Pete's impressive performance in which he averaged 26.2 points per game.
The following year, which would prove to be Pete's swan song in Atlanta, would also, ironically, prove to be a successful season for him personally. Tapped for his second appearance in the NBA All-Star Game in which he scored 15 points in 22 minutes, he also continued to turn in solid regular season play throughout the remainder of the season. There was a big problem however. While Pete turned in an impressive 27.7 points per game, his team finished the regular season with a dismal 35-47 record and the Hawks never saw a minute of post season play that year.
Prior to the start of the 1974-75 season, an expansion team, the New Orleans Jazz, were gearing up for their inaugural campaign and desperately needed a big name player. Already a well-known commodity in Louisiana by virtue of his legendary collegiate career, The Jazz were determined to nab Pistol Pete to fire off their first year on NBA hardwood. That happened, although it would cost New Orleans their forward Bob Kauffman and guard Dean Meminger, two future first-round draft choices, and two future second-round draft choices.
In 1975 things seemed to be going well for Maravich. He had married his wife, Jackie, with whom he would eventually have two sons, Jaeson and Josh. And yet, he couldn't seem to pull it together on the court. In his first season with the Jazz, Maravich turned in a less-than-pistol-like performance. Chalking up a 21.5 points per game average, Pete, his teammates and coaches stumbled and fumbled through that season finishing up with a league worst record of just 23-59.
The following season, Maravich was sidelined with numerous injuries. Chalking up play in only 62 games he did manage to turn in a good show when he was healthy. That season saw him average 25.9 points per game, shoot for a career-high .459 from the floor, and be named to the All-NBA First Team. But, while Pete dazzled New Orleans fans with his savvy skills and showmanship, the Jazz still recorded a lackluster 38-44 finish.
The next year would prove to be the big one for Maravich. Playing in 73 games he led the NBA in scoring with a career-best 31.1 points per game and scored 40 or more points in 13 games. On February 25, 1977, he scored 68 points in a game against the New York Knicks. That season also saw him named to the NBA All-Star Game and be tapped for his second appearance on the All-NBA First Team.
While Maravich was carving out his niche as a major NBA star, his performance did little to chalk up wins for his team and by the end of the 1977-78 season he had been tagged as being injury prone. He missed 32 games that season due to knee injuries and when he did play it was absent the razzle-dazzle he had become known for. Still, he did manage to turn in an impressive 27.0 points per game in the 50 contests he did play in which earned him a 1978 All-Star selection as well as a berth on the All-NBA Second Team. That year the Jazz finished at 39-43 and missed a postseason invite by just two games.
Maravich's play and performance declined in the 1978-79 season. Playing in only 49 games he scored a 22.6 points per game average and despite his invitation to once again play in the NBA All-Star Game, it would be a year that, in retrospect, Maravich watchers would come to see as the beginning of the end. His recurring knee injuries were making it more and more difficult for him to play the type of game that was so unique to him. His critics had often said that because he had developed his game during those solitary hours of his youth, he had adopted what they called "playground moves" - Harlem Globetrotter-type circus shots and hot-dog play that he carried over to his NBA career. His behind-the-back dribbling, between-the-legs passing, dazzling passes and showmanship shots were by all means fun to watch; but they did little for the sake of the team and caused purists of the game to discount him as having more style than substance. It was in fact, because he played that kind of game, that knee injuries would prove fatal to his career. When Pete was performing at his best he relied heavily on his ability to be agile enough to make those lighting fast pirouettes that were a thing of beauty to watch. Now, with heavily injured, surgery-scarred and braced knees, those poetic moves were a thing of the past.
At the conclusion of the 1979-80 season, the Jazz left New Orleans for a new life in Utah. It would prove to be a move that would see the team start building toward a respectable and winning future. It would also prove to be a move that would see the Jazz move forward without Maravich. With the team's new star, Adrian Dantley, taking over the offensive leadership duties, Coach Tom Nissalke mostly relegated Pete to the bench.
Maravich only played in 17 games before the Jazz waived him on January 17, 1980. Within a week the Boston Celtics picked him up as a free agent in a move that had most Boston sports writers scratching their heads. The Celtics were the top dogs in the NBA and their new forward, Larry Bird, was showing phenomenal promise. So why did they need an aging, injury prone Maravich whose best days were clearly behind him?
Despite the negative rumblings from the local press, Maravich threw himself into his new role as a Celtic with great ambition. He diligently worked himself into the best shape he could and played with earnest desire. But Father Time and the frailty of his knees had taken their toll. He averaged only 11.5 points in the 26 games in which he suited up in green, although, at times, he was still able to muster up the skills to electrify the crowd with glimpses of his former showmanship. In one game he even managed to chalk up the deciding points to give Boston a come-from-behind victory over the Washington Bullets. As that season faded into history, so did Maravich. He retired from his decade-long career with an average of more than 24 points per game.
A FAR TOO SHORT LIFE AFTER BASKETBALL
In his post-basketball life Maravich became somewhat of an eccentric recluse and battled with alcoholism and depression. Desperately searching for a deeper meaning in life, or perhaps just any reason to live without basketball, Pete became a roaming disciple of yoga, vegetarianism, macrobiotics, Hinduism and finally Christianity. He also immersed himself in the study of extraterrestrial life and unidentified flying objects.
On January 5, 1988, Pistol Pete Maravich collapsed while playing in a pickup three-on-three game at the Church of the Nazarene in Pasadena, California. Paramedics were called and he was rushed to the hospital where doctors tried in vain for close to an hour to revive him.
Peter Press Maravich died at 9:42 on that January morning at the age of 40. The coroner's report stated that his death was due to an extremely rare congenital heart defect. Although it had never been diagnosed, the autopsy showed that Maravich had been born with only one coronary artery.
"He'll be remembered always," said former Louisiana State University basketball coach Dale Brown after hearing of Maravich's death. "When we see some tousled-haired kid with drooping socks standing on some semi-darkened court or in a yard after everyone else has gone home, he will be shooting a basketball, and we will remember Pete."
Eight months before his death, Pete had been elected to the National Basketball Hall of Fame and just days before he died he had been honored at the O'Reilly All-College Basketball Classic in Oklahoma City. In the aftermath of his passing, Louisiana Governor Buddy Roemer signed a proclamation officially naming the Louisiana State University home court the Pete Maravich Assembly Center. In 1996 he was named as one of the 50 greatest NBA players in history, and in 2005 was named the greatest college player of all time by ESPNU.
Maravich went to his final rest having never won an NBA Championship. But he left a mark on the game of basketball that is indelible. Widely considered to be one of the greatest offensive talents in the league's history, Maravich could stun his defenders with magician-like dribbling. He could pass a ball with pinpoint accuracy while looking in the opposite direction and drop a fall-away jump shot while being doubled teamed. Like the black bird of the ancient Orient, Pete rose up into the wind - gracefully moving - firm and strong as if he were gliding through the Allegheny Mountains. His play was also far-reaching with a perfect flow, like that of the Allegheny and Monongahela Rivers. He brought those two elements together to create a harmonizing Chi that saw a style of basketball play that was as alive and energetic as we may ever see on the courts of the NBA.
THE PISTOL'S CARD
The 1970 Topps # 123 Pete Maravich rookie card was offered in an oversized style format. It has always been Maravich's most desirable card amongst collectors and its difficulty in high grades makes it even more of a prized treasure.
As with most large size cards, preservation was a challenge. The great majority of these cards are found with corners and edges that have suffered the wear and chipping that oversized cards are prone to. Adding to the difficulty of finding this card in high grades is the fact that there were inherent problems in their production, most notably in print defects and centering. The great majority of these cards that have been graded are severely off-center. The # 123's thin white border also adds to the off-centering problems by giving the card the appearance of being even more off-centered than it may actually be.
The 1970's Topps set had very limited rookie power, which makes the Maravich offering one of the set's most desirable cards. That fact, coupled with the continuing fascination and appeal with Maravich himself are strong factors in suggesting that this card is, and will continue to be, one of the most sought after NBA cards ever produced.