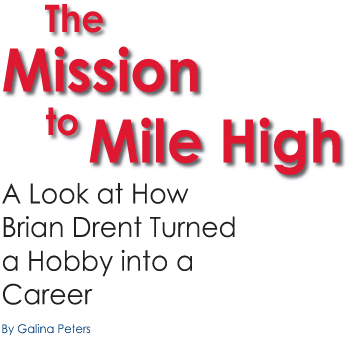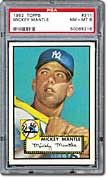 For some, collecting sports memorabilia is merely a casual leisure pursuit. For others, collecting is an all-consuming passion, heavily laced with nostalgia. Hardcore hobbyists tend to start collecting in childhood and continue into adulthood. Instead of "outgrowing" their hobby, it only intensifies and the memorabilia evolves from the twenty-five cent baseball cards of their youth to high-end items worth thousands of dollars.
Like many collectors, Brian Drent's hobby started with an inherent love of sports. At the age of five, Drent had started collecting baseball cards. In high school, while his friends were playing video games, he was engrossed in card collecting. Little did he know that his hobby would one day evolve into a flourishing career.
As an adult, Drent runs Mile High Card Company – one of the most successful auction houses in the industry – specializing in high-end PSA graded cards and memorabilia. SMR spoke to Drent from Mile High's office in Centennial, Colorado about his hobby and his career.

SMR: Brian, when did you start collecting?
BD: Growing up, I was always very interested in sports. When I was about five years old, I started playing little league baseball, football, hockey, and basketball. Around the same time, I started collecting baseball cards. I continued it intensely until I was about twelve. I put my hobby on hold for a little while. Then, when I was fifteen, I started to hang out with all of my buddies in the arcade. They would play video games, which just did not interest me. So, while they were playing Pacman, I would go spend my change on baseball cards. I also used to collect coins. That ended when, one day, I realized I was collecting money that I wanted to spend. This frustrated me and I gave up on coin collecting altogether.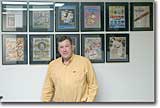 SMR: Do you still find time to collect today?
BD: I do have a few things. As a kid, I was mainly into cards. Nowadays, I own framed jerseys, autographed balls, and autographed pictures as well.
SMR: Do you have any favorite items that have special meaning to you?
BD: I have a Cal Ripken Jr. game jersey. He was my favorite player as a kid, and that gives it meaning.

SMR: When did you decide to build a career in the hobby and transition from collector to dealer?
BD: When I was fifteen, I started setting up at local baseball card shows. I sold baseball cards on the side for extra spending money. When I finished college, I decided to get a "normal" job. I worked for five years selling copiers for Konica, a Fortune Fifty company for which I was a major account rep. For some of that time, I did not mess around with cards at all because I was trying to establish what I thought was going to be my career. Then, I started getting back into local baseball card shows. Before I knew it, I was making just as much at the shows as I was at my job.
SMR: What are the challenges of running an auction house?
BD: I would consider our biggest challenge to be handling growth. As we get bigger, it is necessary to bring on more people and it can get a bit tricky. From getting the material in the doors, photography, scanning, and dealing with customers, there must be someone to do every task. There is always that day when something goes wrong. Sometimes we have to backtrack. However, we really stress customer service; It is really important to Mile High. There are so many companies that are larger than we are, so what keeps our customers coming back to us is our dedication to them. We really concentrate on catering to our customers. We will bend over backwards within our ability to make the situation as best as we can for our consigners.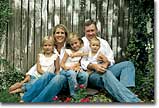 SMR: In such a competitive industry, how have you been able to distinguish Mile High from other notable auction houses?
BD: Aside from our total commitment to customer service, we strive to find the best material and cater to the high-end collector. We really try to know and understand what our customers are looking for.
SMR: What are some of the things you would like to see change in this industry?
BD: Last week, we sold a Mickey Mantle on eBay, and somebody unscrupulous was fraudulently offering second chance offers to four different people. I would like to see this kind of internet fraud vanquished. Also, I think that more people should be using third party authentication. I wholeheartedly believe that card shows should come back in vogue. I think that a return to that would be really healthy for the industry.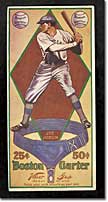 SMR: What is it about this business that you enjoy the most?
BD: When I come to work, I never know what is going to happen. There's no way of knowing who is going to call us or email us about a great collection that has been cooped up for years. The business is exciting because it is unpredictable and always changing.
SMR: Are there certain areas of the hobby that you think are untapped or certain types of collectibles that have been overlooked?
BD: Right now, there is a mini explosion in wire photos. I think that this is a strong area that could be overlooked.
SMR: How would you advise a new collector in this business? What are the key things to know?
BD: The best thing for new collectors is to really become familiar with the hobby. It is essential to read quite a bit and to get an idea of the dealers in the business. It is a good idea to come up with a focus or focal point of what you want your collection to be. For example, you could focus on collecting game-used bats or autographed baseballs. From that, develop a goal or idea. For instance, someone might try to collect an autographed baseball from all the people that have five hundred home runs.
SMR: How has PSA helped Mile High over the years or how has PSA helped change the industry for the better?
BD: PSA has been great for Mile High. In 1994, I started authenticating with them. We've graded thousands upon thousands of items through PSA.
SMR: How is your personal life? Is your family interested in sports as much as you are?
BD: My wife Michelle and I have three daughters, Emersyn, Taytam, and Maryn, ages seven, five, and one, respectively. My wife and I enjoy sports together, and I know that our kids will be athletic too. In my free time, I like to play basketball, go skiing, and spend time with my family. Even my favorite movies are sports related, my favorites being Eight Men Out, Field of Dreams, and The Natural. I feel fulfilled with my life and my career. I'm glad I made the choice to follow my interest in collecting and make a career out of it.