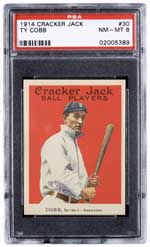 Collectors nationwide competed aggressively for an eclectic array of quality sports cards and memorabilia offered in the second internet-exclusive auction conducted by the Sotheby's/SCP Auctions partnership. The sale, which featured 780 lots, closed on November 30, 2006, with strong prices throughout, contributing to a sales total topping $2.3 million. Dan Imler, Managing Director of SCP Auctions, said: "Nothing fuels the fire of collectors more than high-quality material that is fresh and uncirculated. A significant percentage of both the cards and memorabilia offered in this auction had never before been offered publicly. The enthusiasm generated by some of the significant 'finds' we featured had a strong effect on prices realized throughout the entire sale." The card portion of the sale, which included the well-publicized "New York City Find" of T206s and a find of rare T4 Obak Cabinets produced record-setting results. Some of the highlights from these categories include:
T206 Singles:
1909-11 T206 Chief Bender (Portrait) PSA 8 NM-MT - $7,161
1909-11 T206 Frank Chance (Portrait, Red) PSA 7 NM - $6,062
1909-11 T206 J.J. Clarke (Nig, Cleveland) PSA 7 NM - $5,066
1909-11 T206 Johnny Evers (Portrait) PSA 8 NM-MT - $8,877
1909-11 T206 Walter Johnson (Portrait) PSA 8 NM-MT - $20,191
1909-11 T206 Willie Keeler (With Bat) PSA 9 MINT - $12,536
1909-11 T206 Willie Keeler (Portrait) PSA 8 NM-MT - $30,792
1909-11 T206 Nap Lajoie (Portrait) PSA 8 NM-MT - $11,814
1909-11 T206 Carl Lundgren (Chicago) PSA 7 (MK) NM - $19,750
1909-11 T206 Joe Tinker (Portrait) PSA 7 NM - $8,376
T4 Obak Cabinets:
1911 T4 Obak Cabinet #86 Buck Weaver, San Francisco - $28,282
1911 T4 Obak Cabinet #111 Mundorff, Portland (NWL) - $6,510
1911 T4 Obak Cabinet #45 Roger Peckinpaugh, Portland (PCL) - $6,510
1911 T4 Obak Cabinet #41 Steen, Portland (PCL) - $4,891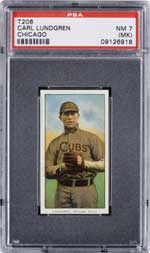 Several notable prices were achieved among the vast selection of other pre- and post-war cards that included representations of nearly every vintage baseball issue ever produced including 19th century cards, Goudeys, Play Balls, Topps, Bowmans, and scarce regionals. Topping the list of most expensive lots in the auction was a 1933 Goudey #106 Nap Lajoie PSA 9 MINT. The pristine example of one of the hobby's most mythic cards sold for $123,488. The runner-up was a 1948-49 Leaf Baseball Graded Complete Set (of 100) listed as the Third Finest on PSA's Set Registry, which sold for $73,425. Other strong performers include:
Pre and Post-War Cards:
1894 N142 Honest (Duke) Cabinets E. J. Delehanty - $16,868
1909 T212 Obak Pacific Coast League Complete Set Of 76 - $26,936
1911 T212 Obak Pacific Coast League Complete Set of 175 - $20,012
1913 T200 Fatima Team Cards Brooklyn Nationals PSA 6 EX-MT - $3,806
1911 T205 Gold Border Christy Mathewson PSA 6 EX-MT - $8,068
1914 Cracker Jack #30 Ty Cobb PSA 8 NM-MT - $61,809
1916 M101-4 Gimbels Babe Ruth Rookie PSA 5 EX - $29,014
1948-49 Leaf #85 Dave Philley PSA 8 NM-MT - $7,614
1957 Topps #1 Ted Williams PSA 9 MINT - $10,028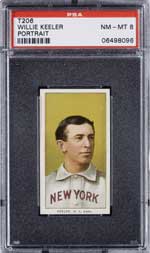 The Memorabilia portion of the Sotheby's/SCP internet auction offered a wide array of autographed items, game-used bats, jerseys, trophies and awards, programs, advertising pieces, pennants, tickets, and several Babe Ruth, Lou Gehrig, and New York Yankee items. It should come as no surprise that Babe Ruth, the "Sultan of Swat", reigned supreme, with Bambino-related items accounting for some of the highest memorabilia prices. Topping the list is a Babe Ruth Signed Model Bat (not game used) that topped out at an astounding $52,741.
Other memorabilia highlights include:
Rare 1906 TY Cobb 1 1/4 inch Pin - $8,070
1915 Boston Red Sox Real Photo Postcard with Rookie Babe Ruth (EX - Copeland) - $13,347
1915 PM1 Walter Johnson Ornate Pin - $4,140
Babe Ruth Signed 1923 World Series Game 4 Ticket Stub (Ruth Home Run) - PSA/DNA MINT 9 - $12,998
Baseball Signed by Babe Ruth & Lou Gehrig Four Days After the 1927 World Series - $20,191
Grover Cleveland Alexander 1924 Endorsed Chicago Cubs Payroll Check - $9,763
1934 Tour of Japan Presentation Album with Team Signed Sheets - $31,988
Harmon Killebrew 1969 Game Used First Baseman's Glove - $11,396
1975 World Series Game 6 Line Up Cards (Carlton Fisk's Historic Game Winning Home Run) - $18,355
A complete listing of prices realized from the November 30, 2006 Internet Auction is available online at www.scpauctions.com. The success of this sale sets the tone for Sotheby's/SCP Auctions forthcoming Spring, 2007 Live Auction in New York which will feature the Collection From The Estate of Casey Stengel. To order a catalogue for this auction call +1 888 752.0002 . Sotheby's/SCP Auctions is currently accepting consignments for their Spring Live Auction as well as their next Internet Auction which is scheduled for Summer, 2007. Call +1 800 350.2273 for more information on how to participate in these exciting auction events.