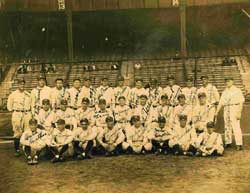 Imagine how difficult it is to get 30 members of a team, some of whom are international super stars, to sign a Team photo each with their signatures perfectly written over their own photo image.
Imagine being an average guy trying to accomplish this feat; getting the access to, and cooperation of every team member!
Chances are it wouldn't happen. To get the whole team to sign on one photo takes "someone on the inside of the team" – someone who really wants to make it happen.
That's the legacy George Pipgras, a pitcher on the 1927 Yankee Team left for us.
His achievement in persuading the entire Team (not just any Team, but the Team, who would be voted the Best Team in Baseball during Baseball's centennial year in 1969), to take their time to clearly and neatly autograph an image of themselves on a photo makes the rarity of the photo a significant hobby piece. Mr. Pipgras left us a remarkable vintage artifact of the game, a piece of his own personal "insider" memorabila. He left us his own copy of "his team" – the famous Murderer's Row 1927 Yankee team, signed by all the players and coaches, and staff he practiced with and saw daily throughout the team's 110 game win season.
Once in a while a piece of memorabilia stands out. This is one of those instances. Thinking of Pipgras' insider accomplishment of getting the entire team to sign the photo, and then the fact that the photo has survived, makes this vintage photo a significant hobby collectible.
For more information on 1927 Yankees Team, please click on the photo. For more information on Memory Lane's current auction, please click here.