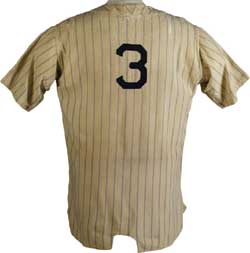 Dallas, Texas - Heritage Auction Galleries held its latest Sports Collectibles Signature Auction on Saturday, October 28, 2006, in Dallas, Texas. 940 lots were offered, realizing an overall total of $3,242,449, although after-auction sales are still ongoing and could push the total even higher.
"The biggest story of the event was the price of $657,250 realized for the jersey worn by Babe Ruth in the first All-Star Game," explained Chris Ivy, Director of Sports Memorabilia Auctions for Heritage Auction Galleries. "This represents the second highest price ever paid for a game worn jersey at auction." Click here to view the lot.
For a second time in as many Heritage Signature Sports Auctions, the celebrity couple of Joe DiMaggio and Marilyn Monroe set a record. "The figure of $89,625 realized for a photograph signed by Joe and Marilyn on their 1954 Japanese honeymoon represents the highest price ever paid for a post-war signed photograph at auction," noted Ivy. Click here to view the lot.
Other highlights of the sale included:
The Earliest Known Mickey Mantle Batting Trophy.
PRICE REALIZED: $35,850.
"Certainly this ranks among the highest prices ever realized for a minor league baseball award," said Ivy. "Our large and ardent New York Yankees collecting clientele fought hard for this award presented to Mantle the season before he came to the Bronx."
1920's Grover Cleveland Alexander Single Signed Baseball.
PRICE REALIZED: $26,290.
"We had expected tremendous interest in this high-grade rarity, and our predictions were correct," explained Ivy. "This price represents the highest ever paid for an Alexander single in auction history."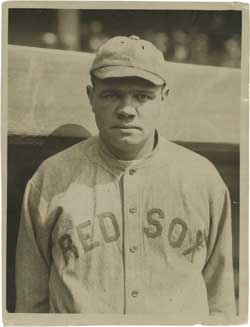 Exceptional Circa 1916 Babe Ruth Culver Service Photograph, Type 1.
PRICE REALIZED: $17,925
"Heritage continues to set the benchmark in the industry for quality vintage baseball photography," stated Ivy. "This amazing portrait of a young Ruth with the Red Sox is considered by several top experts as the finest known."
1911 T9 Turkey Red Prizefighters Complete PSA-Graded Set (26).
PRICE REALIZED: $22,705.
"Vintage cards continue to perform magnificently," said Ivy. "This rare and gorgeous set exceeded pre-sale estimates."
1909-11 T206 Bill Chappelle PSA Mint 9.
PRICE REALIZED: $8,365.
"High-grade tobacco cards produced shocking results in this auction, often doubling or even tripling pre-sale estimates," noted Ivy. "Many records for single commons were obliterated in this auction."
Heritage Auction Galleries' Sports division specializes in rare and collectible sports cards, as well as uniforms, equipment, and related vintage sports memorabilia. Consignments for future Signature Sports Auctions are currently being accepted.
For more information about Heritage's auctions, and a complete record of prices realized, along with full-color, enlargeable photos of each lot, please visit our Permanent Auction Archives at www.HA.com.
Prospective consignors and sellers of vintage sports memorabilia are invited to visit www.HA.com and click on the "Sell Now" tab. Or simply email Chris Ivy at [email protected].
To reserve your copy of any Heritage auction catalog, please contact Nicole Jewell at 1-800-872-6467, ext. 272, or visit www.HA.com to order by email.