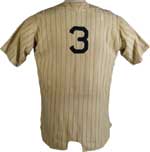 Dallas, TX - The jersey worn by Babe Ruth in the very first All-Star game is among the fabulous, vintage sports memorabilia and trading cards to be offered in Heritage Auction Galleries' Sports Collectibles division Signature Auction in Dallas, Texas, October 28, 2006.
Highlighting the auction, and arguably two of the most important pieces of sports memorabilia in private hands, are game worn jerseys from New York Yankees legends Babe Ruth and Lou Gehrig. "Each of the jerseys is definitively matched to vintage photographs of Ruth and Gehrig wearing them," explained Chris Ivy, Director of Sports Auctions at Heritage. "The Ruth jersey is the one worn by the Babe as he participated in the first All-Star Game in 1933. Gehrig's jersey dates to his historic 1927 MVP season, a year that is considered by most baseball historians to be the greatest in Yankees history."
Ivy also points to two bats used by Babe Ruth as being particularly noteworthy. "The earlier bat dates from the 1918 to 1921 labeling period of manufacturer Hillerich & Bradsby, which presents a very real possibility that Ruth used it during his final years with the Boston Red Sox before baseball's most historic trade brought him to the New York Yankees. The second dates from the important 1923 to 1926 era, and bears a carved notch in the trademark stamping which Ruth himself applied to indicate that he had hit a home run with the bat."
An eight by ten inch photograph of the newly wed Joe DiMaggio and Marilyn Monroe, signed by each, makes its hobby debut in this auction. "After setting a world record price for autographed baseballs in May 2006 with a mark of $191,200 for our Joe DiMaggio and Marilyn Monroe signed ball, we were thrilled to be contacted about a photograph signed by this ultimate celebrity pair," said Ivy.
Fight fans will be stunned by the offering of "Smokin' Joe" Frazier's one and only WBC Heavyweight Championship belt, among the finest personal boxing awards ever made available for public sale. "This is the very belt that Frazier earned with his 1970 victory over Jimmy Ellis, and that he defended when he handed Muhammad Ali his first defeat in 1971," explained Ivy.
Of similar importance in pugilistic history is the earliest known Muhammad Ali boxing trophy, awarded to a fifteen-year old Cassius Clay for his victory in the Kentucky Golden Gloves competition. "This trophy had long been on display at the Louisville, Kentucky gym where Ali first learned to box," explained Ivy. "It derives from the family of Joe Martin, Clay's first trainer and mentor."
Topping the football offerings in this historic auction is a game worn jersey from Hall of Famer Gale Sayers, the superstar Chicago Bears halfback whose friendship with dying teammate Brian Piccolo is recounted in the critically acclaimed film Brian's Song. "The wear on this jersey is just tremendous," notes Ivy. "One can really get a sense of the brutality of the professional game when examining the endless repaired tears and gouges suffered by the jersey while in service to Sayers."
Card collectors will also be well served by the Fall Signature auction, as Heritage presents incredible new finds of tobacco and candy cards, never before made available to the collecting public. "We have both incredibly difficult sets and near-sets and high-grade singles, many of which are unchallenged in the population charts."
And for modern card collectors, Heritage is proud to present a piece that Vice President of Upper Deck Authenticated Tim Muret described as, "almost certainly the most unique and valuable redemption piece ever offered by Upper Deck." This one-of-a-kind framed piece, won by a lucky collector in 2005, houses the signatures of the top baseball legends at each position. Among the autographs present are Babe Ruth, Lou Gehrig, Ty Cobb, Cy Young and Roy Campanella.
Highlights of the October 28th Signature Sports Auction include: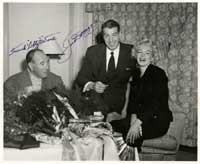 1933 Babe Ruth All-Star Game Worn Jersey
Estimate: $600,000 & up
1927 Lou Gehrig Game Worn Jersey
Estimate: $600,000 & up
1918-21 Babe Ruth Game Used Bat
Estimate: $60,000 to $80,000
1923-26 Babe Ruth Game Used Home Run Bat
Estimate: $100,000 & up
1954 Joe DiMaggio and Marilyn Monroe Signed Photograph
Estimate: $20,000 to $40,000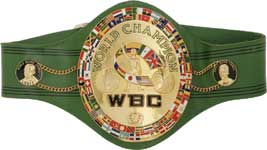 WBC World Heavyweight Championship Boxing Belt Awarded to Joe Frazier
Estimate: $75,000 & up
1957 Cassius Clay Golden Gloves Trophy
Estimate: $12,000 to $15,000
Mid to Late 1960's Gale Sayers Game Worn Jersey
Estimate: $15,000 to $20,000
1909-11 E90-1 American Caramel Near Set
Estimate: 30,000 To $40,000
2005 Upper Deck Legendary Lineups 1/1 Redemption Piece
Estimate: $50,000 & up
Heritage specializes in rare and collectible sports cards, as well as uniforms, equipment, and related vintage sports memorabilia. Consignments for future Signature Sports Auctions are currently being accepted. Prospective consignors or sellers of quality vintage sports cards and sports memorabilia are encouraged to contact:
Chris Ivy at 800-872-6467 Ext. 319 or email: [email protected]
Mike Gutierrez at 800-872-6467 Ext. 183 or email: [email protected]
Mark Jordan at 800-872-6467 Ext. 187 or email: [email protected]
Jonathan Scheier at 800-872-6467 Ext. 314 or email: [email protected]
To reserve your copy of any Heritage auction catalog, please contact Nicole Jewell at 1-800-872-6467, ext. 272, or visit www.HA.com to order by email.