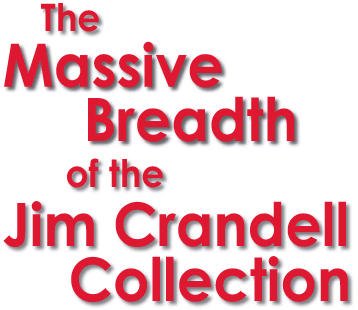 Have you ever seen a really large collection of cards that has totally impressed you?
Most every collector has seen such an amassment somewhere along the way.
What about an incredibly huge collection of cards that has downright floored you?
The more serious you get about collecting, the better the odds are that you have encountered such a magnificent sight.
Well, what about a massively gigantic collection of cards that includes fully completed sets all graded PSA 8 or better?
To see that, you would have to know Jim Crandell.
"I have forty-seven vintage and semi-vintage sets completed in PSA 8 or better," says Jim. "And another 100 or so sets under way. I also have another 150 or so ungraded sets, and somewhere around 23,000 PSA graded cards of which 97% are graded at 8 or better."
We shall now take a brief pause while you pick your jaw up off the floor and stop that wide-eyed salivating.
Have you composed yourself? OK then, let us continue...
Along with the aforementioned behemoth of a collection that Jim Crandell has amassed, the Northern New Jersey resident also stakes claim to 196 sets on the PSA Set Registry, of which about fifty are player or Hall of Fame sets. He has also just received ten additional sets back from the PSA graders that will be listed on the PSA Set Registry in the very near future.
Born on Long Island, New York in 1953, Crandell grew up in West Hampton Beach during the final years of the Dodgers and Giants era. "When I was a kid, I was as Giants fan and Willie Mays was my favorite player," says Jim. "Then, after the Giants left for San Francisco, I started liking the Mets. I had always loved baseball, and I always loved cards, which I started collecting in 1957 when I was just four-years old."
Shifting his focus from the Giants to the Mets seemed to be an easy transition for young Jim, although finding a new favorite player meant having to look westward to the unlikely land of Cleveland. "When I was nine or ten, my favorite player was a guy named Vic Davalillo who played for the Cleveland Indians. I don't know why I liked him so much. I think it had to do with the sound of his name as much as the way he played or anything else. Years later, I even ended up using the name Davalillo to register my sets on the PSA Set Registry," he says with a laugh.
Whether it was the Giants or the Mets, Mays or Davalillo, Jim continued to build his card collection until (as is the case with most collectors) he considerably slowed down while attending St. Lawrence University in Canton, New York, and while doing his postgraduate work, which earned him an MBA, at Long Island's Hofstra University.
After completing his education, Jim made his way to the high finance world of downtown Manhattan. "I started working on Wall Street in 1977," says Jim. "And with the exception of two years that I had worked for an insurance company in Hartford, Connecticut, I have worked at two major investment-banking firms on Wall Street. Beginning in 1981, I worked as a stock research analyst covering the oil service industry, and for 4½ years, I was the head of U.S. and global equity research."
It was also during the early 1980s, as his career was taking off, that Jim returned to card collecting – this time with far greater seriousness. "The thing that got me back into card collecting was, believe it or not, when I showed our paperboy my collection," Jim explains. "He was so impressed that the following day he came back with his father who also wanted to see my collection. They made me an offer to buy my collection that I couldn't believe. I had always known in the back of my mind that the cards had value, but I was still completely surprised at what they were offering."
Calling himself an "across the board" card collector, Jim's renewed interest was with football, baseball, hockey, boxing, golf, and basketball cards. "I started going to shows in an attempt to complete sets that I had started and that's when I really started getting into collecting seriously. For the following two to three years, I finished up quite a few sets and really learned a lot about the hobby. Then I started expanding into better cards and upgrading my collection. I was by all means serious, but I would say that the 1990s saw me become really serious. That's when I began buying really valuable cards."
Jim, who married in 1977, and today lives in Northern New Jersey with his wife, son and daughter, says that it was clearly his passion for sports and cards that has always moved him to collect. "I do have the collecting bug and I'm a fan of all sports," Jim admits. "I have always focused on high-end cards because they have the best eye appeal, and I'm fortunate to be able to afford them. I have always loved baseball and I love the card hobby. But along with my baseball sets, I also have fifty or sixty football and basketball sets underway and a couple hundred ungraded sets of golf, boxing, hockey, multi-sports, and non-sports cards."
Clearly what makes Jim's collection so incredibly unique is its breadth. "I don't know of anyone who has collected as many sets as I have," he humbly boasts. "And I don't know of too many people who can say they have around 23,000 PSA graded cards!"
Although Jim readily admits to having been severely bitten by the collecting bug, he does point out that he is focused in his passion. "I only collect cards. That's it," he says. "But, every year I take my collection into a new direction. I just sent several thousand cards to PSA that I hadn't had graded before. I've had a goal for the past five or six years to complete at least one hundred sets in mint, or at least near mint condition – vintage sets up through the 1970s in PSA 8."
When asked if he has any particular cards or sets that are his favorites, he says that he really doesn't. "Because I like so many different sets from so many different eras, it has led me to collect a lot of different cards. As for favorites – I can't say I have a favorite card but I do have favorite sets. I really like my 1933 Goudey Sport King set that are all in PSA 8 or better. I would have to say that is one of my favorite sets and it unquestionably includes some of the most valuable cards in my collection. I am also partial to some of the earlier sets I had collected when I was a kid from 1955, '56 and '57. They bring back great memories, but when it comes to real favorites – I love all of them!"
While Crandell's greatest focus has been, and continues to be, completing high-grade sets, there is one legendary set he says he will probably never complete – the elusive T-206 set. "I have about 155 T-206s in PSA 8 and 9," says Jim. "And I have a couple of Ty Cobbs – a 6 and a 7. I also have a large number of T-206 Hall of Famers. But, as far as the big names in the T-206 – I don't have them and probably never will. For me, I'd rather complete a number of other sets than spend what I would have to spend to own a Christy Mathewson, or a Walter Johnson, or a high grade Ty Cobb, just to say that I have it. I have a number of extremely high valued cards, but I can't believe I would ever buy a Honus Wagner, or a Mathewson, or a Johnson just to complete a T-206 set. I mean it may sound like I have unlimited funds, but I don't. I operate on a budget when it comes to buying cards. I will obviously spend the money. But my collection has been built by backing away from sets when they are extremely hot. I try to use my investment background to focus on values."
That buying prudence has been aided by Jim's involvement with the PSA Set Registry. "As my collection has grown, and been publicized through the PSA Set Registry, I have been able to make numerous connections with other people in the hobby," says Jim. "The last eleven sets I have completed were done with the help of other collectors who became aware of what I was looking for and then helped me get there. Trading and selling with other collectors has been very beneficial and gratifying. Making those relationships with people who I can trade with, and who can help me accomplish my collecting goals, has been one of the things I have enjoyed the most about being involved with the PSA Set Registry – the camaraderie with other collectors is also a lot of fun. I enjoy the competitiveness of it, and being on the message boards."
When further quarried to comment on what PSA has meant to him as a collector, Jim can't say enough. "PSA has meant huge things to me," says Jim. "When PSA first came about, I started buying graded cards thinking it was a good idea. That was the motivation in the beginning. As my collection grew I was sending in all my expensive cards for grading. Then came the advent of the PSA Set Registry, that made me send in all my sets from the 1960s. It was fun and I liked the competitiveness of it and the personal challenge. But early on, I realized just how important grading was. By the early 1990s, I was sending in all my high-end cards to be graded and of course I thought that everything I was sending in was in mint or near mint condition. I expected most of them to come back as PSA 8 or better – which in fact most of them did. But there were several cards that came back that I had found out had been altered in some way. I knew altering was something that was affecting the hobby, but I was still taken back when my T-206 Green Back Ty Cobb card came back as having been trimmed. That was a major shock to me. That changed the way I looked at grading. It was then that I realized that it is vitally important to get your cards graded, primarily to see if they are legitimate or not."
As far as Jim's future goals, he hopes to complete as many sets as possible in PSA 8 or better. "I want to work on the sets I haven't finished from the 1960s, and I also have a few select, smaller sets I am trying to complete in PSA 9. But my goal all along has been to do a lot of sets in the highest grade possible. So, while some collectors collect two or three sets in the highest grade possible, my aim has been in breadth – my goal is to compile a lot of sets in the highest grade possible. And no matter how much I collect, there's always more out there."
Jim's card collecting obsession has resulted in a large room in the Crandell's home that can only be described as a card museum. "I have parties at my home in which I invite dealers and collectors to see all the cards I have on display," Jim says proudly. "They are in a large downstairs room and around the parameter of the room are wooden inlays in six or seven levels from the ceiling on down on which I display my cards. I present over 2,000 cards there on the wall. I also have twenty large tables and benches with all my graded cards arranged in stacks in chronological order. I love my card room. I'm down there a lot and I have a young man, who is a student at Seaton Hall University, who helps me with my collection, buying and mailing. When you buy on the level I do, just unwrapping cards and getting them packaged up and sent to PSA for grading is a huge undertaking."
Jim smiles when asked how his wife feels about his obsession. "Let's just say we have a rough agreement over how much I spend on cards. Ours is a happy marriage, although she doesn't really understand or get involved in the hobby. But she does understand that I love the hobby. It combines a lot of things I enjoy – sports – baseball, basketball, golf. And, I've always been a collector at heart. I have rarely thrown things away, which has sort of made my wife crazy. I'm also a competitive person – perhaps due to my professional life. So my card collection really combines a lot of the things that define me."