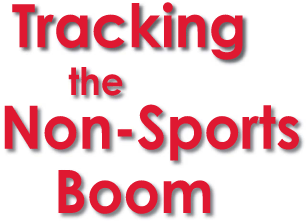 Necessity is the mother of invention and thus, the maternal force behind trading cards.
What's that you say? You didn't know that trading cards were a necessity? Well, that may not be the case today, but back in the last half of the 1800s, printed cards first surfaced to serve a very specific purpose. Cigarette manufacturers of the time needed a delivery system for their product that would protect the rolled tobacco from getting damaged. The packs that their smokes were sold in were made of paper that had to be reinforced with some sort of a stiffener so that the fragile cigarettes would not be smashed to bits.
The solution – blank pieces of cardboard were slipped into the packs. The use of these little, blank stiffening boards solved the problem and were routinely used until an enterprising concept popped into someone's head.
Why not use these stiffeners as a source of advertising and to create brand loyalty!
The concept started out simply. All sorts of images were printed on the cardboard inserts and smokers became accustomed to the idea that, along with their nicotine fix, they would be getting a little added bonus.
As the 19th Century trickled by, tobacco companies were beginning to pack their product in cardboard boxes, which meant that stiffeners were no longer necessary. Smokers, however, had gotten so used to receiving a card along with their cigs that most companies continued to include an insert knowing that it had become an important marketing tool.
During the waning days of the 1800s, insert cards were still primarily used for advertising purposes, and while the most prevalent use of cards was to be found in tobacco products, other manufacturers had begun to take notice. Companies who manufactured household items decided that if using cards could strengthen tobacco sales, why not begin including cards in all sorts of consumables? Companies such as Arbuckle Coffee and Arm & Hammer began issuing cards specifically geared to women which featured images of flowers and birds.
In 1880, the Thomas Hall Company of New York manufactured a set of over 500 cards that included the images of famous entertainers of the day, athletes, United States presidents and various other historical figures. These cards were produced in sepia tone until a few years later, when the process of color printing brought a new dimension and increased interest to these inserts.
Most of these cards carried an advertisment and were handed out by merchants who would walk the streets near their business and pass them out to promote their products and/or services. Sometimes a business would stamp their name on the back of these cards that ranged from presenting works of fine art to risqué pin-ups. During this era, hundreds of varying generes were manufactured and were offered by every imaginable business and merchant. These cards were primarily made using a chromo-lithographic process and the novelty of their color made them highly desirable and collectable.
While women became the primary collectors of these cards, they held little interest with children, who were not purchasing coffee or cigarettes. There were no cards from this era that were produced with kids in mind. That all changed after the turn of the century, when confectioners got into the card act with Penny Candy and Caramel card sets. Issued between 1907 and 1914, these cards were specifically designed to attract the interest of a younger audience.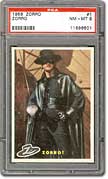 In those early pre-radio and television days of the 20th Century, the dissemination of information was extremely limited. With books and newspapers serving as the only source of information, cards became a delivery system for advertisements, entertainment, general information and erotica. They even served as a news and historical source. During the early part of the 1900s, people would compile data banks made up of insert cards.
By the end of the Roaring Twenties, insert cards began appearing in bread and candy. These cards were often much larger than the small size of their tobacco accompanying predecessors. This was also the era that saw a match made in collectibles heaven – cards inserted into gum packs.
The offering of these cards was purely a ploy to sell gum and no thought was ever given to the fact that the sugary sticks would do damage to the cards. The companies didn't care, nor did kids who for the first time were being targeted by the card's offerings. In 1933, the Goudey Gum Company of Boston put out Indian Chewing Gum and Big League Chewing Gum with each containing sets of trading cards. These cards were printed in color and included a hunk of what the company felt was the more important element of the duo – the gum.
Within a short time, Goudey was reporting record gum sales, and cards and gum continued to partner up until the 1960s when, for the first time, cards were offered as a stand-alone item. The cards retained the same look as they did when they were accompanied by gum, and even through the gum was dropped from the offering, they were, and are still referred to as bubble gum cards.
Today, as we look back over the evolution of the trading card, we can see that they have been issued in numerous products from cigarettes, tobacco and gum to tea, coffee, cereals and candy. The images have covered most every subject imaginable including every major American sport, aviation, the military, automobiles, nature, motion picture stars, television programs, science fiction, erotica, politics, space travel, music and many, many others.

The majority of the cards produced were done in color. Topps entered the non-sports card market in 1948, and, by the 1970s, had been joined by Monsterwax Trading Cards, Artbox Entertainment, Inkworks, Benchwarmer, Cards Inc, Comic Images, Dynamic Forces, Futera, TimeTraders, Ikon Collectables, Hero Factory, Strictly Ink Limited, NostalgiCards, Rittenhouse Archives Ltd., Stellar Collectibles and Upper Deck. This era also saw stickers added to the card packs in order to generate further interest in collecting. The sticker craze sprung out on its own for a while with some packs containing stickers as the primary offering and cards returning to their days as inserts.
By the 1990s, various printing technologies such as holograms were incorporated into the card market. Some cards became known as "chase cards" because they were rare and so collectors had to chase them down by buying multiple packs. Along with holograms, the '90's also saw the use of chromes, foils, canvas, holochromes, etched foils, prisms, glow-in-the dark offerings, omnichromes and even heat sensitive cards.
Today, most of those technologies have run their course and given way to cards that carry authentic autographs of the person pictured, swatches of some sort of memorabilia, and sketch cards. These new cards can be extremely expensive to purchase with some packs going for over $100! Purchasing these cards in the aftermarket has become out of reach for anyone who doesn't have very deep pockets to reach into.

As for the more modern offerings, it is widely accepted that Star Wars cards are the most popular non-sports cards ever produced. Over 250 Star Wars trading card sets have been produced worldwide with Topps alone manufacturing over 40 sets. This means there have been well over 10,000 individual Star Wars cards produced.
The most sought-after of these being the ultra-rare, one-of-one sketch cards that feature original artwork and were inserted into 2004 Topps Stars Wars Heritage and 2005 Topps Revenge of the Sith packs. Other hugely popular non-sporting offerings include war sets, Elvis, The Beatles, Star Trek, The Lord of the Rings, E.T. - The Extra-Terrestrial, Indiana Jones, Harry Potter, and Batman to name just a few.
When it comes to collecting non-sporting cards, few people have the passion and insight of Marty Quinn who lives in suburban New Jersey on the outskirts of New York City. Born in New York and raised on Staten Island, Marty is a commodities trader who for over 15 years has toiled in the pits of the New York Mercantile Exchange trading crude oil. It's a high-pressure gig and few things help him wind down as much as turning his attention to his card collection. "When I come home from a stressful day, I'll buy a few cards on eBay and fiddle around with my cards and sets for hours," he says with a laugh. "It's a great way to relax and there's nothing better than adding a new card or two to your sets."
Married with three children, Marty says that the non-sports card market is booming and on the verge of exploding. "It's getting very competitive," he says. "A few years ago I was trying to put together a 1966 Three Stooges set and I think I was the only guy trying to assemble those cards. Now you have numerous collectors trying to assemble that set."
A longtime collector of sportscards, Marty crossed over to non-sports offerings in 2000. "I had been into sportscards for over 20 years," he explains. "Long before third party grading was the norm. Once grading became popular, I collected a lot of the big cards in high PSA grades. Then I started to slowly dabble in non-sports cards until six years ago when I really got serious about them. It was really an untapped card market as recently as the late 1990s, so I could find cards at reasonable prices. I was attracted to non-sports cards because they are so diverse. I got so into them that I sold all my PSA graded sportscards so I could reinvest in non-sports cards."
Marty says that the thing that really lured him in to collecting non-sports cards was the subject matter. "What got me hooked was when I realized I was able to collect cards from all the TV shows from the 1960s that I used to watch as a kid. Shows like Gilligan's Island, Lost in Space, Davy Crockett and Zorro. Those cards brought back so many childhood memories for me."
Pointing out that along with TV shows, non-sports cards also offer categories such as science fiction, music, Elvis, and all sorts of war sets, Marty says that it can become a bit overwhelming when you consider how many different genres have been produced. "Once all those diverse cards got my attention, and I realized that some of this stuff was actually out there, I was kind of all over the place. But back then these cards weren't being graded so serious collectors weren't paying much attention to them. It was when I started to get seriously involved that I realized the scarcity of these cards. There were far less quantities of these cards produced than sportscards. And, after these cards started to get graded, I learned that trying to collect high-grade sets of non-sports cards from the 1930s, '40s and '50s is much harder then collecting sportscards of the same era. There's just a lot less out there, especially in high grades. It doesn't matter if you have the money or not. No matter how much money you have, a lot of those cards just don't exist anymore."
Marty says that over the past four or five years, he has seen the non-sports market begin to boom, a fact he credits to the advent of eBay and PSA's grading of non-sports material. "As people have begun to get more and more interested in non-sports cards, the cards have become more valuable," Marty reasons. "With those spikes in price, collectors want to make sure that what they are buying is authentic and not altered in any way, shape or form. When you buy a PSA card, you have the guarantee that you are buying a card that is authentic and has not been altered in any way. For me, PSA is the only way to go. I would never buy raw cards."
In the world of sportscards, even beginner collectors rapidly learn what are considered to be the most prized and desired cards. The same is true in the non-sports genre. When it comes to identifying these "holy grails" of non-sports, Marty is quick to check off a list.
"In TV, there are sets that Topps put out as test sets that are very desirable," he explains. "These cards were tested in select markets and then withdrawn for some reason, usually due to poor sales. There are sets like this from the 1970s such as The Rookies, Emergency and The Six Million Dollar Man. These sets were all test marketed so they weren't put out in great quantity. Because there were so few made, and not many purchased, those sets have become very difficult to find and extremely valuable. Believe me, you are not going to just go on eBay and find those cards."
Other non-sports sets that Marty lists as the most desirable are the legendary 1938 Horrors of War. "That is clearly one of the top sets when it comes to non-sports," says Marty. "Others include the 1962 Mars Attack set, the 1962 Civil War News set which is a wonderful set and hugely popular. The 1966 Battle set is another war set that is desirable. As for TV cards, the Gilligan's Island set is extremely difficult to assemble in a high grade. Those cards are notorious for their poor centering and low print runs."
Marty also points to the horror genre as being extremely popular with collectors. "Universal Studios did a set in 1973 of their classic horror monsters," he says. "But there are numerous horror related cards. That one genre alone is so diverse as compared with sportscards. In baseball, everyone collects the same thing – Mickey Mantle, Willie Mays, Hank Aaron. With the non-sports cards, almost every collector is into something different."
According to Marty, Elvis and Beatles cards are also hugely popular. "There were so many different Topps sets you could collect back in the 1960s – The Beatles Color, Hard Days Night, and even though Beatles memorabilia has always been desirable, up until a few years ago, even these cards in PSA 7 and 8 were not that expensive. Today, that has changed and I believe we are still a ways off from seeing this segment of the hobby hitting its peak."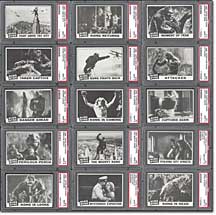 Pointing out the almost unlimited genres in which non-sportscards were issued, Marty believes this side of the market will bring more people, especially women, into the card-collecting hobby. "There are so many sets to collect," he says. "In science fiction alone there are well over a dozen sets to collect. Bowman's 1951 Jets, Rockets and Spaceman is a very rare set that was never put out in bulk form. The only way you could buy them was in one set packs. To put a set like that together in anything higher than a 6 or a 7 is nearly impossible."
Along with the fact that non-sports cards were manufactured in short runs, Marty says there are other factors that make the cards extremely difficult to find in high grades. "Take the 1964 Addams Family set as an example," he says. "If you collected those cards, you could assemble them to create a puzzle on the back, which was a picture of the entire cast. When kids put those puzzles together, they handled them a lot. They dented the corners and creased the cards. A lot of cards during the 1960s had puzzle backs. Some sets had half puzzle backs and half a bio. All the major manufacturers put out non-sports cards. And, while it's amazing how much is out there, overall they are not easy to come by. The Bowmans, especially the ones from the 1940s and '50s, were put out in one-cent packs and a lot of them have a wax stain on the reverse. A lot of those cards came out of the packs damaged. Finding a PSA 6 or 7 in a 1950s non-sports card is equivalent to finding a PSA 9 sportscard."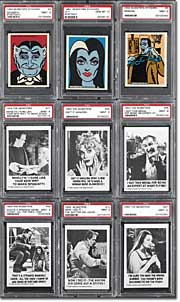 Still, it is the incredibly small initial production quantities of many of these cards that have made them such a challenge to find. "Most non-sports sets consist of between 50 and 100 cards per set,' Marty explains. "That's as opposed to baseball cards in which sets were typically 500 cards. So, back then, a kid could put together a 1964 Munsters set of 72 cards in a relatively short time. I think because sets could be compiled rather easily, the kids would quickly collect the whole set and then stop buying packs. With baseball, you had to keep buying packs all the time to get all the cards you need. But with non-sports cards, you could buy 20 packs or so and get the whole set. Then, once you had them, you didn't buy any more Munsters packs. I think that is why the manufacturers put out low print runs on those cards. Some companies tried to be savvy with their marketing. Even back in the 1930s, American Carmel put out an American Presidents set that they short printed. Then, along with the short prints, they did an extremely short run of the William McKinley card on purpose so that the kids would keep going out and buying more products."
Marty says that along with non-sports cards, wrappers and unopened packs are also highly desirable. "Unopened non-sports packs have exploded," he says. "Wrappers and non-opened wax boxes are also big. Please, take my advice, if you ever find an unopened pack, definitely keep them wrapped. If you open it, you will more than likely be disappointed to find gum stains, wax stains and dinged corners. So keep them closed and get them graded by PSA. Believe me; they will be worth a lot more!"
As the non-sports card market has gained momentum, Marty says he has seen many other collectors do exactly what he has done – crossover from sportscards. "I'm seeing a lot of crossover – more all the time. Guys who have collected baseball and other sportscards for years are now looking at non-sports cards. It's something new for them. It's a new challenge, and non-sports is still a ways away from hitting its peak so it's where sportscards were before the big boom in the1980s. But I would recommend that collectors get going right away. Just look at recent Mastro Auctions as an indicator. In every one of their auctions, they are seeing non-sports offerings selling for record prices."
Marty, whose own favorite piece is an uncut sheet of 1950 Bowman Wild Man proof cards with blank backs also has more advice for those thinking about getting into the non-sports genre. "I would suggest that collectors start out by looking at eBay on a regular basis to see who the players are when it comes to non-sports cards. Watch over a few weeks and months to see what is out there and what they are going for."
As for what he predicts may be a wise investment, Marty points to classic TV cards. "The market that I think may be the next one to explode is 1970s TV. People who were kids back in 1974 and '75 remember shows like The Bionic Woman, The Incredible Hulk, The Six Million-Dollar Man, the 1976 Star Trek and Welcome Back Kotter. All of the 1970's show cards that you could pick up on eBay just a couple of years ago very cheaply have tripled and quadruped in price. Star Wars cards from 1977 are hugely popular. As far as the stuff from the 1940s, '50s and early '60s – it may not be practical for most collectors. There is just so little available and what is available is very expensive – take it from me. That's what I'm always on the lookout for and I know it's not easy to find and when things do show up, you will pay a premium price. With baseball, especially Topps cards from the1960s on, you can find just about anything you want as long as you are willing to pay, that's not so with non-sports cards up through the early 1960s. When you get into the mid to late-1960s, you can still find things. Stuff from the 1970s is where collectors should be looking right now. And as far as things like Garbage Pail Kids and Pokemon – they are relatively easy to find. As of now, nothing from the 1980s has really caught on yet. It's the cards from the '70s that are getting hot now!"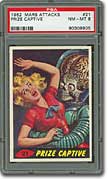 Always willing to be of help to new collectors, Marty encourages folks to contact him. "I'm always open to helping anyone in any way I can in assisting them in finding a card, getting started, and learning the value of a certain card," he says. "I love to help people because that is what strengthens the hobby. I know how grateful I am to a person who has helped me a lot with my non-sports quest – Bill Bengen, who is listed as "Jean Luc Picard" on the PSA Registry. Bill has a huge PSA graded non-sport collection and holds many top spots on the Registry. He has helped me upgrade whenever possible, even if it means knocking himself out of the #1 spot in favor of me! He's a real good friend and top-notch collector. He specializes in collecting cards from the 1950's, while I am more diverse, collecting things from 1910 to 1980. I hold ten top spots for the 1930's Registry sets, and Bill holds the top spot on the 1950's sets – except for about a dozen or so from the era in which I'm the top guy."
Asked to sum up the status of the non-sports genre, Marty is quick with a response: "Non-sports cards are coming into their own but they have not hit their peak yet. That means this is a great time to get started. I would suggest to anyone who loves and collects sportscards to look into collecting some non-sports cards. I guarantee they will love the memories these sets bring back, and the challenges are huge and rewarding."
If you would like to contact Marty you can reach him by e-mail at [email protected]