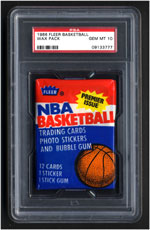 Please click on the links below to see our PSA pack grading submission form, available holder sizes and grading standards. Keep in mind that our ability to grade different types of packs will expand over time as new holders are developed. It is crucial that, prior to submitting your prized packs, you review the list to make sure that PSA can accommodate your request.
Click here to view the online submission form.
Click here to read about the available holder sizes.
Click here to read about the grading standards.
For more information about PSA pack grading, please contact customer service toll-free at 800-325-1121.