On the afternoon of January 5, 2006, there was every reason to believe that, within hours, either Pittsburgh Steelers quarterback Ben Roethlisberger or Seattle Seahawks running back Shaun Alexander would have proved to be the deciding factor in Super Bowl XL. Shaun's regular season league leading rushes of 1,880 yards and 27 touchdowns had been a major factor in the Seahawks making their inaugural appearance in the Super Bowl. As for Big Ben, who during the 2005 season had connected 168 times in 268 attempts for 2,385 yards, he was primed to become only the second quarterback in Steelers history to don a Super Bowl ring.
As game time neared and Bart Starr, Joe Namath, Roger Staubach, and the rest of the past Super Bowl MVPs took to Detroit's Ford Field for pregame introductions, you would have been hard pressed to find anyone who didn't think that it would be either Mr. Alexander or Mr. Roethlisberger who was just a scant four quarters away from joining that exclusive click.
Four hours, and $150,000,000 worth of commercials later, the Steelers had downed the Seahawks 21 to 10. Shaun had chalked up 95 yards on 20 carries, but never once crossed the goal line. As for Ben, he turned in one of his weakest outings of the season, although he did (barely) score a controversial touchdown and sent a Hail Mary downfield to his wide receiver Hines Ward (who took the game's MVP honors) to set up another TD.
Overall, it was a rather lackluster performance by the two men who everybody had tuned in to watch. That said... nothing - as in absolutely NOTHING - can take away the fact that Alexander and Roethlisberger have been, and hopefully will continue to be, two of the most exciting players to take to the professional gridiron in recent years.
So now, with the 2006 season on the brink, the questions that loom in regards to the NFL's 2005 MVP and the AFC's Super Bowl winning quarterback are can each one lead his team back into postseason and championship play?
While that philosophy of play should assure a safe haven in which Big Ben can continue to personally blossom, the current World Champions are by no means without their problems as they look towards next season. Running back Jerome Bettis made the Super Bowl win his career swan song; rumor has it that wide receiver Antwaan Randle El may move on as a free agent, and once you get past running back Willie Parker, the Steelers have a very weak offensive backfield.
Those factors, combined with the disconcerting memory that the Indianapolis Colts and, to a lesser extent, the Denver Broncos came close to denying the Steelers their shot as this year's championship, could be why no one in Pittsburgh is using the "D" (as in dynasty) word.
Shaun Alexander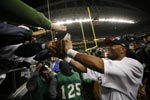 After establishing himself as a gridiron star at Kentucky's Boone County High School, Alexander snagged honors by setting state records of 3,166 rushing yards and scoring an unheard of 54 touchdowns. After matriculating to the University of Alabama, Alexander continued to showcase his athletic prowess.
During his freshman year, he set a single game rushing record as he forwarded the ball 291 yards, and by the time he was a junior, his name was being mentioned as a Heisman Trophy contender. While a sprained ankle dashed his chances of grabbing the Heisman, he still played a significant role in seeing the Tide roll to the SEC Championship in 1999. Alexander scored the game-winning touchdown in that game against Florida State, and he continued to be a major force as Alabama downed Auburn in the Iron Bowl.
Leaving Alabama with a four-year rushing record of 3,565 yards (a record that still stands today), Shaun was drafted by the Seattle Seahawks in the 2000 NFL Draft. While he was used sparingly during his rookie season in lieu of Ricky Waters, Alexander played in every one of the 16 games of his first pro season. The following year, he rushed for a franchise record 266 yards on 35 carries in a single game, led the NFL in rushing touchdowns with 14, and tied Terrell Owens with 16 total TDs.
In 2002, Shaun turned in 16 rushing touchdowns, four of which came in a single game against the Minnesota Vickings in which he also caught a touchdown pass to set an NFL record of garnering five TDs in the first half of a game. The following season again saw Alexander run for a career high of 1,435 yards with 16 touchdowns, a feat that gave Seattle its first playoff appearance since 2000, and Shaun a Pro Bowl nod.
Throughout the 2004 season, Alexander continued to be a major factor in Seattle's offense. He finished second (by one yard!) behind the New York Jets Curtis Martin in rushing yards by chewing up 1,696 yards of turf. That stat, coupled with the 28 touchdowns he scored, finally gave Alexander the attention that, up till that time, had eluded him. By the following season, he was clearly being noticed and the Associated Press named him their 2005 MVP and Offensive Player of the Year making him the only Seattle Seahawk player to ever win both awards.
The Seahawks road to Super Bowl XL began in their first game in which Shaun rushed for 173 yards. From there, he went on to turn in an 88-yard touchdown run against the Arizona Cardinals, and rushed for 165 yards in a game agianst the St. Louis Rams. He chalked up four touchdowns in two games and led the league in rushing yards, touchdowns, and Pro Bowl votes.
The 2005 season also saw Shaun break the record for franchise rushing yards and, after scoring three touchdowns in a single game, become the first running back in NFL history to record 15 or more touchdowns in five consecutive seasons. The scoring of his 96th career TD, moved him into an 18th place tie with Eric Dickerson and Randy Moss on the all-time touchdown leader list. In the NFC Championship Game, he forwarded the ball 132 yards in 34 carries and weighed in with two TDs. It was for those accomplishments, and numerous others record breaking feats, that the NFL named him their 2005 MVP.
When it comes to the Shaun Alexander cards, rookie offerings were churned out in droves by the major card makers. Alexander rookie cards are plentyful and not very expensive or difficult to find in high grades. Among some of the more popular of his cards are the 2000 SPx #152; the 2000 SP Authentic #140; the 2000 Topps Chrome #241; the 2000 Upper Deck Pro and Prospects #96; the 2000 Black Diamond #159 and the 2000 Bowman Chrome #177.
Ben Roethlisberger
Although he has never made a secret of the fact that he always perferred basketball to any other sport, Roethlisberger captained the Findlay High School football and baseball teams as well as their hoops team. On the Ohio school's gridiron, he played wide receiver until his senior year when he took over as quarterback. One can only image what his high school career totals would have been had he been the team's passer from the start, especially when you consider that in the one season he did quarterback, he threw for an astounding 4,041 yards, 54 touchdowns and seven interceptions. Just for grins, its also interesting to note that he hit .300 on Findlay's baseball team and was the school's all-time leading basketball scorer with 1,095 points.
Roethlisberger was taken 11th overall in the 2004 NFL Draft out of the University of Miami at Ohio. He signed on with the Steelers for six-years by inking a $14,000,000 contract that included a signing bonus that was reportedly in the neighborhood of $9,000,000. Taking over as QB from Tommy Maddox after the Steelers first stringer was injured early in the season, Ben went on to win the top job, along with 13 regular season games, a performance that saw him eclipse Mike Kruczek for the record for the best start by a rookie (6-0), and bypassing Chris Chandler and Joe Ferguson for total wins by a rookie. He aslo set many rookie passing records, including best passer rating (98.1), and highest completion percentage (66.4%).
Compared to Dan Marino by many, Roethlisberger was unanimously selected by the Associate Press as their NFL Offensive Rookie of the Year and then went on to lead his team to the AFC Championship Game. Ben completed 14 of 24 throws for 226 yards and two touchdowns in that game against the defending World Champion New England Patriots, but he also threw three costly interceptions as the Pats bettered the Steelers by 14 points to win a Super Bowl invite.
Following the heartbreaking AFC Championship loss, Roethlisberger reportedly begged his teammate, runnig back Jerome Bettis, to put his retirement plans on hold for one more year, promising him a Super Bowl shot. In 2006, Ben lived up to that promise by taking Bettis and the Steelers to the big game.
The Steelers road to the Super Bowl was by no means a sure thing and only really started to heat up in early January when they got past the Cincinatti Bengals in a playoff game. The next hurdle they cleared came in mid-January when Roethlisberger led the 6th-seeded Steelers to a win over the top seed Indianapolis Colts, who were the NFL's top team throughout the season and a heavy favorite to represent the AFC in the Super Bowl. Big Ben threw for 197 yards in that game and even showed a bit of defensive prowess by making a game-saving tackle on Colts defensive back Nick Harper, who had recovered a Jerome Bettis fumble with less than two minutes to play. The Steelers victory of the Colts in that game marked the first time a sixth-seeded NFL playoff team had ever defeated a top seed.
Although Ben and the Steelers had the "Big Mo" on their side, they still faced the task of getting past one last hurdle that stood between them and a game pass to Detroit's Ford Field - the Denver Broncos. The Steelers defeated Denver by the score of 34 to 17 and advanced to the Super Bowl against the Seattle Seahawks
While Big Ben may have played his worst game while everyone was watching on January 5, one does have to remember he was the Steelers offensive leader in Super Bowl XL, completed 21 of 29 passes for 275 yards, and threw for two TDs. The books will also record that he himself scored a Super Bowl touchdown, although for those who were there, it will be remembered as a controversial one.
With youth on his side, Ben, or "Rotty" as his teammates call him, has now accomplished something that eluded Dan Marino - ownership of a Super Bowl ring. And, while it's hard to believe this when you think of what a dynasty team the Steelers were during the1970s, Ben is only the second Steelers quarterback (along with Terry Bradshaw) to win a Super Bowl.
Among the Ben Roethlisberger cards that have generated the most interest with collectors are the 2004 Topps Rookie #311; the 2004 Topps Chrome Premiere Prospects PP1; the 2004 Playoff Prestige #159, and the 2004 Upper Deck Rookie Prospects RPBR. The Roethlisberger card that has become the most desirable is the 2004 Fleer Tradition #351, which along with Big Ben also includes Eli Manning and Philip Rivers.