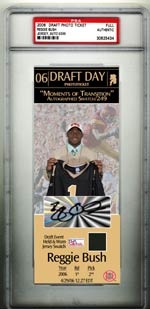 (Newport Beach, CA) - The world's first "moment of transition" collectibles involving Reggie Bush, Matt Leinart and Vince Young will be encapsulated and certified by Professional Sports Authenticator (PSA) in collaboration with Game Exclusives and NAXCOM Exchange Inc.
These new collectibles, the Game Exclusives PhotoTicket™, are PSA-authenticated and encased jumbo-sized, commemorative "tickets" time stamped the day of the Draft, April 29, 2006, along with the time that Reggie Bush (New Orleans), Matt Leinart (Arizona), and Vince Young (Tennessee) were drafted.
Each PhotoTicket includes a swatch from the draft commemorative jersey that each player held and wore at a private photo session in New York City.
"The draft is one of the most important events in professional football; for the teams, the players and the fans. This is the most exciting draft commemorative product to come on the market, commemorating the moment these outstanding collegiate players started their pro careers," said Joe Orlando, President of PSA of Newport Beach, California, a division of Collectors Universe, Inc., (NASDAQ: CLCT).
There will be two types of Game Exclusives PhotoTickets encapsulated by PSA. A gold limited edition PSA-encased PhotoTicket numbered to 999 of each of the three players and a gold limited edition PSA-encased autographed PhotoTicket numbered to 249 of Bush and Leinart.
Produced by Game Exclusives, the PhotoTickets will be offered for sale in June exclusively on the two NAXCOM Websites, www.NAXCOM.com and www.ThePit.com.